Apollo Alnac 4GS Tyres – Long Term Review
Apollo Alnac 4GS Tyres Review
Apollo's Alnac 4GS tyres not only improved the grip and stability of my Honda City but also made the ride more mature
Our vehicles come equipped with hundreds of components and tyres are one of the most, if not the most important aspect of any vehicle. Tyres are the only contact patch between the vehicle and the road, thus being a significant aspect in terms of active safety too. There are tons of different tyre sizes available based on the type of vehicle, the kind of power it produces, the kind of speed rating that is required, etc. Different tyres have different properties too; some are very quiet but wear out a bit quicker, some last really long but offer just acceptable levels of grip, some offer a great balance of grip, longevity and durability but are significantly pricier than others.
Manufacturers also have a huge variety of options to choose from while selecting tyres for their vehicles. Automakers often have to provide tyres that offer a balance between longevity and grip, without letting the fuel efficiency rating get affected. Thus, a lot of cars end up getting tyres that are a size smaller than what you would generally expect in a vehicle of that stature. Similarly, in some cars, it is not uncommon to see different tyre sizes across different variants (smaller and thinner tyres on lower and mid variants vs chunky tyres on top variants). Our muse today is the fourth generation Honda City which I bought as a replacement to my Chevrolet Beat in 2019.
The fourth-gen Honda City (pre-facelift) got 175/65/15 tyres on every variant right from E to VX with the only difference being that the V and VX variants got alloys too. My car is the SV variant which means it came with steel rims. Now, the Honda City is a large-ish sedan that has almost 120 horses on tap so 175-section tyres might seem a bit inadequate on this but hey, most customers don't really drive in an enthusiastic manner or push their car through every corner or twisty road and hence not everyone finds the need to upgrade to fatter tyres. But I'm not one of those customers because I bought the City only because of its stellar petrol engine which is the benchmark amongst naturally-aspirated engines in the mass market segment.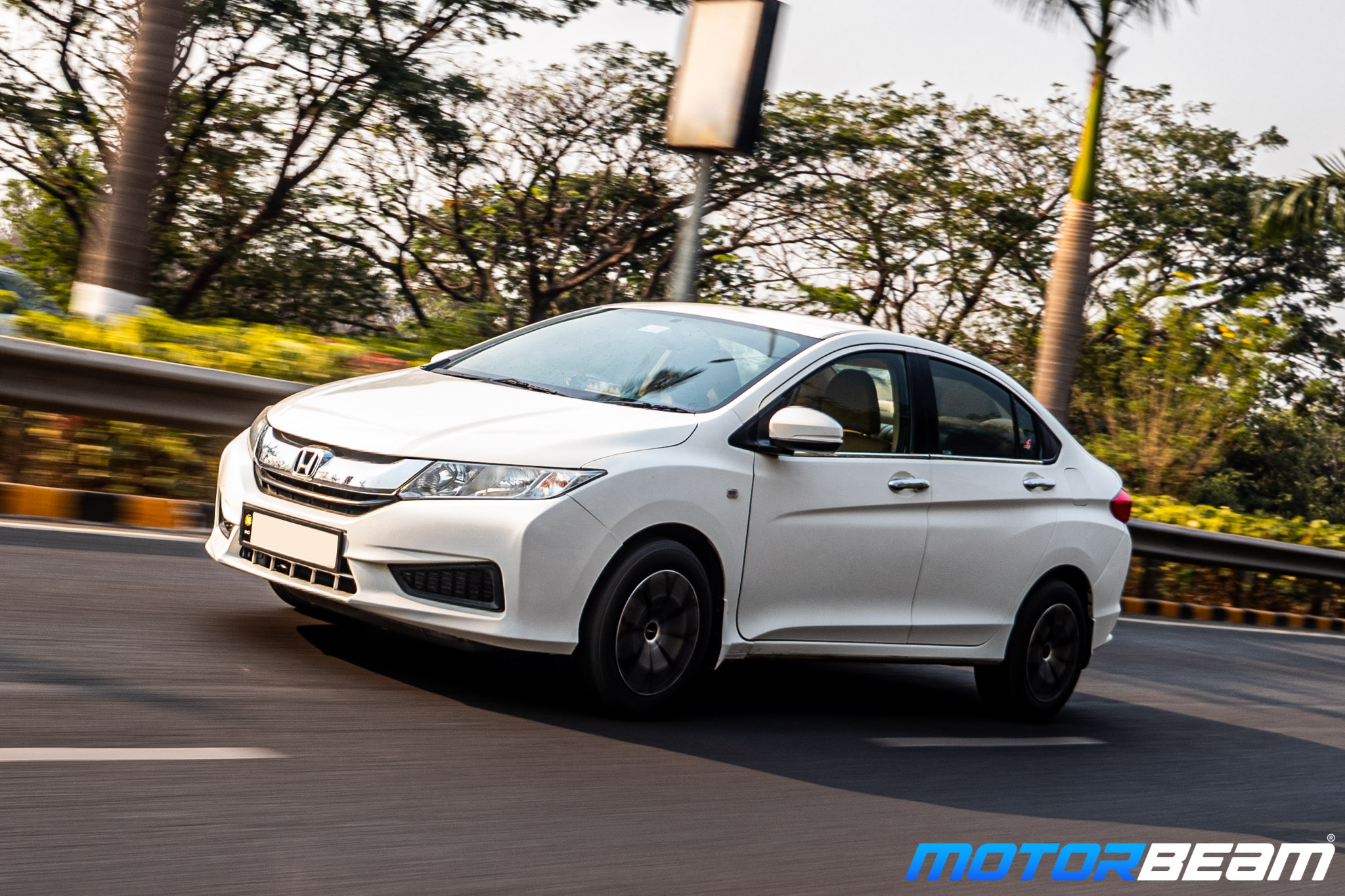 At the time of purchase, my car had done just 29,000-odd kms and the stock tyres were showing signs of wear now. I wasn't happy with the grip levels either because the car used to screech and lose grip at the slightest of opportunities and not just this, it also felt a bit unsettled while driving on Mumbai's uneven roads at speeds between 60-80 km/hr. I had made up my mind to upgrade the tyres as soon as possible but I wasn't really sure what size to opt for. The correct upsize is 195/60/15 but the City facelift then used to come with 16-inchers on the top variants so I played around with the thought of installing that size as well. Someone even suggested 195/55/15 but I didn't feel confident about this size because the City is anyway a low sedan and I didn't want to lower its ground clearance further even though I bet 55 profile would have given the car a very nice stance.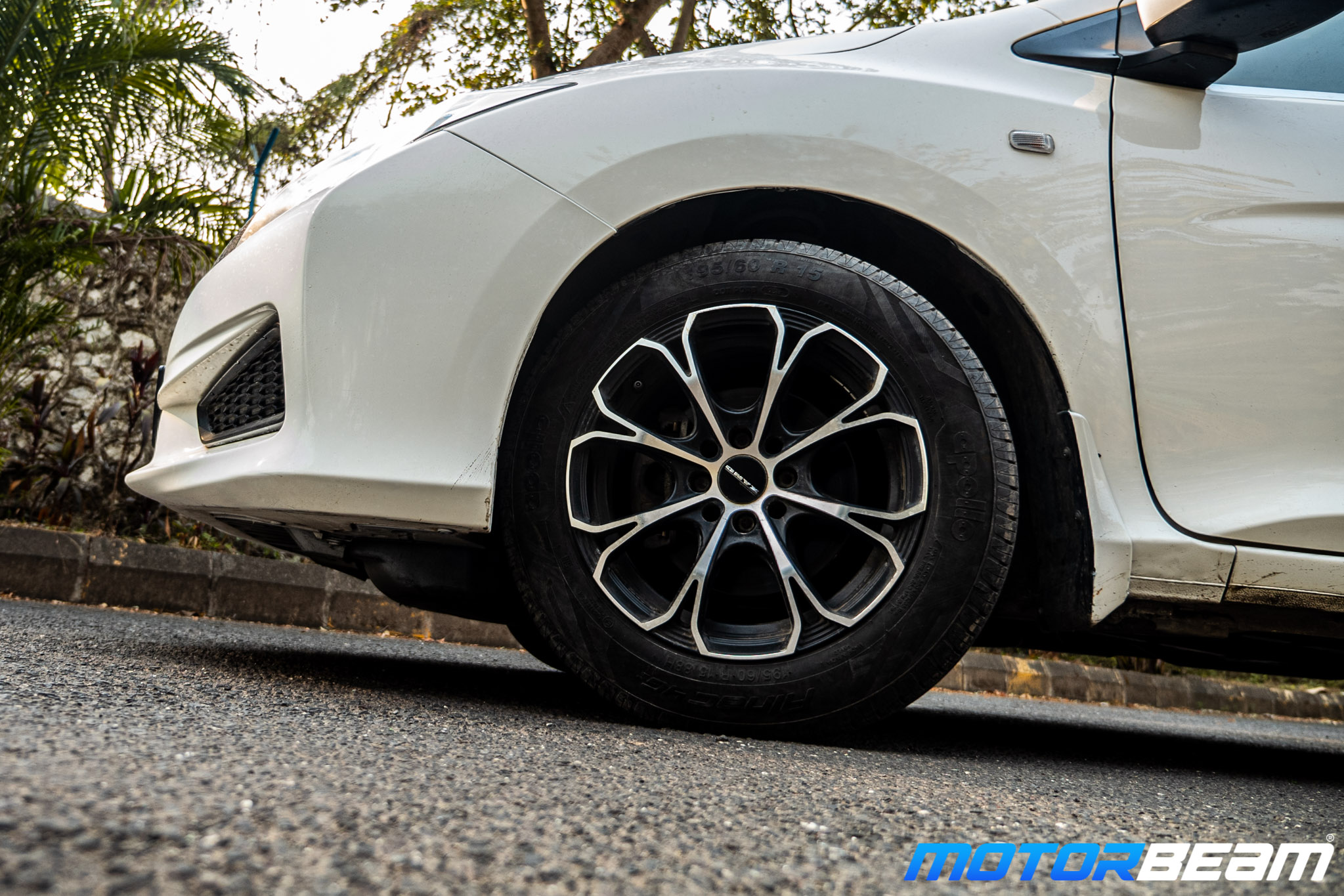 New tyres not only improved the ride and handling balance but also made the car more planted and stable at high speeds
So I finalised on 195/60/15 and then came the question of which brand to select. Apollo, Yokohama, Michelin, Bridgestone and Continental were the brands which I considered. I had Michelin XM2 tyres on the Beat (these were upsized too), while the City originally came with Michelin XM1. The MotorBeam ProjectCar has Apollo Alnac 4G tyres while my long term Swift diesel had the same tyres as well. I had driven that Swift for almost 15,000 kms and never had a reason to complain about the tyres for they offered good grip especially in the wet and I faced a puncture just once. Hence, I opted for Apollo tyres but got Alnac 4GS this time since we already tested Alnac 4G on our ProjectCar.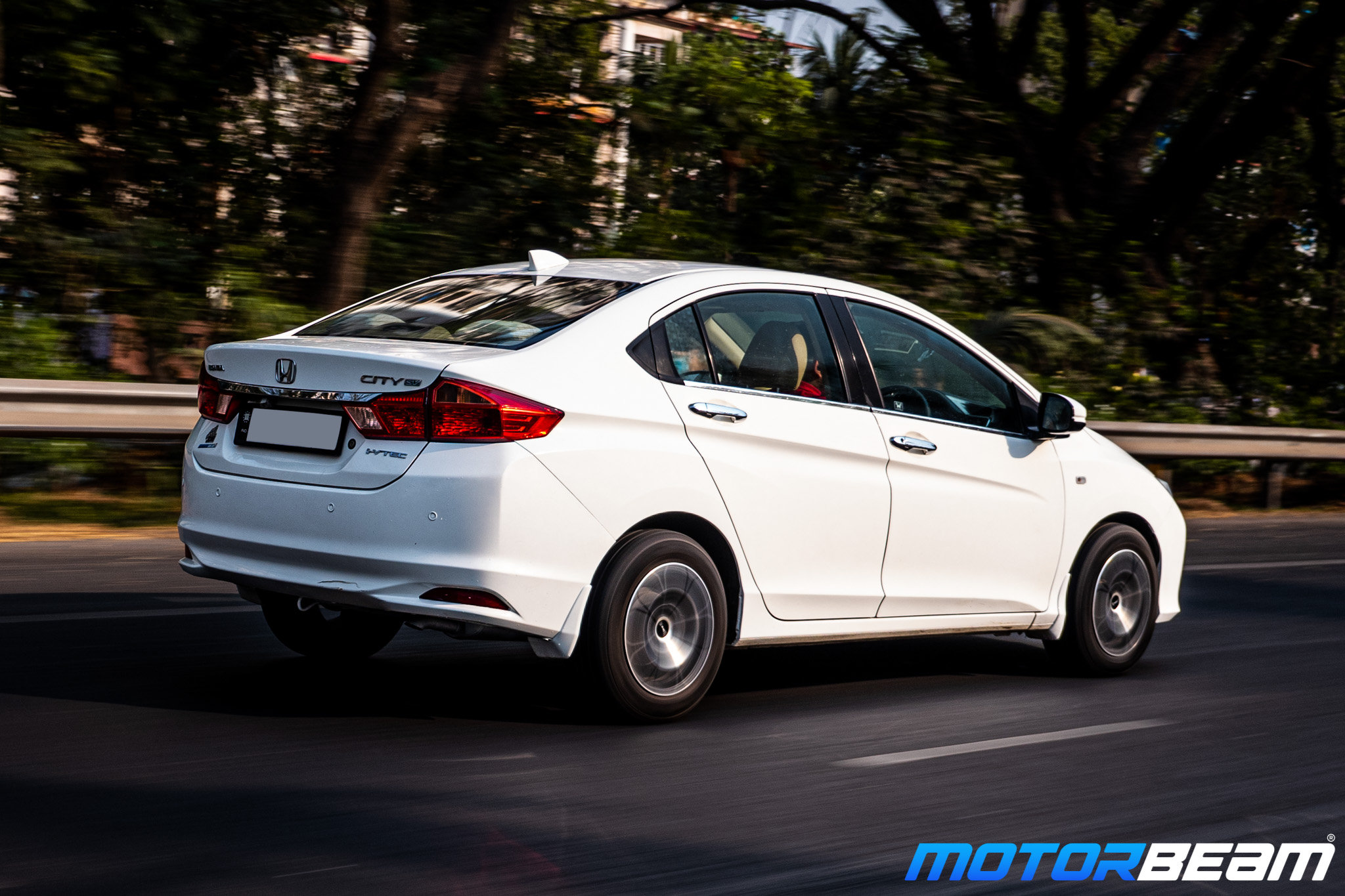 I got the tyres installed at the local Apollo franchise and the installation was quick. It took just an hour and the dealer was kind enough to carry out an alignment and balancing job as well. After the installation was done, a technician came with me for a short test drive to make sure everything was fine. He had a hunch that these bigger tyres might foul with the inner wheel well but I had earlier spoken to a few City owners running this same size and none of them faced any issue with the size. After the test drive, I got into the driver's seat and the very first thing I noticed was the ride height which had increased very slightly (3 mm). I started driving on the main road and these tyres felt extremely silent in comparison to my older tyres which were wearing out and were sounding noisy as well.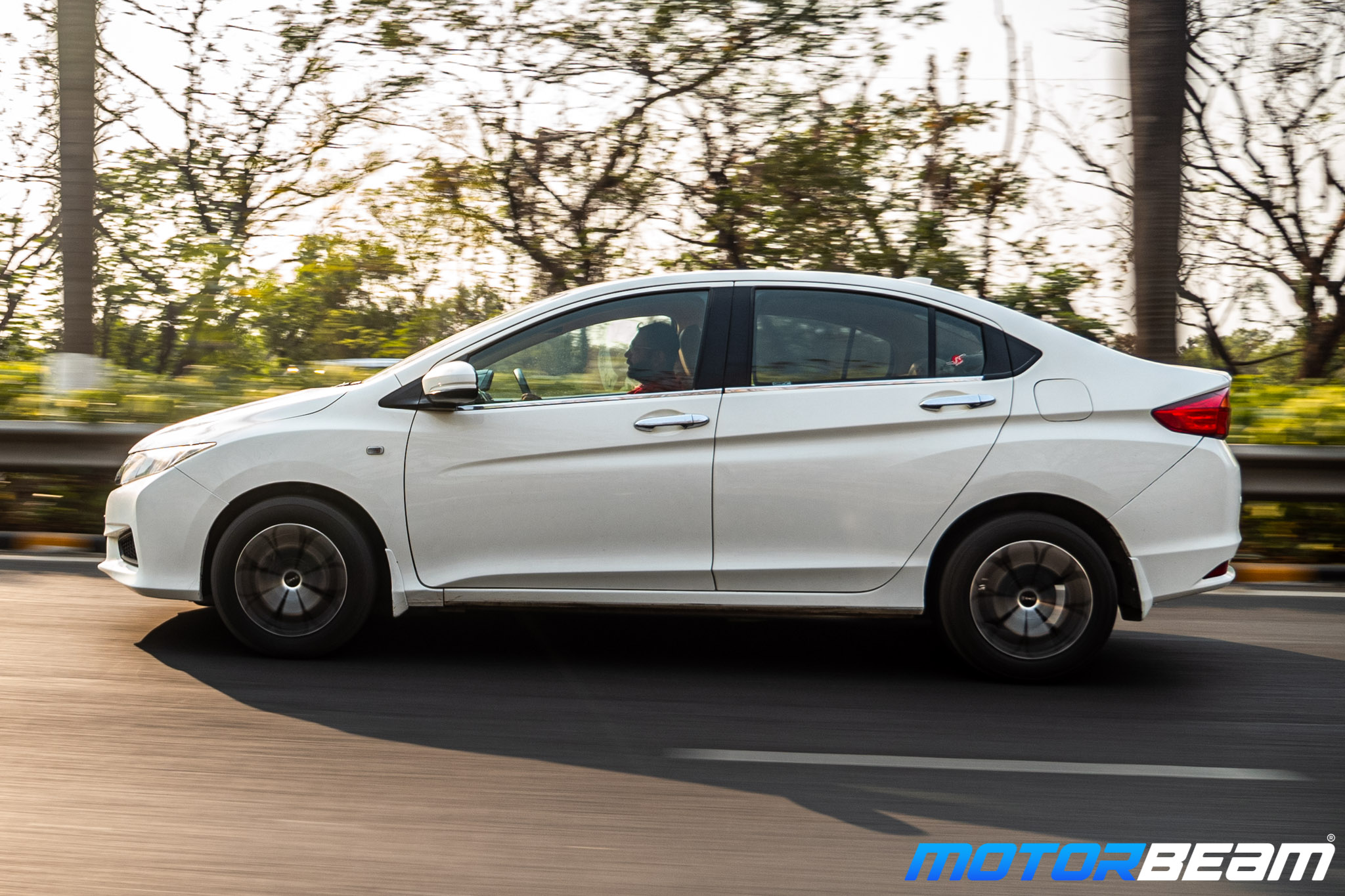 Drove through some large craters (didn't have an option!) and instantly noticed how much more pliant the car felt. Earlier, the thin tyres used to make sure that the car would move around a bit and now the car felt more poised for sure. That week I drove around the city mostly and covered around 150 kms. I was eagerly waiting to take it for a long drive on the highway to check out the real performance of the Apollo tyres but before that, I went to another reputed tyres and alloy wheels shop and got myself a new set of alloys as well. With the 7J alloys and the wider tyres, the stance of the car improved and it suddenly started looking so much better. Come Sunday and it was time to hit the NH8. I left at 5:30 AM from home and drove down all the way to Charoti, had a sumptuous breakfast at Ahura and drove back home. While going to Ahura, I drove the car in a very relaxed manner with the only aim of extracting the best possible fuel economy and I averaged between 70-90 km/hr throughout the 120 km trip. The MID was displaying around 17.4 km/l when I reached Ahura. After binging on some Akuri, I left for home, this time driving with the intent of pushing the i-VTEC to its fullest.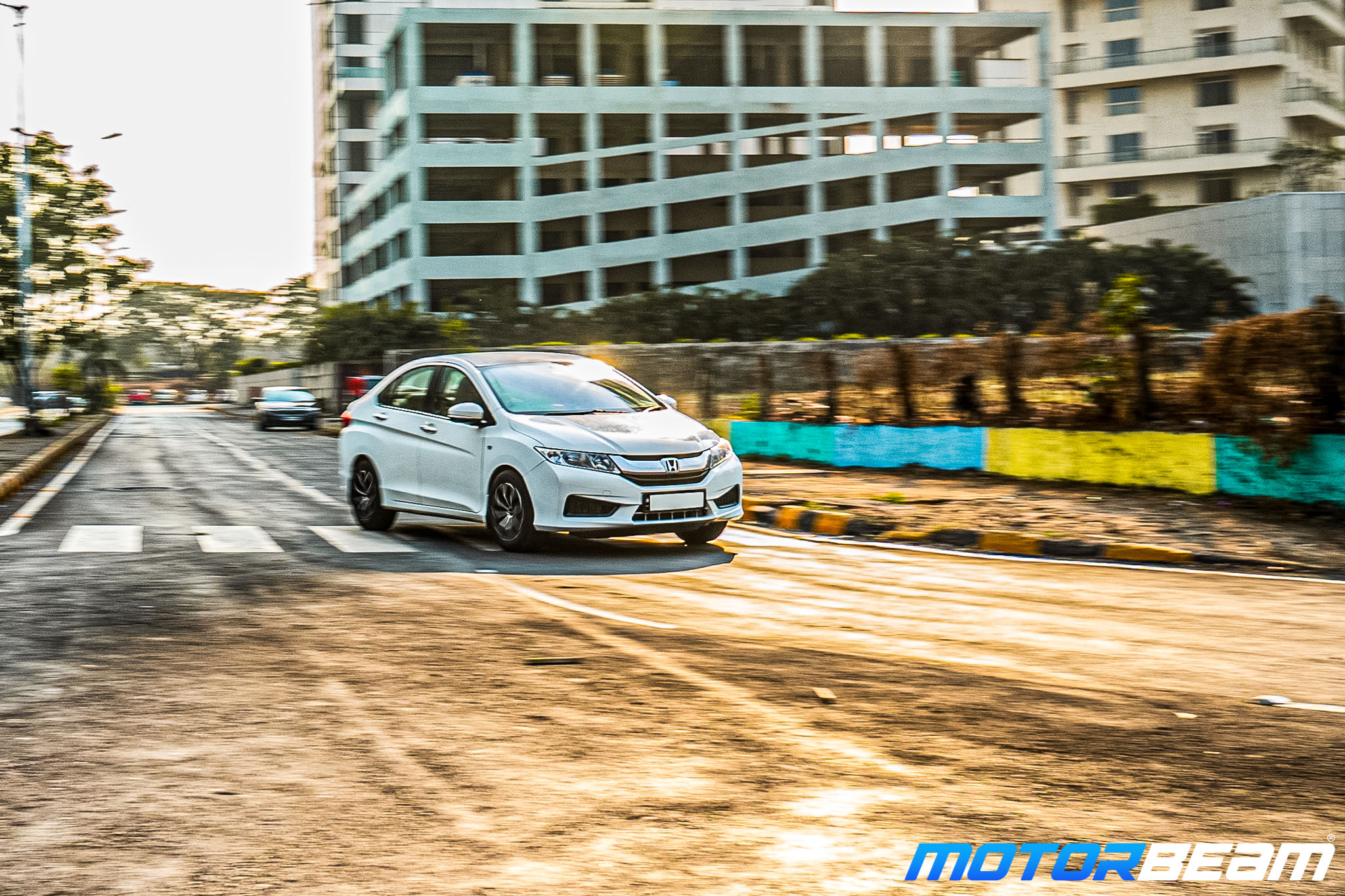 I was extremely happy with the way the tyres fared. The Alnac 4GS rubber didn't disappoint in terms of grip and my car stuck to the road with great confidence. The ride quality felt a bit more mature than before and the tyres responded well to quick lane changes, short & quick bursts of acceleration and even some long stretches where I constantly did speeds in excess of the ton. There was a noticeable improvement in the steering feel too. It communicated in a better way and at low speeds, it started feeling marginally heftier too. Overall, I became very happy with the way my car was behaving with the new tyres. These tyres aren't exactly silent though and there is some tyre noise that is heard inside the cabin. However, this noise is acceptable and isn't harsh at all.
My car's odo is now just a touch about 40,000 kms which means I've covered around 10,000 kms with the new tyres. I use my City for leisure drives, family outings and of course work commutes (only when there's no long-termer!) and I'm happy with it. The car was barely used during last year's lockdown and that's when the front left tyre got a small puncture which I couldn't get repaired because every tyre shop was shut. Realised the importance of having a tyre inflator in the boot for such emergencies and also to ensure the spare wheel has enough air too. I got a set of 5 Apollo tyres with the spare wheel being a full-size unit but it is mounted on the old steel rim itself since I couldn't find a set of 5 alloys anywhere and got 4 only.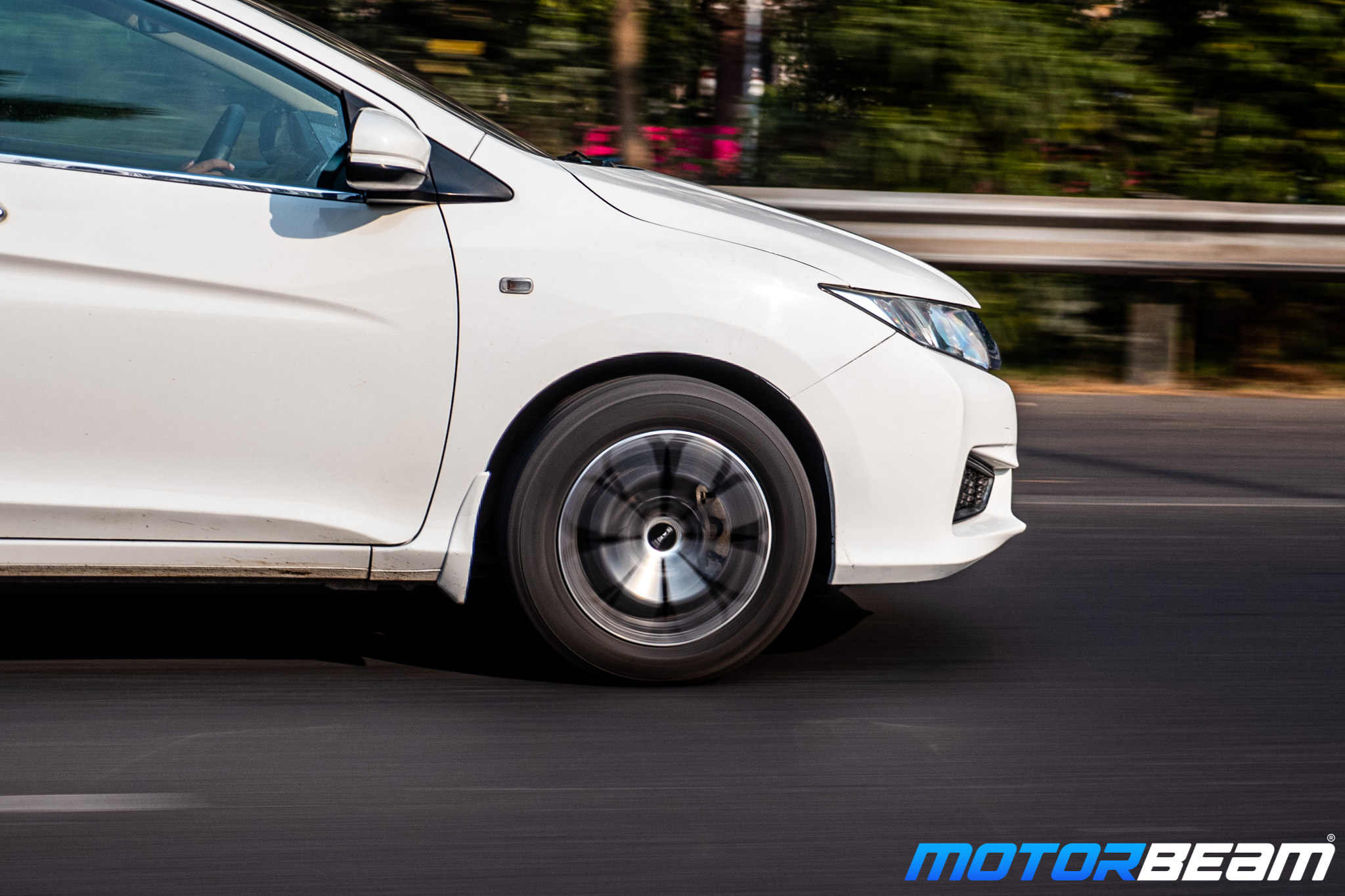 My experience with these Apollo tyres has been very positive and I wouldn't hesitate recommending these to anyone. It's quite good to see how far tyre manufacturers have come over the years. Not only Apollo, but also MRF, Bridgestone and even JKTyre are churning out good products. If you guys have any questions related to car/bike tyres do shoot in the comments below. Meanwhile, I'll get back behind the wheel of my car and hopefully drive it for a lot more kms.
Further Reading –
Apollo Alnac 4G Tyres Long Term Review
MRF Masseter Tyres Road Test Review
MRF Masseter Tyres Track Test Review
MRF NV Series Revz Radial Tyres Road Test Review
TVS Tyres – How A Tyre Is Made [Factory Visit]