Apollo Tyres Caught Putting Fake Comments On MotorBeam
After Mahindra, it is Apollo Tyres whom we have caught red handed indulging in astroturfing. There has been a flurry of positive comments from the same IP address.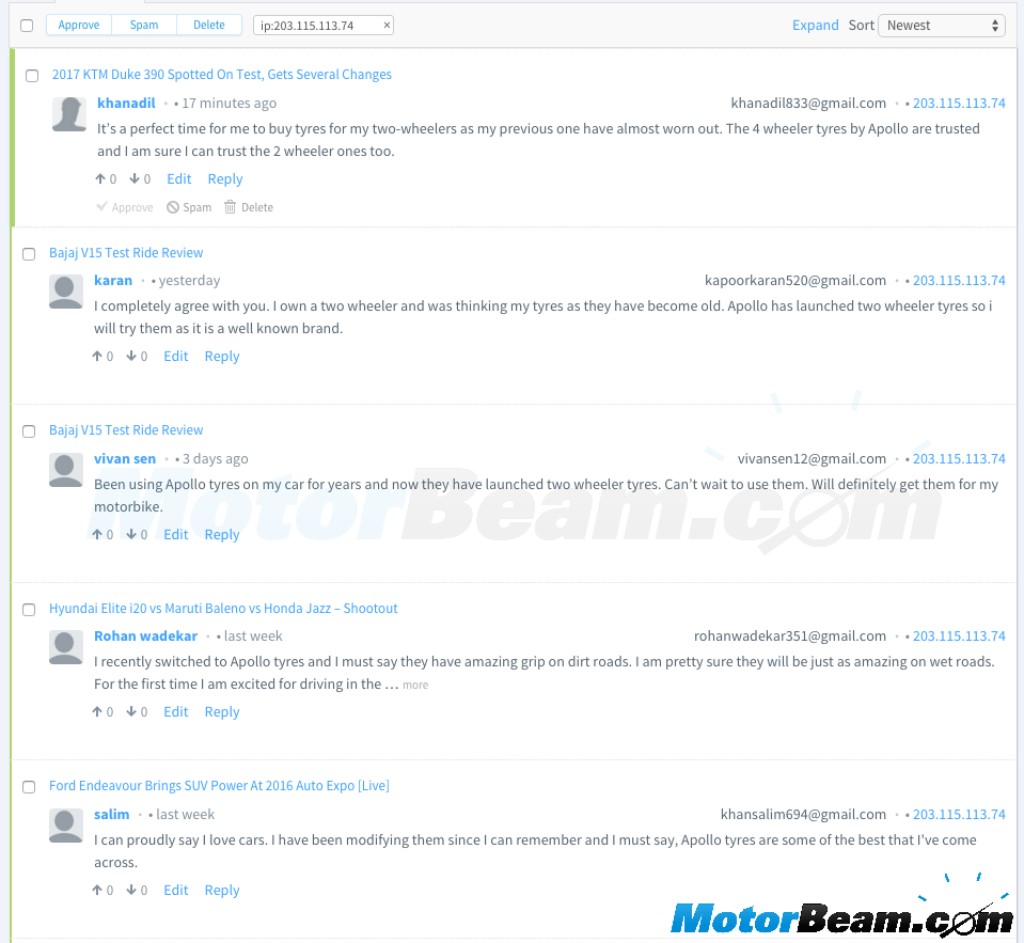 We at MotorBeam proudly claim that we read each and every comment that our esteemed readers post on the website and try to respond to every query. It feels good when there are honest user reviews and reports posted by regular visitors. Such updates help other readers judge how well a product is. But, when someone tries to unsettle this fair playing field, we don't take it lightly.
As is known, we caught Mahindra's social media team a few months ago putting positive comments to change the perception of potential buyers. Now, it is Apollo tyres which has been caught red handed doing the same. Right after the launch of the 2-wheeler tyre range by the company, there were multiple comments praising the tyres of the brand. But that doesn't sound wrong, does it?
Some of our users pointed out the sudden inflow of positive comments which praised Apollo tyres without any reason. This raised an alarm. We got down to checking the matter immediately and voila, all the comments were from the same IP address posted under different Disqus ids which were created for this purpose. Social media being a very effective tool of word-of-mouth publicity is what makes companies indulge in such activities.
Today, internet has become a very big source of information. Most of the people search for anything and everything on the internet before buying. It helps when genuine experiences by people are available which helps get a realistic picture. However, companies think that in this flood of information, if they plug in some fake comments, it may go unnoticed.
Let us reassert the fact that we don't tolerate such activities and are always looking out for such suspicious things. It is our alert readers who help us in the same by reporting overly positive comments. All it takes then is some quick searching and we bulk delete the comments and ban the IP address. Rest assured, we will always ensure that our readers get to read only genuine comments and fake comments keep getting deleted.
Apollo Tyres Fake Comments
– Apollo tyres social media team caught posting fake comments
– Positive comments on various thread from same IP address
– Such comments aren't tolerated at MotorBeam and deleted immediately