April 2012 Sales Figures & Analysis
The opening month of April has always been an average month for every manufacturer. Many buyers pre-pone their buying to month of March, just to avail financial benefits and increased cost post budget. This is the reason why graphs and arrows went down and red everywhere in April month's figures.
The Big Picture – Total April sales stood at 218,624 units only, suffering 22% loss as compared to month of March. Every company took their share and recorded negative trend. This can be seen as after effect of budget and financial year ending. Maruti felt below 1 lakh mark first time in 2012. Also at number 3, Tata lost badly and is now marginally close to Mahindra by almost 2k units. Once again Honda seems to be losing the pace and is down by 35 %. Same is the case with Germans.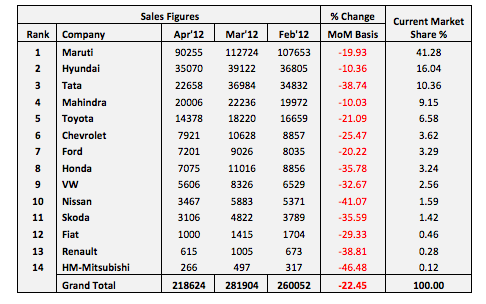 Top 20 Sellers – If we see the table below, Alto lost Numero Uno crown to its sister Swift!! Surprisingly Alto recorded only close to 18000 numbers; this may be due to some reason like plant maintenance etc. Hope it will bounce back in May to regain the position. Loss of one benefitted the other, that's why by selling 19000 units Swift enjoyed 1st position this month. Except 4 Marutis Swift, Alto, Dzire and Wagon R, everyone else failed to touch 5 digit figures. Nano is back to 8000 units, still dreaming 10000 consistent mark.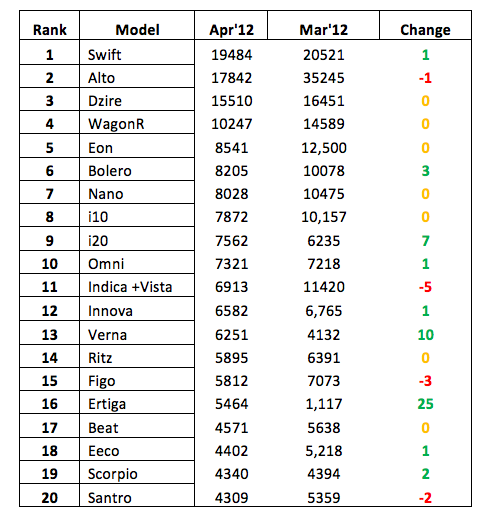 Segment Specific Performance – Following is segment wise break up, it shows that UVs (SUV+MUV) has taken over Sedans by good margin. This shows the bright future of UVs in Indian market. This trend will continue till the year end for sure as there are many good offering in UV segment are coming and lack of any good sedan to be launched.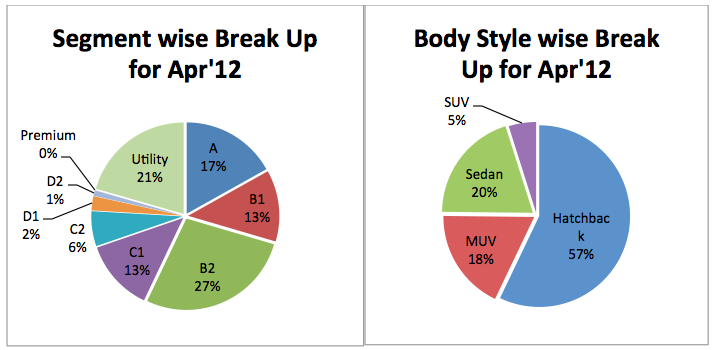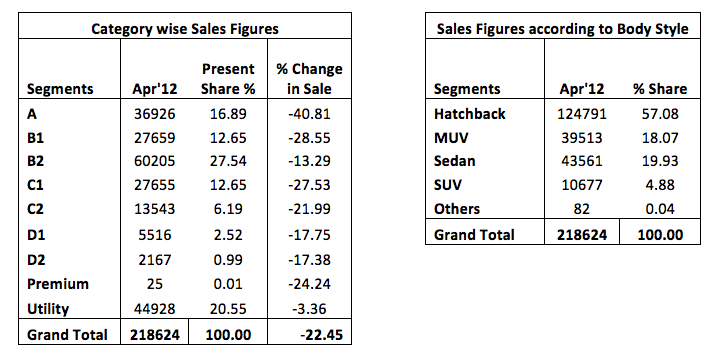 Company Specific Performance – Now we will focus on performance of individual company. Leading the charts as always Maruti Suzuki sent out 90000 cars in April, first time below 1lakh in 2012. Due to some reason Alto lost its pace momentarily and Swift took its advantage to top the chart for the first time. Swift family is driving Maruti north, considering around 40000 sale of Swift+Dzire+Ertiga (almost 50% of total). Age old and sooner going to be discontinued 800 is outselling A-star and Estillo together. As both are failing to reach 1000 mark consistently Maruti may consider reviving them completely. There are some rumors about A-star being replaced soon. SX4 also felt below thousand marks!! Low cost car manufacturing company can't prove their forte in high end cars which reflects in poor number of Kizashi and Grand Vitara.
Happy to be on second spot ahead of Tata Motors for third month, Hyundai is the company which took least hit in this month. Verna steals the show by snatching good numbers from City and Vento. Newly launched model of i-gen i20 is what causes some gain in sales. Eon is back to earth (8500 units) after recording highest ever sales in last month.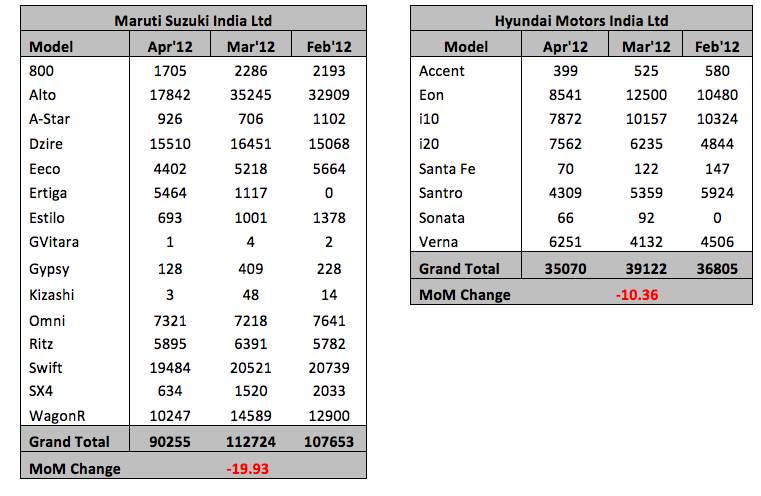 The picture is dark for Tata motors as it fails to regain second position once again. This time the pain of losing the position is sharpened by steep fall in numbers to 22,658 units. Aria is now hovering in two digit figure zone. Indica and Indigo failed badly, this might be because of some techno-financial reason at plant. Nano is back to 8000 mark. Long awaited Merlin, Nano diesel, Manza CS and Indica XL can help Tata to change the picture if launched soon.
Mahindra & Mahindra has shown good performance in the month of slowdown. Except Bolero every other model faired very well. XUV 500 is the one which has grown in this month also and we hope that this trend will continue for next 5-6 months.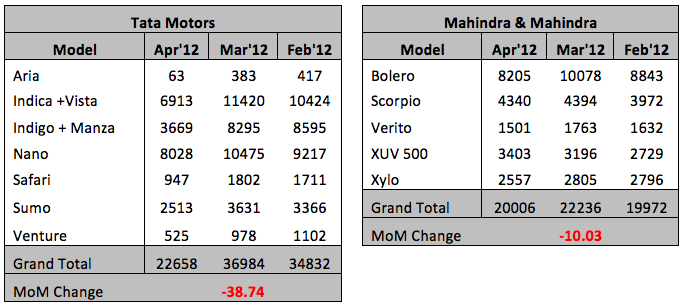 Japanese giants Toyota and Honda are seeing bad days. Toyota is lacking in selling there Q-class Etios twins, as both lost numbers badly. 3467 for Etios and 2157 for Liva are the Lowest figures for both in 2012. Loss of Etios twins is what mainly accounts for 21% loss of sales for Toyota. This reflects how badly Toyota needs their Q-class cars to do well.
Honda after clearing backlogs is now in search of buyers once again. Brio slowed down and City does not seem to take the pace. Jazz backlogs also seem to be cleared in April as it shows 1300 units dispatched in April. Overall Honda scored 35.78% less as compared to last month.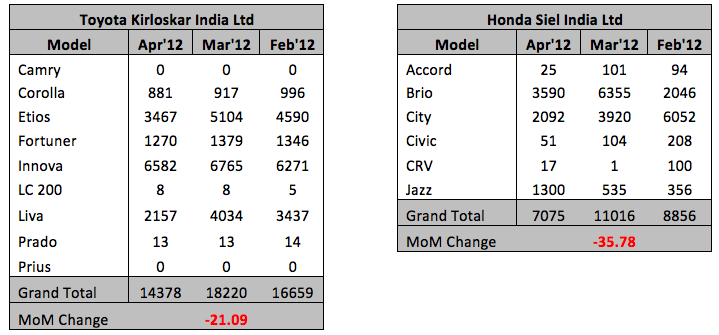 Americans are also facing the April heat as sales figures for both felt close to 20%. Beat and Spark for GM and Figo for Ford has failed to impress the customer this month.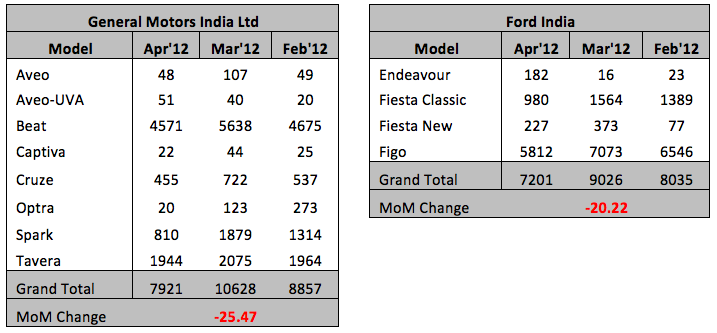 It seems that stock clearing act in last month is reflecting in declining sales figures of both German brands viz. Volkswagen and Skoda in India. Worrying fact for Skoda will be Fabia is continuously failing to perform. Hence we observe, 32+ % loss for both the companies in the month of April.

Where the brands likes Volkswagen, Skoda and Tata suffered in keeping the graph up, it's quite obvious that brands like Renault & Nissan failed miserably. Reason might be anything, like lack of good product portfolio or brands being new to Indian consumer. Both recorded close 40% decline in sales for April.

No surprise results from HM-Mitsubishi and Fiat. HM-Mitsubishi took biggest loss with 46% fall in sale and Fiat failed down by 30%.

Gainers Vs Losers – Amongst gainers, Ertiga being new entrant top the charts. It's quite surprising that sales of Endeavour rose in April. Amongst losers, Tata Motors appears thrice with Indigo, Indica and Aria.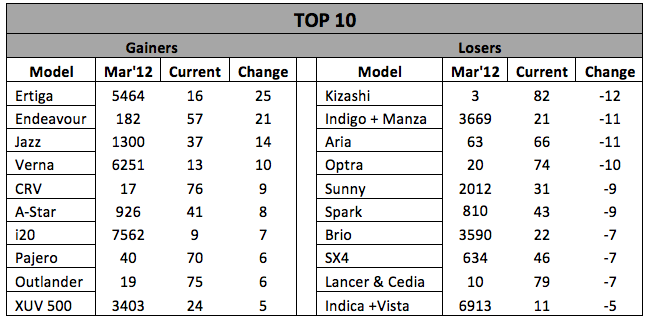 Things to Look Forward – Until next festive season market is expected be hovering around this level, as no new launches are expected in May or even June. It will take second half of 2012 to see boom in market, when almost every new launch will take place during festive season.