Audi A3 Is An Affordable Luxury Sedan At 2014 Auto Expo [Live]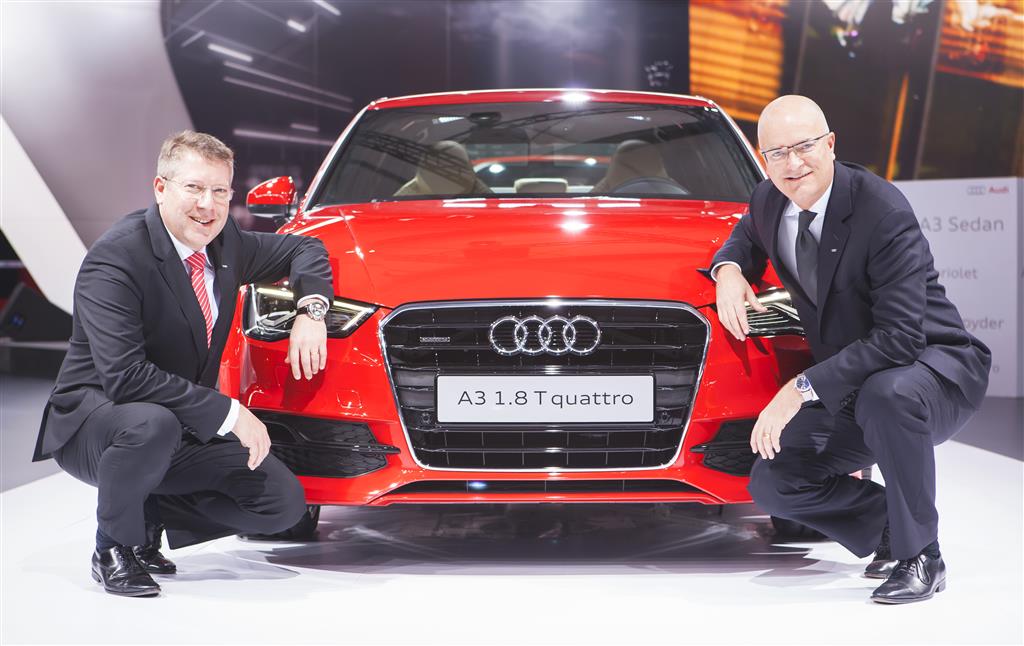 Spy pictures of the Audi A3 have been doing the rounds of the internet since a very long time and now Audi India has finally lifted the covers off the A3 in India, which is a compact premium sedan. The A3 is the cheapest offering from Audi currently and it will surely expand the automaker's customer base in the country. This vehicle was much-awaited by buyers since getting an Audi for a reasonable (relatively) price would be like a dream come true for many. Unlike its rivals, Audi is betting big on an entry level sedan and not on an entry level hatchback. The company has also showcased the A3 cabriolet which is a 2-door 4-seater convertible.
The Audi A3 has two engine options to choose from. A 2.0-litre TDI diesel powerplant that churns out 150 PS of power and 320 Nm of torque. This is the same engine that does duty on the Skoda Yeti, Skoda Octavia, Skoda Superb, Volkswagen Jetta, Audi A4, Audi A6 and Audi Q5. Audi used to offer the A4 with the same power ratings until recently when it was given a slight power bump to match competitors. The A3 though still gets the engine in the lower state of tune. Audi will also offer a 1.8-litre TFSI petrol unit with the A3 that cranks out 177 BHP of power and 280 Nm of torque.
The Audi A3 is positioned below the A4 and hence it will compete with the likes of Volkswagen Jetta, Skoda Octavia and the Mercedes CLA. However, the A3 will be priced at a slight premium over its Skoda and VW siblings. The premium won't deter buyers since they would still be getting the Audi badge which commands more snob value than Volkswagen or Skoda. The A3 is a front-wheel-drive sedan and it will come with Audi's S-Tronic dual-clutch transmission. Audi will assemble the A3 locally at its Pune plant and the vehicle will be brought down via the CKD (Completely Knocked Down) route. Pricing should start from Rs. 22 lakhs (ex-showroom, Mumbai).