Audi City Opens At London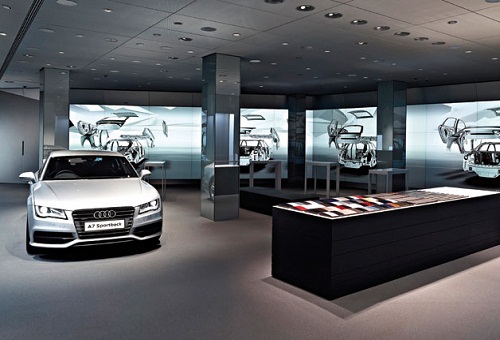 Audi has taken to the next level of marketing with the launch of the "Audi City". This is a newer way of seeing the dealer network and perhaps the initial impressions of the future retailing in automobile industry. Audi launched its first Audi City in London, a few days back and has plans to open more than 20 stores across the world by 2015. Each of these outlets would be located at the heart of the urban locality. It will be a major marketing and customer relations tool for the company as it would showcase its new mobility services and electric-drive Audi models.
Audi city would be two birds with one stone solution. It will offer both the digital product presentation and the direct interaction with the dealer. The company will be able to not just showcase its line of products but will also be able to help the customers to experience the range in detail. Visitors to the store can choose from the wide range of configurations available and experience the final one on a 1:1 screen. Also, the technologies like drivetrain, body shell or LED light technology can be explained to the customers in depth with complete detailing.
Customers today need a personal touch to everything and a personal interaction with the dealers is a must. The employees need to be well-versed with this thought and thus Audi AG is offering employee training targeted specifically for these urban outlets. The company also helps the dealers to recruit the right kind of workforce at these outlets. The qualification of the workforce would matter the most as they must be able to explain the technical detailing to the customers. This indeed is a giant leap towards the retailing opportunities that lie in the automobile sector and the rivals might just inculcate this into their business any time soon.
[youtube:http://www.youtube.com/watch?v=qD2jPwnYE_I 540 375]