Audi Continues Testing 2016 A4 In India, Spied Yet Again
The fifth generation Audi A4 that will be unveiled at this year's Frankfurt Motor Show has been caught testing in India yet again and the luxury sedan seems to have grown in size.
Luxury car manufacturers including the likes of Audi, Mercedes and BMW have been battling since forever to take number one spot in the Indian car market. Off late, BMW has lost significant ground to the other two companies as its products are older and are also less attractive propositions as compared to those of both Audi and Mercedes. This year, Mercedes has been able to beat Audi when it comes to overall sales (only in one quarter though), thanks to its new range of luxury cars that have adopted the company's latest design philosophy. Both Audi and Mercedes have moved their previous entry-level sedans, the A4 and C-Class more upmarket with the launch of the new CLA and A3 models. The Mercedes C-Class beats the current generation Audi A4 hands down in almost all departments.
The fifth generation Audi A4 is set to be unveiled at the Frankfurt Motor Show later this year and two (petrol and diesel) blacked-out A4's have recently been caught testing in Mumbai. Though the cars are camouflaged, many details have emerged. Firstly, the new A4 has definitely gotten bigger as compared to the current generation model (the car was spotted sans camouflage a few weeks back in Germany). Design wise, the A4 looks much more like its eldest sibling, the A8, thereby giving it a more premium look. The car is seen testing on a new set of alloy wheels (different in both the mules) as well.
The 2016 Audi A4 will most likely get a new 1984cc petrol engine which will replace the current 1.8-litre TFSI unit. The diesel mill is likely to remain the same, i.e., the 2.0-litre TDI unit. No other details about the upcoming luxury sedan can be extracted at the moment. Audi will unquestionably make the new A4 a very striking alternative to the recently launched Mercedes C-Class and will look to give the same many sleepless nights. However, the C-Class can stay without worry for the time being because the next generation A4 is only expected to launch in India next year.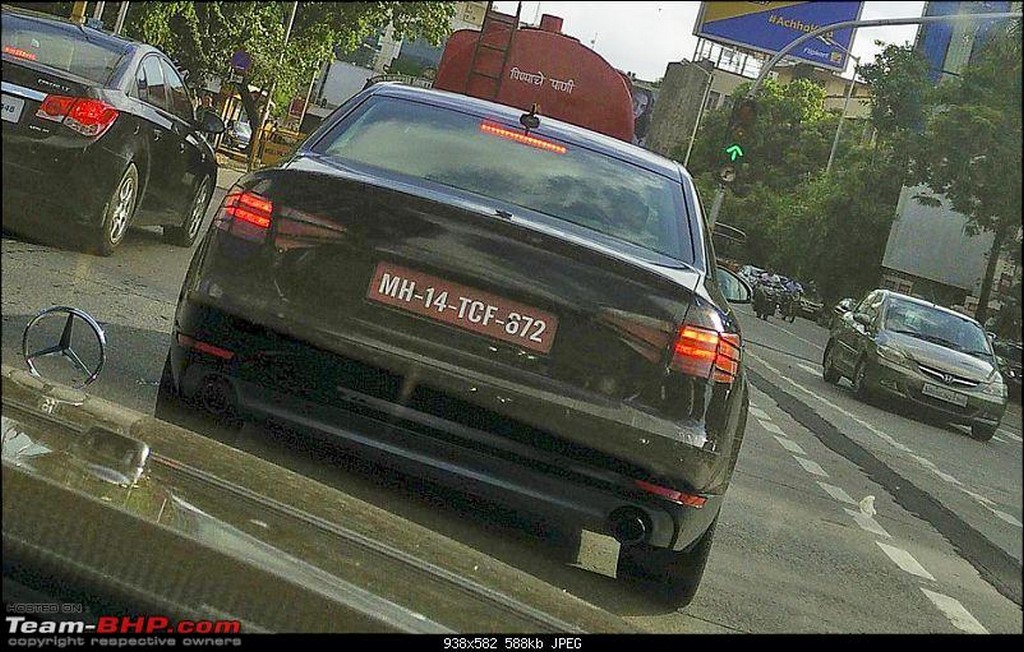 Spy Pictures Source – Team-BHP.com