Audi R18 e-Tron Quattro Brings Hybrid Power To Auto Expo [Live]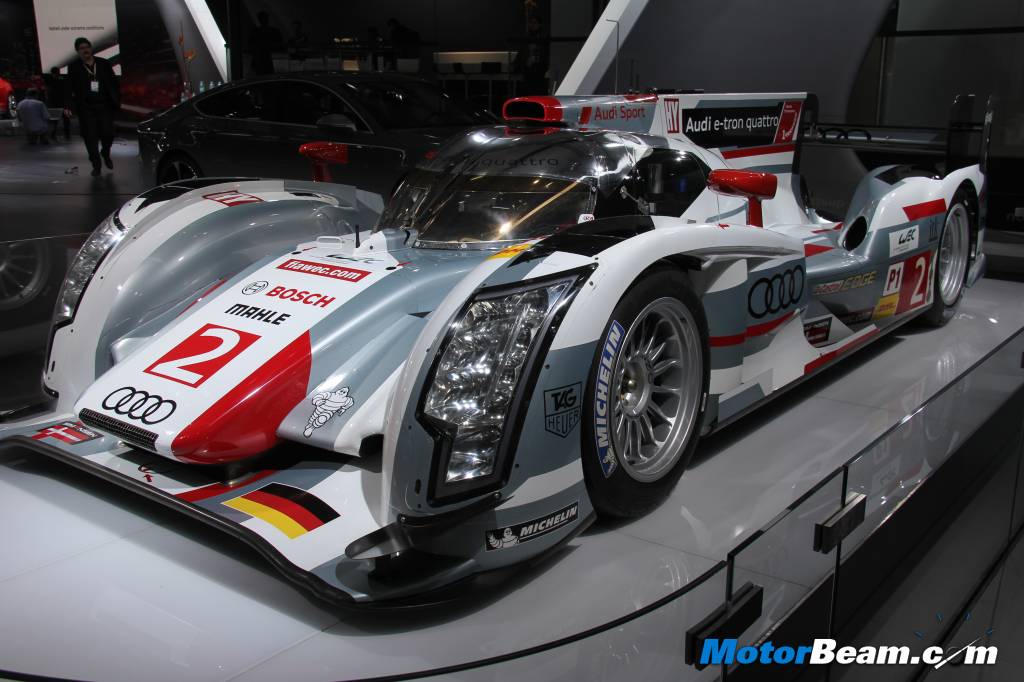 If you happen to visit the 2014 Auto Expo, Audi has a special treat for everyone at its pavilion with the Audi R18 e-Tron Quattro race car on display. The R18 e-Tron Quattro is the most complex car every built by Audi for one of the toughest and enduring races of the world, the 24 hours Le Mans series.
The drool worthy R18 e-tron race car was the winner for 2012 24 hours Le Mans series. It was also the first car in history to win the Le Mans series with a hybrid powertrain. Powering the race car is a diesel V6 TDI combustion engine. The engine coupled with a flywheel accumulator system designed by Williams Hybrid Power system can produce an extra 500KJ (100 HP) energy which is made available to the front wheels of the car at speeds above 120 km/hr; thus making the car a four-wheel drive or Quattro. The R18 e-tron Quattro produces a combined output of 490 HP of power and 850 Nm of torque. The body is made out ultra-lightweight carbon-fibre reincforced polymer (CFRP) with titanium inserts and helps with keeping the car's overall weight to a minimum, and has a kerb weight of 915 kgs. The weight reduction has cut the fuel consumption by over 30 percent on the race car. The 2014 race car also features the Matrix technology LED lights.
The R18 e-tron Quattro is not just a race car. It is a testimony to power, performance, technology from the entire team of Audi sport and the driver's as well. Go ahead and feast on the pictures, something from this car will eventually trickle down into your Audi saloon, coupe or SUV in the near future.