Bajaj Files Complaint Against Facebook Users For KTM Meme
Reacting to the KTM meme that had gone viral on Facebook, Bajaj Auto filed a complaint with the Cyber Crime Cell and immediately got an apology.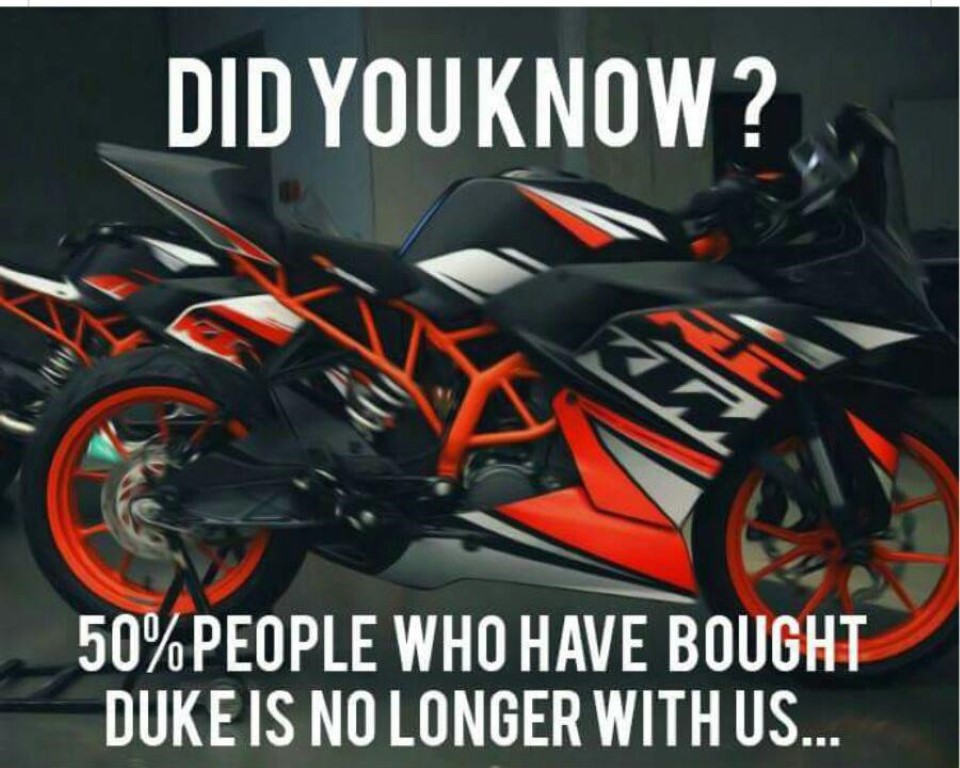 The KTM Duke and RC bikes are very popular in India and they have been quite successful thanks to their immense power, looks and of course the pricing at which they are offered. Memes are becoming increasingly popular on many social networking sites like Facebook, Twitter, etc. and if someone finds something shocking or funny, they immediately share it with their friends who in turn share it with their friends. This chain is very long and the message reaches thousands of people in no time. Recently, a couple of pages on Facebook posted a meme about KTM where it was written "50% people who have bought Duke is no longer with us" along with a picture of a KTM RC bike.
This image got popular because unaware people concluded that 50% of all KTM Duke customers have passed away. Many random conclusions were drawn by people saying that so many people have passed away because the bikes are not safe for use. The picture got shared by a lot of people like fire and the image served only one purpose – it harmed the image of Bajaj-KTM. The company then complained to the Cyber Crime Cell of the Pune Police along with links of the profiles that shared the picture. Facebook page – The Back Benchers posted an apology on their page and took down all the posts that had that particular image.
It is disappointing to see how people try to make jokes out of others by maligning their image. Both Bajaj and KTM have a huge following in India as well as other countries and such instances come across as really bad in taste. It is good to see that the required apologies have been issued but people who share such posts also need to be aware and shouldn't trust things they see on the internet blindly. Hopefully, this incident shall prevent many more in the future.