Bajaj Neuron Trademarked, Honda CB 350 Rival Under Works?
Bajaj's new trademark might be for a new sub-400cc cruiser bike!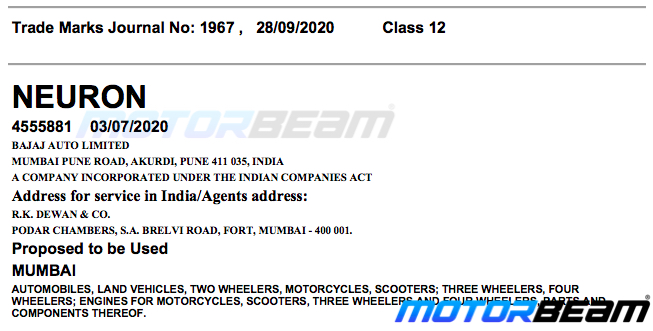 Bajaj Auto has registered the name 'Neuron' and it might be a new two-wheeler offering by the Indian manufacturer.
After Honda's new CB 350, it is safe to say that the sub-400cc segment of commuter-cum-touring motorcycles is definitely flourishing with options.
We suspect that Bajaj might be stepping into this segment as well, with an offering named 'Neuron'. If so, we expect the bike to take inspiration from the very famous- Avenger series.
The Bajaj Avenger lineup is one of the oldest lineups in the history of the manufacturer. The low stance, comfortable posture, good engine characteristics and a decent set of features at a low price tag, make it a pretty well-rounded package.
We expect Bajaj to retain all these properties from the Avenger if the 'Neuron' is indeed a sub-400cc cruiser motorcycle. Further, just like the Dominar, we expect Bajaj to opt for the 390cc engine spec.
This will make life easier for Bajaj's R&D department, as they already have the motor in use. However, accommodating a 390cc engine in the Avenger's chassis will be a challenge.
Since there will be no Bajaj branded bike in the Bajaj-Triumph deal, that possibility is ruled out as well.
Lastly, these are just speculations and the 'Neuron' might actually turn out to be a different offering as the 'trademark' doesn't mention any specific details. Although we do hope that Bajaj introduces a sub-400cc cruiser motorcycle to take on Royal Enfield and Honda.
Bajaj Neuron
Bajaj has filed a trademark for the name 'Neuron'
This name might be for a new sub-400cc cruiser bike by the Indian manufacturer
The 'Neuron' will probably take inspiration from the Avenger if it is indeed a cruiser offering