Bajaj Triumph Announce Middle-Weight Bike Partnership
Bajaj Triumph partnership for the middle-weight bikes announced which will enable Triumph to significantly expand its global reach.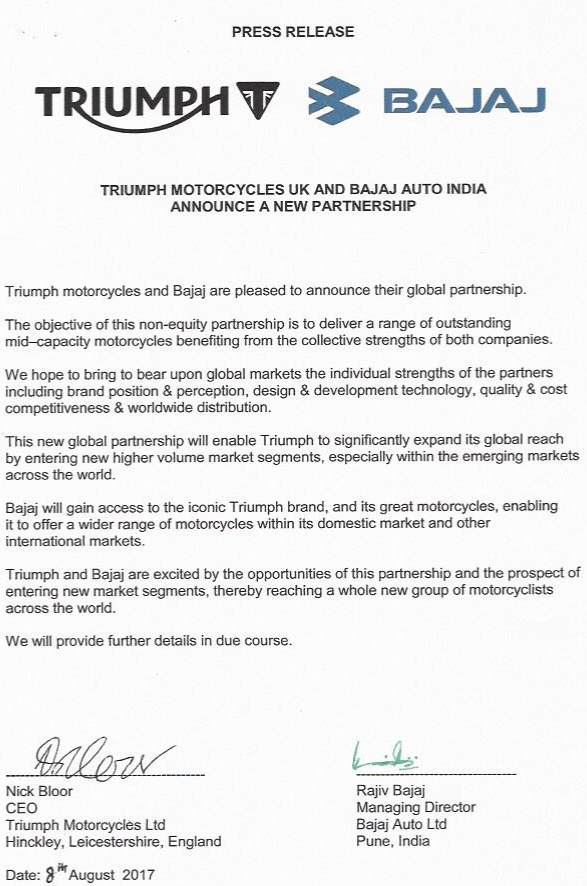 Bajaj Auto in its recent annual general meeting had announced that it is in final talks of making a new partnership with a motorcycle manufacturer that will cater to a lazy style of riding. Bajaj has now taken off the veil with regards to this development. Bajaj and Triumph motorcycles have announced their global partnership in the middle-weight segment.
The objective of this partnership is to deliver a range of new middle-weight motorcycles ranging from 400cc-800cc. These 400cc-800cc motorcycles will be coming from Bajaj and the advantage to Triumph will of-course be the low cost of production. This new partnership will also enable Triumph to expand its global reach by getting access to new higher volume segments, especially in emerging markets. Bajaj, in turn, will gain access to the iconic Triumph brand and its motorcycles.
Bajaj already has a partnership with KTM which caters to the performance motorcycle segment and the lazy style riding motorcycles are what has been missing in Bajaj's portfolio. However, with this new partnership with Triumph, Bajaj will start catering to lazy style of riding as well.
So up to 200cc motorcycles, Bajaj will make them on its own, 200cc-400cc it has KTM and in the 400-800cc segment there will be products with Triumph. Meanwhile, for Triumph lovers, maybe the Street Single might see the light of the day.
Bajaj Triumph
– Bajaj and Triumph announce their middle-weight bike partnership
– Bajaj had missed lazy style riding motorcycles in its portfolio and now Triumph fills that gap
– The objective of this partnership is to deliver a range of new middle-weight motorcycles ranging from 400-800cc