2017 Bajaj V12 Test Ride Review
Text – Viraj David; Pictures – Avdhoot Kolhe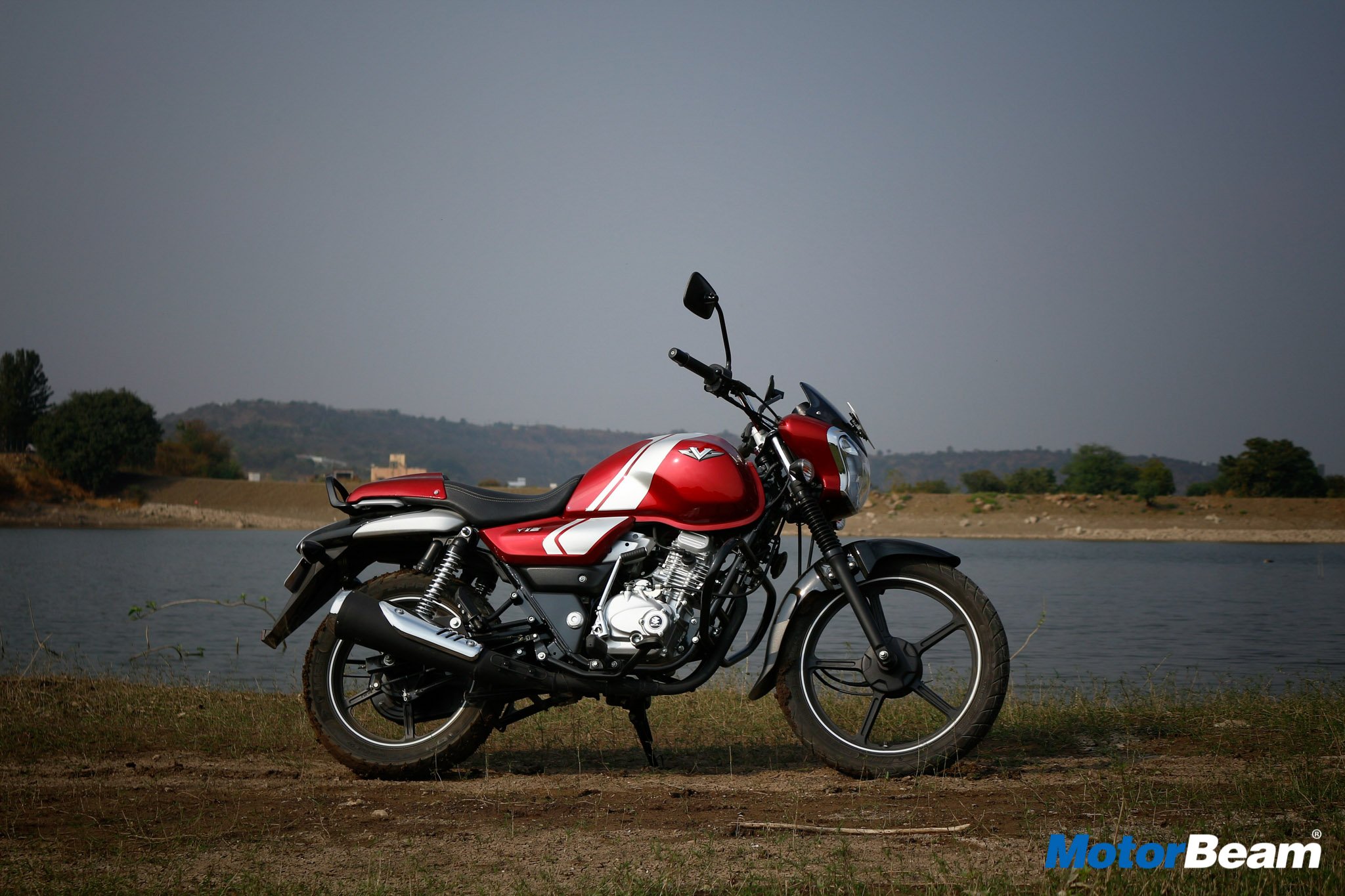 Bajaj V12 Review
Bike Tested: Bajaj V12; Road Test No. 779
Price OTR Mumbai: Rs. 70,256/-
The Bajaj V12 is a commuter motorcycle based on the platform of the V15
Bajaj introduced a new series, the 'Bajaj V' by launching the V15 a few months back. Bajaj made it an iconic motorcycle by taking the metal of the decommissioned iconic Indian aircraft carrier INS Vikrant to make its fuel tank. Now, the Indian automaker has extended the V series by silently launching a commuter motorcycle again, the Bajaj V12. It was already in the pipeline since the V15's production and it is based on the same platform as that of the V15. The Bajaj V12 also uses some metal from the INS Vikrant in its production and carries the same design as that of the V15. Being in the commuter segment, the V12 loses some premium features like front disc brake, tubeless tyres, digital/LED fuel gauge and 10-spoke alloy wheels which are seen on the V15.
Motor Quest: The Bajaj V12 is the second motorcycle to be launched in the 'Bajaj V' series and like the V15, it uses some metal in its construction from the decommissioned majestic-class aircraft carrier, the INS Vikrant of the Indian Navy which played a vital role during the Indo-Pak war in 1971.
Styling – The Bajaj V12 takes its styling inspiration from its elder sibling, the V15. All the visible body parts are carried from the V15. So, the V12 looks similar to the V15 but still manages to look unique. It carries the same butterfly shaped headlamp with chrome edges with a small visor at the front and the same classic LED tail-light at the rear. The headlight gets a smaller power bulb of 12V 35/35W while the V15 gets a 12V 55/60W bulb. The muscular sculpted tank uses some metal of the INS Vikrant and gets a chrome fuel cap with an anchor's logo and INS Vikrant initials on it. Infact, it's the same fuel tank that is seen on the V15. The single-piece wide seat gets premium texture treatment and ofcourse there is the removable rear seat cowl on this 125cc motorcycle too which adds the café racer like looks to this motorcycle.
The iconic V badging has been given more importance and thus there is no Bajaj logo anywhere on the bike
The front mudguard comes in black color whereas on the V15, it is body-colored. At your first glance, you won't be able to make out the difference between the both (V12 and V15), but when observed properly, you will notice that there are now 5-spoke alloy wheels (lighter in weight) instead of ten and sort of different sticker pattern on the new V12 to make it look unique and of course the badging. The V12 also loses out on a front disc brake and tubeless tyres and the rear tyre is now slimmer. Though the V12 also misses out on aluminium parts because of the cost cutting factor but the overall fit and finish of the parts is really good.