Benelli TNT 135 Price Rs. 1.3-1.5 Lakhs When Launched
The Benelli TNT 135 has a 135cc single-cylinder air-cooled petrol motor producing 12.6 BHP of power. The mini-bike has a weight of 121 kgs and a ground clearance of 160 mm.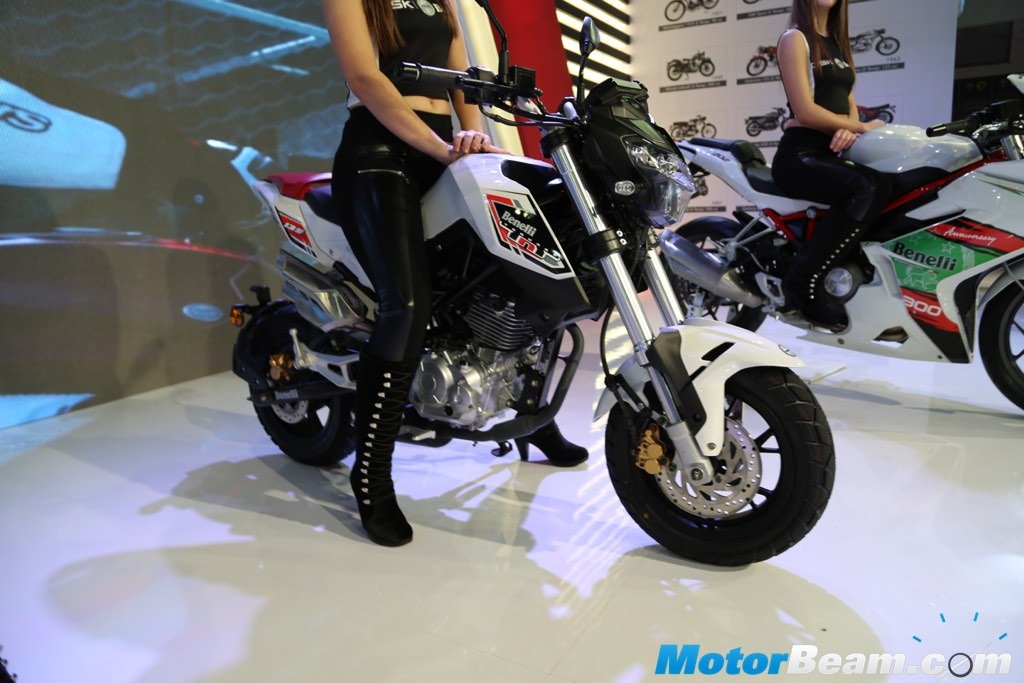 India is currently at the peak of a motorcycling revolution which has seen the arrival of high performance and exciting European two-wheeler brands to our shores. Names like KTM, Aprilia and Benelli add a dash of color and passion into a very dull and commuter oriented market. But the real magic is created by the low cost offerings of these companies which offer loads of fun but at a more accessible price. Benelli is now set to ignite the segment further by introducing the Benelli TNT 135 at a price point of Rs. 1.3-1.5 lakhs.
The DSK Benelli TNT 135 is a mini-bike which was unveiled at the 2016 Auto Expo. The motorcycle is powered by a single-cylinder 4-stroke air-cooled 135cc engine that is paired to a 5-speed transmission. It is capable of pushing out 12.6 BHP of power and 10 Nm of torque. The bike rides on 12-inch 120/70 front and 130/70 rear tyres and measures 1840 mm in length, 755 mm in width and 1025 mm in height. Effectively, this motorcycle is closest to the Honda Grom which one can't buy in India currently.
The Benelli TNT 135 has upside-down front forks a rear swingarm with lateral shock absorber suspension system. Its braking system includes 220 mm steel disc and 190 mm disc at the front and rear respectively. This mini-bike has a fuel tank capacity of 7.5-litres. The company hasn't yet revealed the launch timeline of the bike, but it is expected to arrive later this year.
The minibike segment is a niche segment in India with currently no motorcycle presently on sale for now. The recently introduced Honda Navi follows the same principal of small dimensions and power but loads of fun in a controlled urban environment, which the Benelli TNT 135 and Honda Grom also aim for. With a competitive pricing and virtually no competition whatsoever right now, it will be interesting to see how the motorcycle performs in the market when launched. Now only if Kawasaki brings in the Z125 in India to ruffle things further.
Benelli TNT 135 Price
– The Benelli TNT 135 is expected to arrive later this year
– The motorcycle is powered by a 135cc single-cylinder engine
– It is essentially a mini-bike with dimensions similar to that of a Honda Grom
– When launched in India, the Benelli TNT 135 will be priced between Rs. 1.3 – 1.5 lakhs