BMW India Launches 2011 6-Series Convertible – Live Pictures From Launch
BMW has launched the new 2011 6-Series Convertible at Udaipur, the beautiful lake city of India. Priced at Rs. 95 lakhs (ex-showroom), the car is brought in as a CBU and is powered by a 4.4 litre V8 petrol engine with BMW TwinPower Turbo Technology and direct injection producing 407hp of power between 5500 – 6400Rpm and a maximum torque of 600 Nm all the way from 1750 to 4500Rpm. The new BMW 6-Series Convertible accelerates to 100 kmph in 5 seconds with a top speed limited to 250 kmph.
"The new BMW 6 Series Convertible with its breathtaking aesthetics is the perfect vehicle for an exclusive lifestyle. The elegant silhouette, torquey engine, perfect road holding and refined interiors with perfection to the smallest detail, create an ultra-luxurious open-top driving experience that could not possibly get any better," Dr. Andreas Schaaf, President, BMW India said.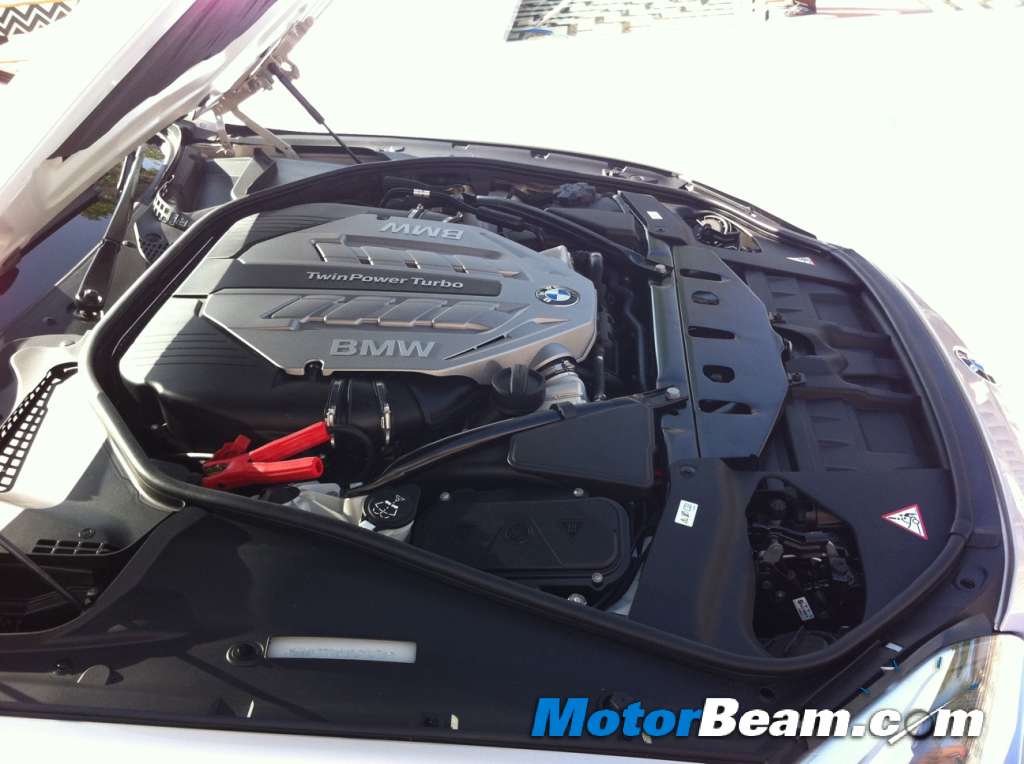 The new BMW 6 Series Convertible comes with an eight-speed sports automatic transmission with rapid gear changes which can be shifted through paddles on the steering wheel. It also features Drive Dynamic Control, which allows drivers to vary the car's sporting characteristics and comfort by choosing the desired suspension settings (Normal, Sports and Sports+).
The new BMW 6 Series Convertible embodies an extremely contemporary form of luxury, one not defined by the wasteful use of resources but instead spawned directly from superior technology. BMW EfficientDynamics has innovative technologies such as Intelligent Lightweight Design, Electronic Power Steering, TwinPower Turbo Technology and Brake Energy Regeneration (similar to KERS in Formula 1).
As a part of the celebration, one of the cars was floating on the lake as above.
The new BMW 6 Series Convertible will be available in Alpine White as non-metallic paintwork and in the following metallic colours – Orion Silver, Titanium Silver, Black Sapphire, Havanna, Space Grey, Deep Sea Blue and Vermillion Red. Dakota leather is the standard upholstery and is available in the following colour combinations – Black, Ivory White and Cinnamon Brown. The following interior trims are available: Fine-wood trim poplar grain grey and Fine-wood trim American Oak.
[slideshow id=121]
Points from the Press Conference : –
1. BMW to expand dealerships from 20 to 40 by 2012 in major metros.
2. The BMW X3 will be launched by mid 2011 and will be assembled in the Chennai plant.
3. BMW confident of retaining no. 1 position in luxury car segment.
4. Factory expansion has been done to enable the production of the X3. BMW has invested close to Rs. 18 crore as a part of their expansion strategy.