Holy Moly, 2014 BMW M3 & M4 Feature Burnout Function!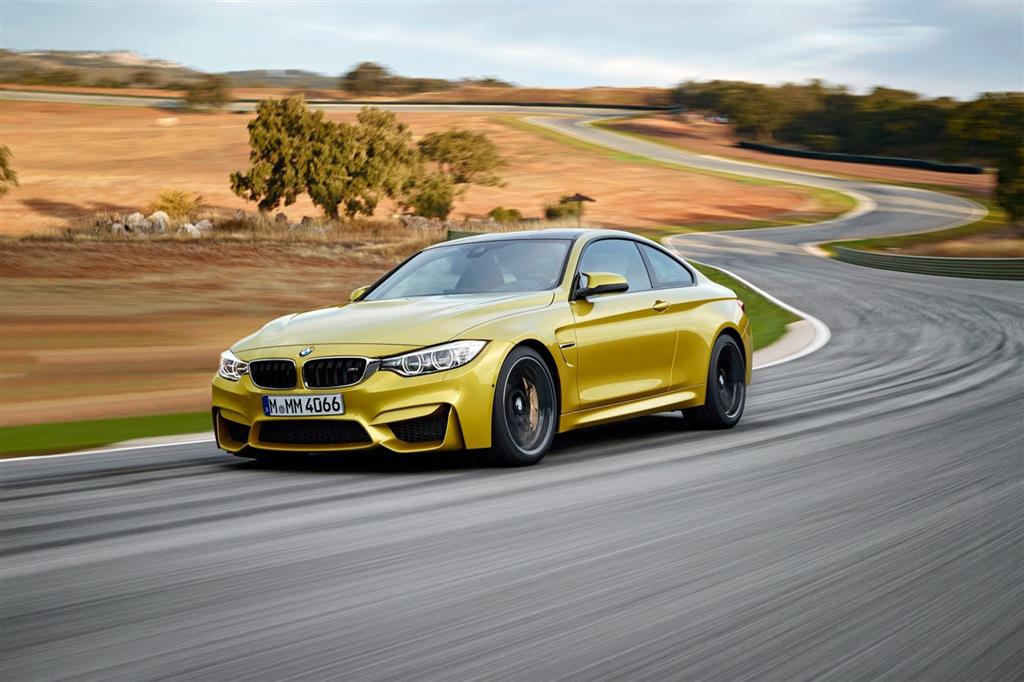 BMW's M-series vehicles have always been performance oriented versions of their already sporty sedans. The previous generation M3 which was a derivation of the E90 3-Series sold in good numbers globally. Now, the German automaker wants to take their M performance vehicles one step forward. Welcome the new M4 coupe which is a completely new model and takes performance to a new level altogether. BMW has also launched a 4-door sedan version of the new vehicle which is called the M3 sedan. Both these cars sprint from 0-100 km/hr in 4.3 seconds and are limited to a top speed of 250 km/hr.
The BMW M4 coupe looks really smashing and it is a no-brainer that its performance would please the enthusiasts. Powered by a 3.0-litre BMW M Twin Turbo engine, the M4 coupe produces 425 BHP of power and 550 Nm of torque. BMW has tried to reduce the overall weight as much as possible and hence both these new vehicles are almost 80 kgs lighter than the previous generation M3. These days it is a common norm by most performance-oriented vehicle manufacturers to use carbon-fibre in abundance and BMW has also done the same. There are many carbon-fibre bits and pieces and even the roof is completely made up of carbon. This material is not only light but also quite strong. However it is quite expensive and does add up to the costs.
The new BMW M3 sedan will also feature the same engine as the M4 producing similar levels of power. This vehicle is for those who want a blend of performance as well as practicality. Don't be surprised if some of the owners use the M3 sedan for their everyday commute. For the transmission, you can choose either the 6-speed MT or the optional 7-speed Dual-Clutch Transmission (DCT).The manufacturer has claimed that these vehicles are tuned for slightly better fuel efficiency and lower emission levels. BMW claims that these vehicles will give a fuel mileage of around 11.36 km/l with the MT and around 12.04 km/l with the DCT. However, efficiency depends on other factors too, like driving style, road conditions, fuel quality, etc.
Both the M3 and M4 will be rear-wheel-drive since BMW wants us to have some fun around the corners. You also get a launch control function and paddle shifters if you opt for the DCT. With great power comes great responsibility and you don't want such a vehicle to go out of control right? Therefore, BMW has provided a Dynamic Stability Control (DSC) system as well as a Stability Clutch Control system to keep the vehicle in proper control of the driver. While driving, you can choose from three modes; Comfort, Sport and Sport Plus. Don't expect the Eco Pro mode that you get on the regular 3-Series though.
The M4 coupe and M3 sedan will ride on 18-inch lightweight aluminium wheels and 19-inchers would be provided as an option. It would be highly unlikely anyone would opt for the larger wheels in India unless they want to break their backs. If you have got so much power on tap, you also need great stopping potential and that is exactly what the BMW carbon ceramic brakes provide. BMW will also give out a "Smokey Burnout" option on both these vehicles which allow the driver to have some amount of fun spinning the rear wheels and remain well within limits.
The BMW M cars offer great performance without grabbing too much attention on the roads. To the casual observer these are just normal BMWs and this fact helps a lot in our country where expensive vehicles get a lot of unwanted attention. These cars also offer great practicality and could be used even as everyday cars provided the road conditions are not too bad. BMW engineers have worked very closely with the professional racers of BMW's Motorsport division for developing these cars to be sure that these vehicles won't disappoint in terms of performance, be it on the road or the track! India launch of these M cars is expected next year.