Both RC 200 & RC 390 Launch On 9th September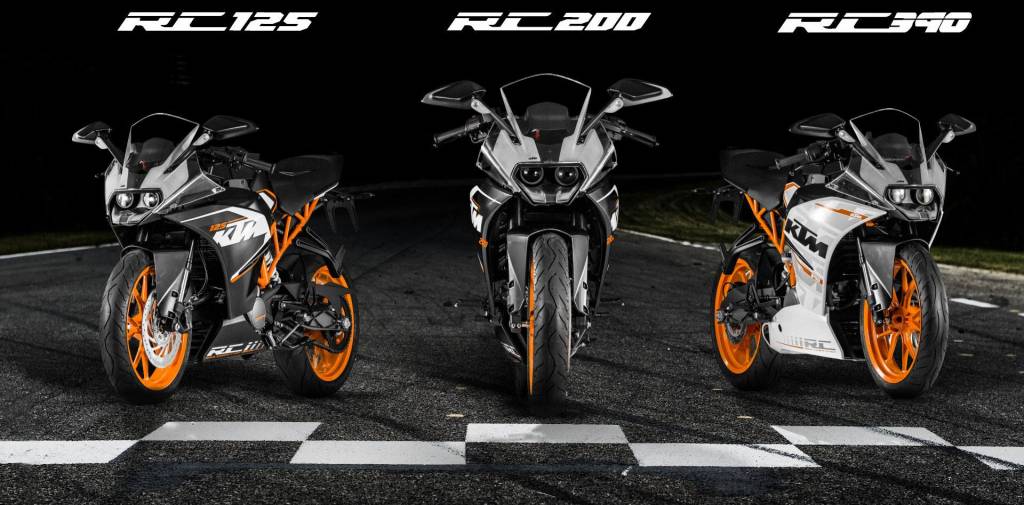 We all know that KTM will launch the RC 390 in India on the 9th of September but there is a bigger surprise in store on the same day. KTM will also launch the RC 200 on the 9th of September, yes, both the RCs are being launched simultaneously. The launch event is likely to be held in Pune and as per dealers, the pricing of the RC 200 will be close to Rs. 2 lakhs while the RC 390 will cost upwards of Rs. 2.5 lakhs (on-road, Mumbai). Bookings of both the RC 200 and RC 390 have commenced pan India with the booking amount being Rs. 30,000/-.
Some might find the premium on the RC much more than the Duke but one must not forget that the changes are more than what meets the eye. Other than the full fairing, new front-end and a new tail piece, the RC also gets twin headlights with daytime running lights, new mirrors, cowl like pillion seat and reduced front suspension travel. The fuel tank capacity has also reduced minutely while the engine specs remain the same but the chain of the bike has been revised. Both bikes shares their underpinnings with their respective Duke siblings.
The KTM RC 200 produces 25 BHP of power while the RC 390 outputs 43.5 BHP, both engines being mated to a 6-speed gearbox. While the RC 200 belts out 19.2 Nm of torque, the RC 390 generates almost double at 35 Nm. Both the RCs weigh slightly more than their non-faired counterparts. Due to better aerodynamics on the RCs, expect a slightly higher top speed but no tweaks have been made to the gearing of these bikes. ABS is offered as standard on the RC 390 and could be offered on the RC 200 as well. Competition comes in the form of the Honda CBR250R and Kawasaki Ninja 300.
[flickr size="center" float="medium"]http://www.flickr.com/photos/motorbeam/10693365445/[/flickr]
[flickr size="center" float="medium"]http://www.flickr.com/photos/motorbeam/10693597673/[/flickr]
[flickr size="center" float="medium"]http://www.flickr.com/photos/motorbeam/10693402404/[/flickr]
[flickr size="center" float="medium"]http://www.flickr.com/photos/motorbeam/10693405044/[/flickr]
[flickr size="center" float="medium"]http://www.flickr.com/photos/motorbeam/10693413396/[/flickr]
[flickr size="center" float="medium"]http://www.flickr.com/photos/motorbeam/10693402174/[/flickr]
[flickr size="center" float="medium"]http://www.flickr.com/photos/motorbeam/10693415286/[/flickr]