How The Discover 150 Fares With Other 150cc Bikes – Spec Comparison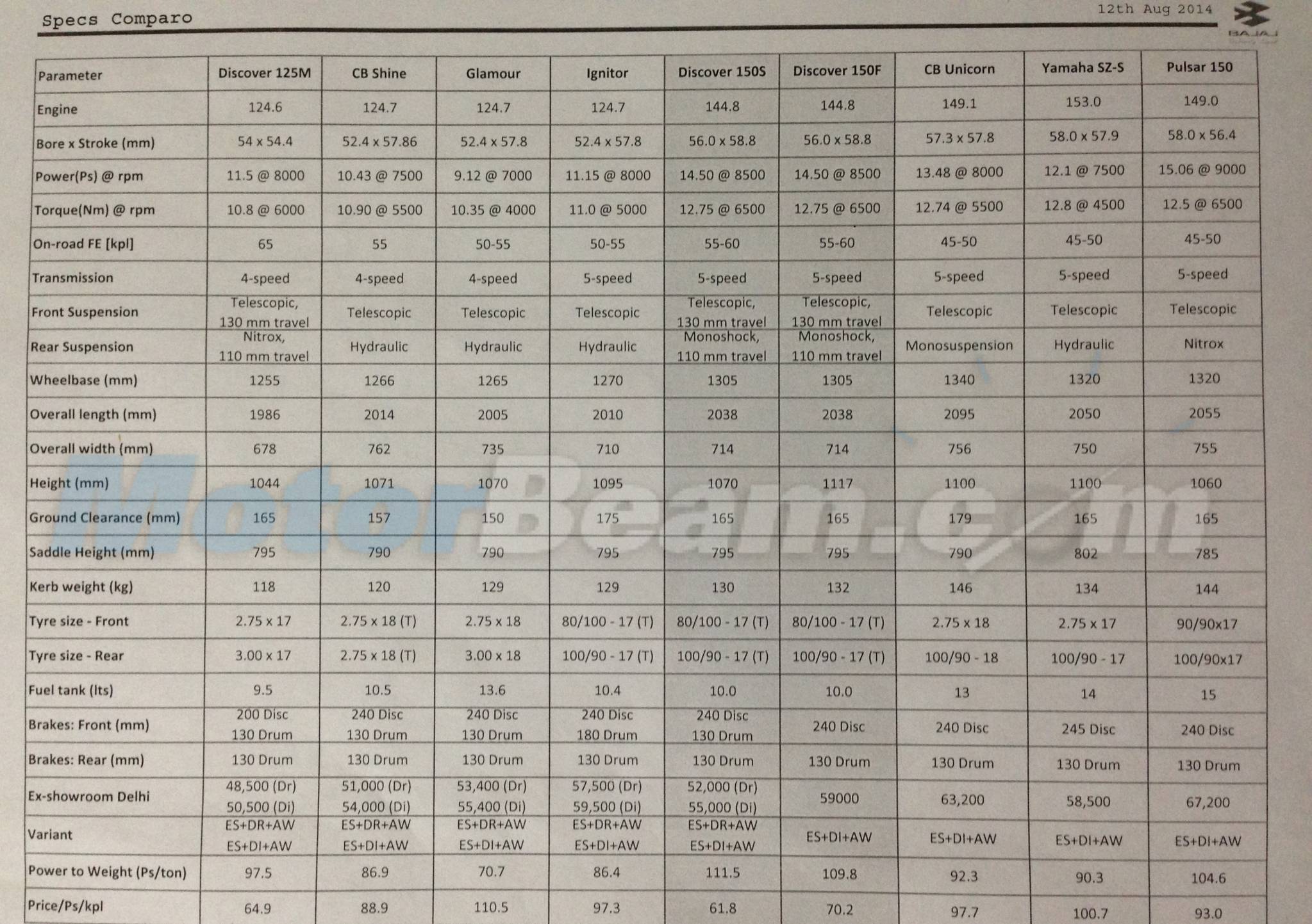 Bajaj Auto recently launched the Discover 150 in two variants – S and F, aimed at commuters who want something more powerful and at a more affordable price. The motorcycle is priced quite attractively such that it competes with some 125cc motorcycles as well. The Discover 150 is an entry-level commuter motorcycle while the Pulsar 150 will be Bajaj Auto's premium 150cc offering, due for a massive update later this year. Bajaj Auto is playing the value game with the Discover 150, offering more power than rivals at a cheaper price.
The Discover 150 is also the only bike in its segment to feature a 4-valve engine. It also gets wider tyres than some of its rivals and comes with a monoshock rear suspension. Currently Bajaj Auto is the leader in the 150cc segment with the Pulsar 150 and if the Discover 150 sells well, the company's advantage will further stretch. At the recent media ride of the Discover 150, Bajaj Auto shared a specification comparison of the Discover 150 with its rivals. Three 125cc bikes and three 150cc bikes are included in this comparison sheet, surprisingly of the six bikes compared, two are Bajaj Auto's own – Discover 125M and Pulsar 150.
The table pasted above gives a clear picture on many aspects of the Discover 150, vis-a-vis its rivals. Meanwhile here are the prices of all the 150cc bikes (on-road, Bangalore), courtesy of our reader Pravin –
Yamaha YBR125 – Rs. 60,000/-
TVS Phoenix 125 – Rs. 61,000/-
Honda CB Twister – Rs. 63,000/-
Bajaj Discover 150S (disc) – Rs. 65,000/-
Yamaha SS125 – Rs. 65,000/-
Honda Shine – Rs. 67,000/-
Hero Glamour – Rs. 68,000/-
Bajaj Discover 150F – Rs. 69,000/-
Yamaha SZ-RR – Rs. 72,000/-
Hero Ignitor – Rs. 73,000/-
Honda Unicorn – Rs. 77,000/-
Bajaj Pulsar 150 – Rs. 79,000/-
Hero Xtreme – Rs. 80,000/-
TVS Apache 160 – Rs. 80,000/-
Honda Trigger DLX – Rs. 84,000/-
Hero Hunk – Rs. 84,000/-
Yamaha FZ-S V1 – Rs. 85,000/-
Yamaha FZ-S V2 – Rs. 93,000/-