Custom Pulsar 220 With 180 Section Rear Tyre!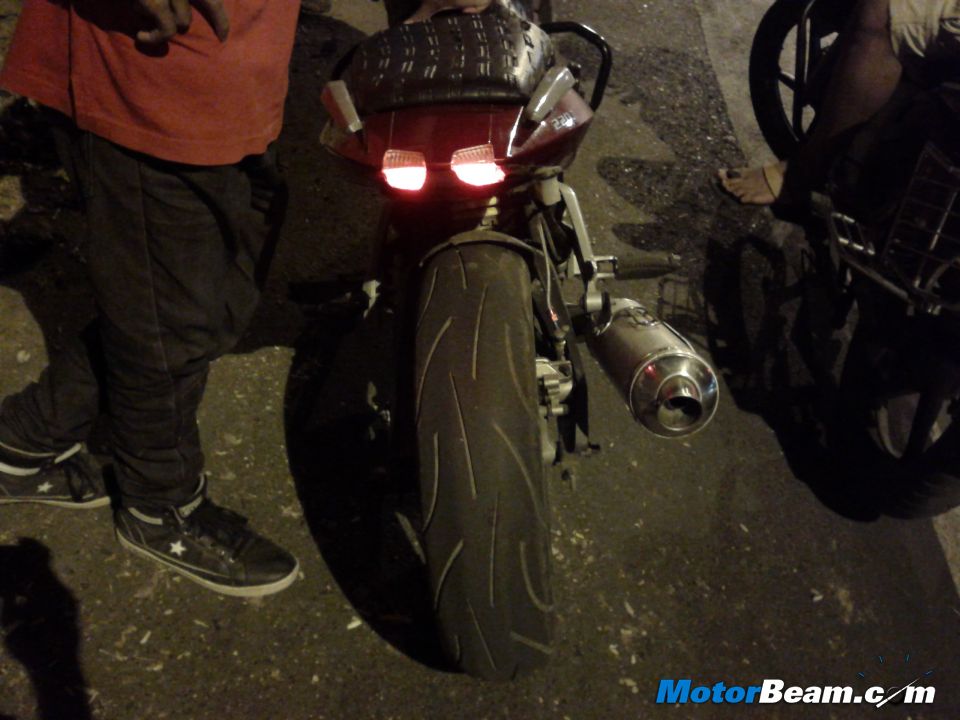 Bajaj Pulsar is one of the most famous motorcycles in India. The Pulsar has created a revolution of sorts and there are so many on the roads, that some Pulsar maniacs want to distinguish themselves from the herd by modifying their machines. We have seen alot of modifications to the Pulsar on MotorBeam, including full fairings and what not, but this one just takes the cake for being the most insane Pulsar I have encountered till date.
Deepak R. Pandey mailed us these pictures and details of a customized Bajaj Pulsar 220 he spotted one night. The bike features 180/55 Michelin rear tyre fixed on Yamaha FZ alloy wheel. Bybre disc brakes have been put, which are assisted by mechanical ABS. The twin shocks have been replaced by Yamaha FZ's monoshock suspension. The total cost of all this comes to a shade below Rs. 40,000/-, with the job being carried out somewhere in Bandra, Mumbai.
Now these mods certainly look attractive. The monoshock if done right, will give the Pulsar much better ride and handling, while the upgraded brakes will give the Pulsar 220 good stopping power. However, the 180 section tyres are a overkill for the Pulsar's 220 cc engine and will drastically reduce performance and fuel economy. This Pulsar 220 returns 20 km/l with this over-sized rear tyre. The added weight and friction will take away the fastest Indian tag from the Pulsar 220 but will only give it exceptional aesthetic appeal.