December 2012 Sales Figures & Analysis
Summary Of 2012: Before we begin, wish you all auto lovers, a Very High Revving but Safe Happy New Year 2013. As the year 2012 has ended, we will have an overview of how companies have fared throughout the year. Following table gives figures like total sales, highest and least sales figures and corresponding months for individual companies. Maruti Suzuki is the only company which crossed million vehicle sales mark by selling 1,063,599 units in year 2012 and is way ahead of all other companies. On the flip side Hindustan Motors-Mitsubishi alliance has sold a mere 4458 units and is well behind even 5000 mark. The total industry sales figure stands at 2,629,113 units. The month of March fared as the bestselling month for most of the companies and the worst sales for most of the companies came in second half of the year. The month of March was the bestselling month of the total industry and August was the worst. Overall, industry managed to sell 219,093 vehicles every month on an average in 2012.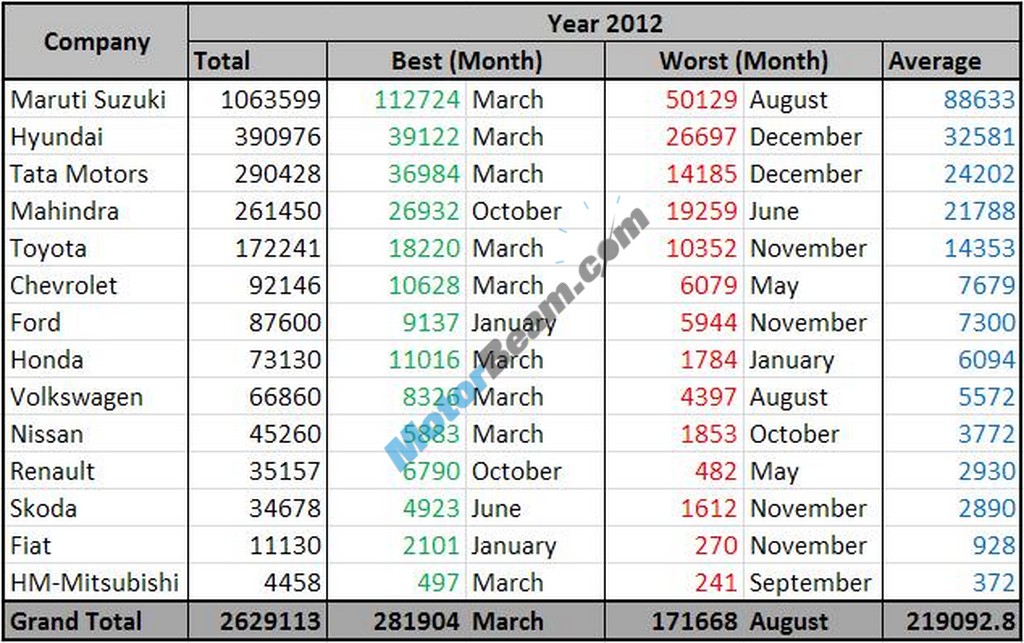 The Big Picture:– The year 2012 has ended on a sore note as December 2012 recorded the second lowest sales figures, least being in the month of August 2012. The trick of giving year end discounts and offers worked for very few companies and rest suffered very badly. Skoda recorded highest gain of 59.8% in sales while Hyundai saw the maximum drop of 23.18 % in sales in December. As always, Maruti Suzuki holds the number one position with 42.78% market share. Despite sales drop, Hyundai managed to keep the number two spot for themselves with 13.92% market share followed by Mahindra and Mahindra at number three with market share of 11.87%. This outcome was quite expected as this is the last month of year. Customers don't want to brand their car as a 'year old' car for just one month. So we can say that the sales report for the month of December is 'not so good but quite expected'.
Top 20:– This time, except Alto 800, Swift and Dzire which holds top 3 positions same as the last month, the rest of Top 20 table has been shuffled as two of the Maruti Suzukis dropped down the ladder. Wagon R sales came down to 4316 units from 11,075 units of November losing its position by 10 numbers compared to last month. Then Ritz sales also dropped causing it to lose 4 spots. This change in position in table gave room for every other car to improve their rankings for the month. Despite of negative trend in main sales figure table, Top 20 table has many positive movements in it. Also, one more thing to note is that Hyundai Eon comes in at 5th spot followed by i10.
Company Wise Break Up:– For Maruti Suzuki, the names Alto and 800 has always done wonders in past. Now goodwill of both of them combined together in Alto 800, is helping the car to gain its lost sales momentum. In December, 26,234 units of Alto 800 were sold. Wagon R, Ertiga and Ritz are the three cars which faced drastic drop in sales. The reason behind drop in Wagon R sales might be the new facelift version (Read more about facelift of Wagon R here) of it around the corner and Maruti Suzuki might have stopped producing the existing model. Drop in sale of these cars has caused the company to lose 9.69% of total sales compared to the last month. Second highest car seller in the market, Hyundai, has seen a drop of 23.18% in sales as almost every car in its portfolio fared badly. It seems that, extended festive season offers from them failed to attract buyers towards their showrooms. i20 and Verna are one of the biggest losers of this month.
The Mahindra and Mahindra might be quite surprised as its two main SUV offerings, XUV 500 and Scorpio, lost sales badly. But we can also see that its baby SUV Quanto is about to reach sale of 3000 units a month. Overall, Mahindra and Mahindra lost 7.49% of sales compared to November. The month of December is the worst ever month of the year for Tata Motors as it sold just 14,185 cars, thus making it a bad year-end for the company and also a not a pleasing thing to mark the retirement of Mr. Ratan Tata. Tata Nano and Aria have recorded worst sales figures of 2202 and 5 units respectively. Also, Sumo and Venture gave their worst performance of 2012. Thus, Tata Motors closed the year with 21.33% drop in total sales.
After many days, Toyota is witnessing rise in sales as its bread and butter offering Innova has gained sales volume strongly. Also other models were able to maintain their own sales graph steady even in these bad times. This has caused Toyota to gain sales volume by 16.61%. Another Japanese manufacturer, Honda has also been able to gain volume by 14.31% in December. This time Brio is topping the chart for them.
How style and price of a car are crucial in India, can be seen in General Motor's sales chart below. Even though Spark and Sail U-VA are their latest offerings in their portfolio, the sales of both cars dropped and are falling even behind the Beat and Tavera. Overall, sales figures of Chevrolet dropped by 2.52% in December. For Ford India, the year 2012 was an under performing year as compared to 2011. But anyhow they managed to end it on some good note as their sales figures recorded rise of 9.64%.
Volkswagen India has been through rough roads this year. Their main offerings, Polo and Vento faced ups and downs in their sales throughout the year. In Decemberm sales of both cars dropped once again, thus causing Volkswagen to lose 21.42% of total sales compared to last month. Skoda on the other hand surprisingly recorded a big jump in sales. Main contributor of total sales of Skoda is the Rapid sedan, which has almost 75% share in total Skoda sale. For Skoda, the year ended with a rise of 59.8% in total sales, the highest percentage rise in sales amongst all companies this month.
For Renault and Nissan the inflated festive season sales figures in November made sales figures of this month to look understated. But if we consider average performance of both companies, they are still doing well. Renault and Nissan has recorded 10.34% and 13.2% drop in their respective total sales.
Pajero Sport is the car which is gaining sales since past few months and hence caused 14.80% rise in sale for the company this month as well. Fiat's sales graph also moved slightly at the year-end as it witnessed rise of 36.67% in sales in December.
Category Wise Break Up:
Gainers Vs Losers:
Podium Finishers:
Things To Look Out For:
– The year 2013 has many exiting launches lined up in various categories.
– Some sales rise might be witnessed, as some customers who have postponed their buying in December.
– Facelift of Wagon R is likely to be launched this month.
– Mahindra e2o might also see the light of day in this month.