Devel Sixteen Produces 5000 HP From A V16 Engine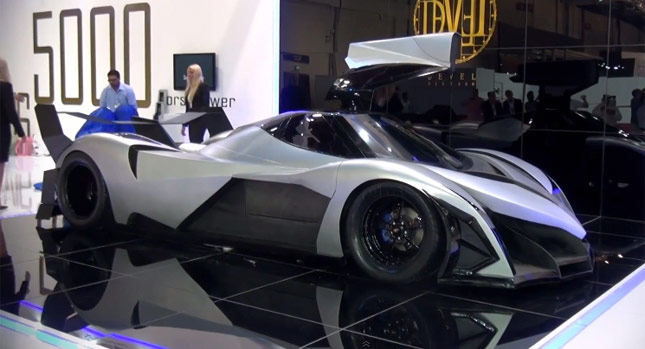 The ongoing Dubai International Motor Show has an interesting exhibit this year with the Devel Sixteen. The logo on the stand says "Made in Dubai" and if the statistics are to go by, this automobile is capable of generating 5000 HP from a V16 engine at 7500 RPM. The top speed of the Devel Sixteen is a claimed 562 km/hr, while 0 to 100 km/hr will come up in just 1.8 seconds. Now, if all that sounds unreal to you; you just might be right.
To put things in perspective, the fastest production car in the world currently is the Bugatti Veyron which is owned by automotive giant Volkswagen, who with their resources and financial backing were able to fuel the research and development departments at the Bugatti facility. The Veyron produces over 1200 PS of power from an 8.0-litre quad-turbocharged W16 engine and boasts of some ground breaking electronic wizardry to keep the car planted to the ground at high speeds. It is clearly the engineering marvel of the decade and a dream for every petrol head. Moreover, Volkswagen incurs a loss of several million dollars on every Veyron sold.
Visually the Devel Sixteen is striking and carries the aesthetics of a Lamborghini Veneno and a Pagani Zonda, while a massive rear wing and two enormous exhausts will remind you of a fighter jet. You will also find hints of a Le Mans prototype on the exteriors. The build quality of the model on display wasn't really impressive considering the vehicle is intended to achieve 562 km/hr in one piece. The interiors are very reminiscent of the Swedish hypercar maker Koenigsegg.
With respect to achieving speeds excess of 500 km/hr, there are very few places in the world where these speeds are possible. The creators of the Devel Sixteen also say that there are no road legal tyres available that can handle such speeds. The creators are currently in talks with tyre manufacturers and even aircraft manufacturers to develop road legal tyres for the Devel Sixteen. The company has not released any technical details of the car.
While the claims may seem farfetched at this point of time, the Devel Sixteen might actually turn out to be the next dream of a petrol head if the company is able to prove their claims in the future.