Holy Moly, Ducati 1199 Superleggera Unleashed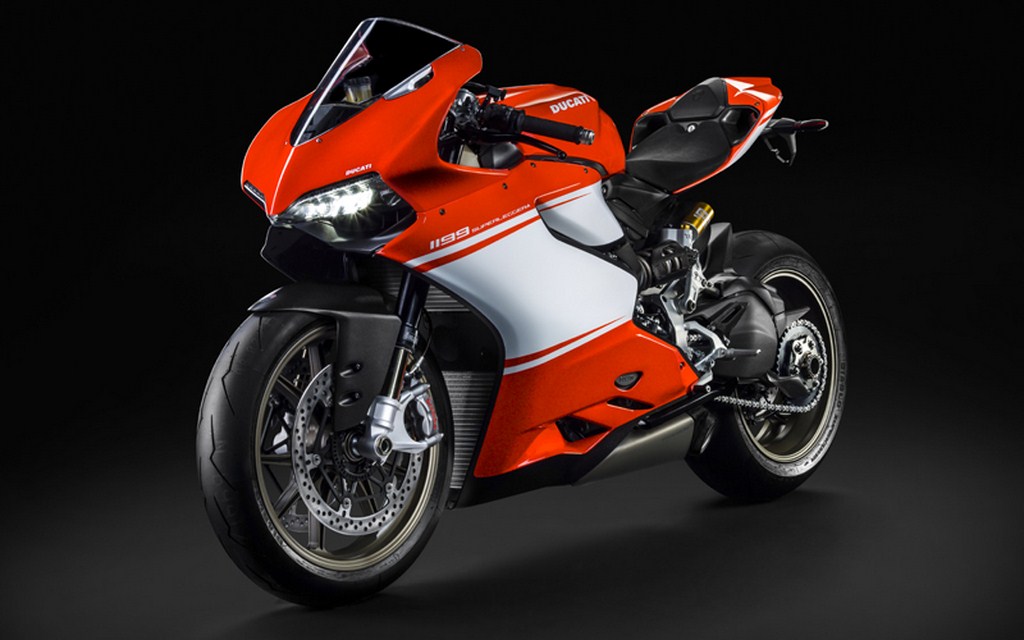 Ducati has launched the 1199 Superleggera limited edition, offering only 500 examples. The Superleggera is based on the 1199 Panigale R and the manufacturer has concentrated on shedding weight significantly in every way. The limited edition Ducati is made out of magnesium monocoque frame with forged Marchesini wheels and front subframe. The rear subframe and all the fairing panels are carbon fibre. Lithium-ion battery and full titanium exhaust system with stainless steel headers adds to the lighter body weight.
The Ducati 1199 Superleggera also gets titanium bolts and fasteners on both engine and chassis. The suspension forks are treated with lightweight Ohlins FL916 item, with fully-machined fork bottoms. Braking performance comes from an updated Brembo M50 Monobloc brakes. The rear suspension consists of Ohlins TTX36 shock with a titanium spring. The engine also gets added with titanium exhaust valves and special two-ring pistons. The crankshaft is also super-lightened, balanced with dense tungsten inserts. Ducati is also offering track-oriented Race Kit, which increases the power by 5 BHP and reduces 2.5 kg of weight to a dry weight of 152.5 kgs.
The Superleggera is equipped with Ducati Wheelie Control (DWC) system that works with the Ducati Traction Control (DTC) and Engine Brake Control (EBC). It also gets automatic calibration for the rear tyre size and final drive ratio and Ducati Data Analysis+ (DDA+), which can record and display vehicle lean angles. Powering the Ducati 1199 Superleggera is a 1198cc Superquadro L-twin cylinder engine that produces 200 HP of maximum power at 11,500 RPM with a peak torque of 134 Nm at 10,200 RPM. It is priced at £54,000 (Rs. 54 lakhs) but all 500 units are already sold out as Ducati choose the owners by invitation.
So in all, the Ducati 1199 Superleggera is one extreme piece of machinery which is lighter than even bikes with half the displacement. The dry weight is 155 kgs while with all liquids filled, this super exclusive and super fast Ducati weighs just 177 kgs. All this gives it the highest power to weight ratio of any production bike in history, an insanely cool 1130 BHP per tonne. The 1199 Superleggera is thus the Bugatti Veyron of bikes.