EXCLUSIVE: Mahindra's Old Logo Spotted!
The old logo is a reminder of the humble beginnings of Mahindra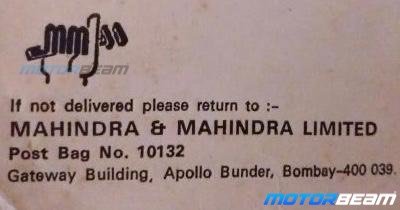 Mahindra Old Logo
MotorBeam brings you an exclusive look at the old Mahindra logo that was the face of the company as it started its journey to success. The logo is more than 50 years old, and is a nice reminder of how the company started out making vehicles. Upon close examination of this antique logo, one can see a tool, which is held by the hand, whose fingers make up the 2 'M's. This signified the craftsmanship, and how everything, right from the dashboard to the wheels had to be made by hand. Mahindra made as little as 5 jeeps a day back when robots and automation were not part of the manufacturing process!
The company was founded as Mahindra & Mohammed, a steel trading company back in October 1945. This later became Mahindra & Mahindra in 1948. They also saw the opportunity to expand their business into vehicles and Jeeps. They started with the licensed assembly of the Willys Jeep, and soon expanded into other vehicles, and tractors as they gained traction.
Anand Mahindra, the chairman of the Mahindra Group entered the proceedings back in 1991, when he became the Deputy Managing Director of Mahindra & Mahindra. One of the first projects under his management, the Armada was a success the company needed. The company was suffering because of the oil crashes that plagued India in the 1990s.
The profits that the Armada brought eased the economic pressure back then. The Armada was very forward in its features, and even had air conditioning. The Mahindra brand soon became home to several legendary products. Names like the Scorpio, Thar, Bolero, ultimately made the company into what it is today.
Big thanks to Kaushal's grandfather for sharing this with us!