Fiat Punto Evo Abarth Caught Testing, Gets Delicious Wheels
The Abarth Punto Evo with the 1.4-litre T-Jet engine has been completely spied while undergoing tests in the mountainous regions of Himachal Pradesh.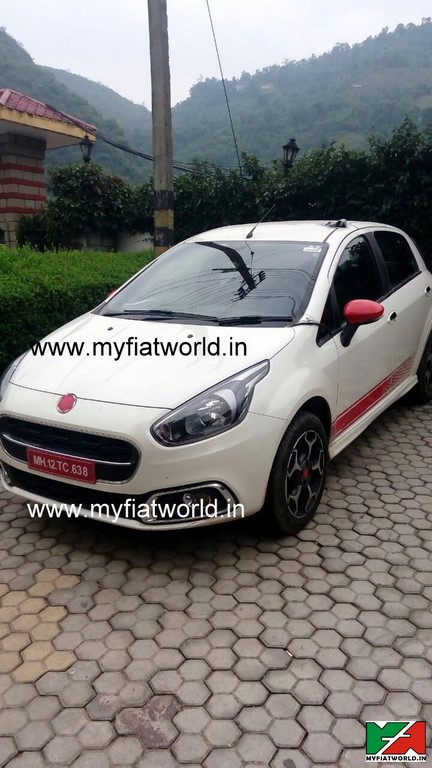 Fiat had just recently revealed that they will be launching the Abarth performance brand in our country this August, with the Abarth 595, Abarth Punto Evo and the Abarth Avventura. The most popular of these cars is definitely the Punto Evo because firstly, it is a well-built hatchback that is easily the best looking in its segment in India and secondly, the Abarth Punto Evo is a very popular car worldwide as well. This makes the Abarth Punto Evo probably the most anticipated car that will be launched with the Abarth badging.
The same car has been snapped up in and out when it was caught undergoing tests in the state of Himachal Pradesh. While talking about the exteriors of the hatchback, noticeable changes over the standard Punto Evo include "Abarth" decals on the side, signature 16-inch Abarth alloy wheels, Abarth badges on the front and rear, big chrome exhaust pipe, a camouflaged T-Jet badge on the rear and side view mirrors that feature a contrasting paint job. Unfortunately, the car does not have custom front and rear bumpers (which is a bit of a turn-off) and only gets side skirts. The interiors also seem to be a let down because the only visible changes include an Abarth logo on the steering wheel and sporty aluminium pedals. The seats also feature the same stitch pattern as the regular Punto Evo.
It's hard to understand what Fiat is actually doing to differentiate the two cars visually. The exteriors as such do not look all that different from the standard Punto Evo and the same can also be said about the interiors as well. Anyhow, the company might have worked on the suspension of the car to make it stiffer so that it matches with the sporty characteristics of the engine. However, more visual changes may still make it to the production version as the Italian manufacturer carries out the mechanical testing in the meantime. Till then, let's keep our fingers crossed and hope that Fiat brings out mouth watering propositions with the upcoming range of performance hatches in India.
Spy Pictures Source – MyFiatWorld.in