Full Faired Pulsar 375 Rendered, Looks Are Subjective!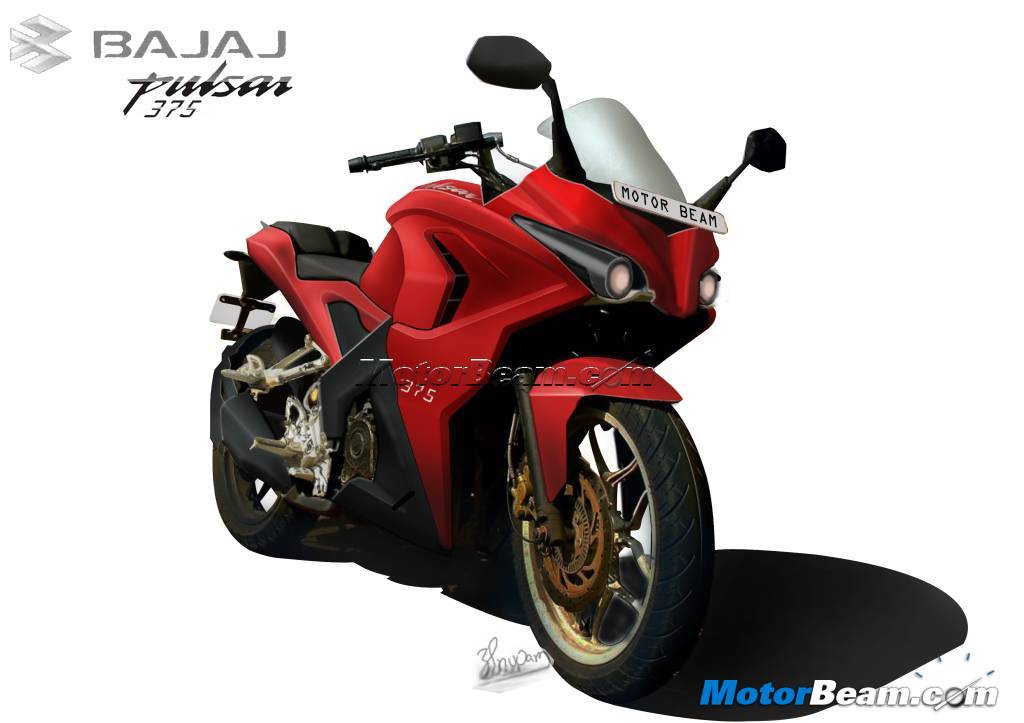 Bajaj Auto will soon be launching its first full faired motorcycle, a move which has taken its time but the wait is almost over. Demand for full faired bikes easily outweigh the demand for a half-faired or street-fighter motorcycle. That is the reason why people still buy the Pulsar 220 as it's a semi-faired machine even though it just doesn't come close to the Pulsar 200 NS in terms of performance and hardware. Many would still argue but in all honesty, comparing a 220F to a 200 NS is equivalent to comparing chalk with cheese, a bit cliche if I may.
Recently when full faired Pulsars were spotted, everyone and I mean everyone was out there calling it the 200 SS. The possibility can't be ruled out but if Bajaj Auto launches a Pulsar 200 SS with steel braided brake lines, ABS and fuel injection (not to forget a full fairing) for Rs. 1.30 lakhs (on-road, Mumbai) then the KTM Duke 200 will face an untimely demise, who would pay an extra Rs. 20,000/- for the orange monster then? Also there was no mention by Rajiv Bajaj about a full faired Pulsar, the company MD maintained a high capacity Pulsar and a sub 200cc Pulsar would be launched.
So with all means and analysis, we feel the spied bike was a Pulsar 375. Tyres are not a giveaway about the engine capacity, just because the spied bike was running 130 section rear tyres doesn't necessarily make it a 200. On that note, the BMW F 650 GS which has 71 horses on tap and weighs 199 kgs comes with a 140 section rear tyre while the Duke 125 comes with a 150 section rear tyre. Bajaj Auto could use stickier rubber to keep the 375 glued to the road.
Since the Pulsar 375 will come significantly cheaper than the Duke 390, Bajaj Auto will have to cut corners somewhere and we expect it to be the engine. There will be no Nikasil coating or forged piston in the Pulsar 375's motor and thus power output will be curtailed to under 40 BHP (our best guess is 38 PS and 30 Nm). On the styling front, the Pulsar 375 does seem to take influence from a Honda but in all honesty, the styling has been derived from the Energica EGO which is an electric superbike. What do you think of our renderings, does the full faired Pulsar have the eye candy to match its performance credentials?