0 To 100 kmph In 0.7 Seconds!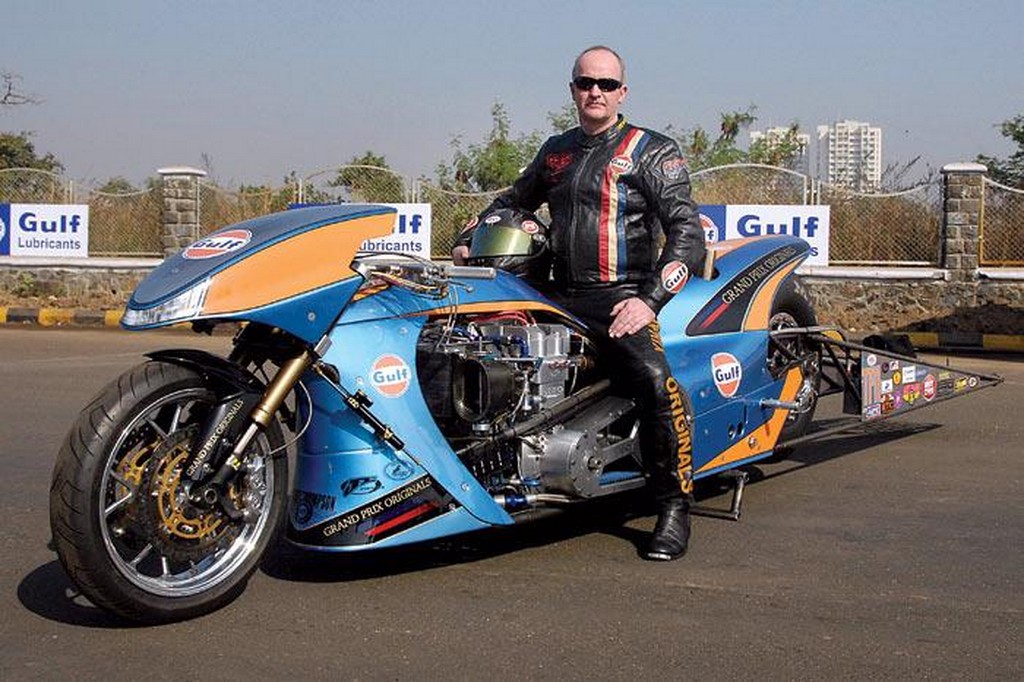 Yes, you read it absolutely right. We are talking about something that is not ordinary but super extra-ordinary! We are talking about the Gulf Top Fuel Drag Bike, or the Gulf Dragster motorcycle commonly referred to. Autocar India was privileged enough to spend some quality time with the bike and we have gathered some useful information related to it. To start off, the dragster bikes are not built for ordinary use or daily use. Instead they are purpose built for covering a certain distance (usually a quarter mile) in blisteringly fast speeds, creating world records of fastest vehicles on the land.
The dragster we are talking about here produces a whopping 1500 BHP of power from a 1585cc engine. This engine is coupled to a HPS 2.1 RC supercharger that bumps up the power output massively. And it doesn't run on ordinary petrol. Rather it runs on a mixture of 85% nitromethane and 15% methanol. The fuel delivery is via a custom built fuel injection system and delivers a mileage of 57 litres per mile. With such specifications, this dragster can crack 0 to 100 km/h in just 0.7 seconds and reach to over 400 km/h in just 6 seconds. Delivering such performance figures are really taxing for the engine components with the spark plugs lasting for just 402 metres or 1 run.
The power delivery is sent via a specially designed clutch and then to the final 2 speed gearbox before it goes to the wheels. The front forks are taken from the Suzuki GSX-R 1000 and the riding position is really low with the front handlebar stretched far enough from the seat. The rear foot pegs are positioned almost at the other end of the bike. Though not making a very practical sense, the design and development of such a dragster is no mean feat by any measures and getting to ride one such bike would be the achievement of a lifetime!
Source – Autocar India