Hero & Honda Offer Massive Discounts On BS3 Bikes
Major 2-wheelers companies are offering massive discounts on BS3 bikes ahead of the new norms kicking in.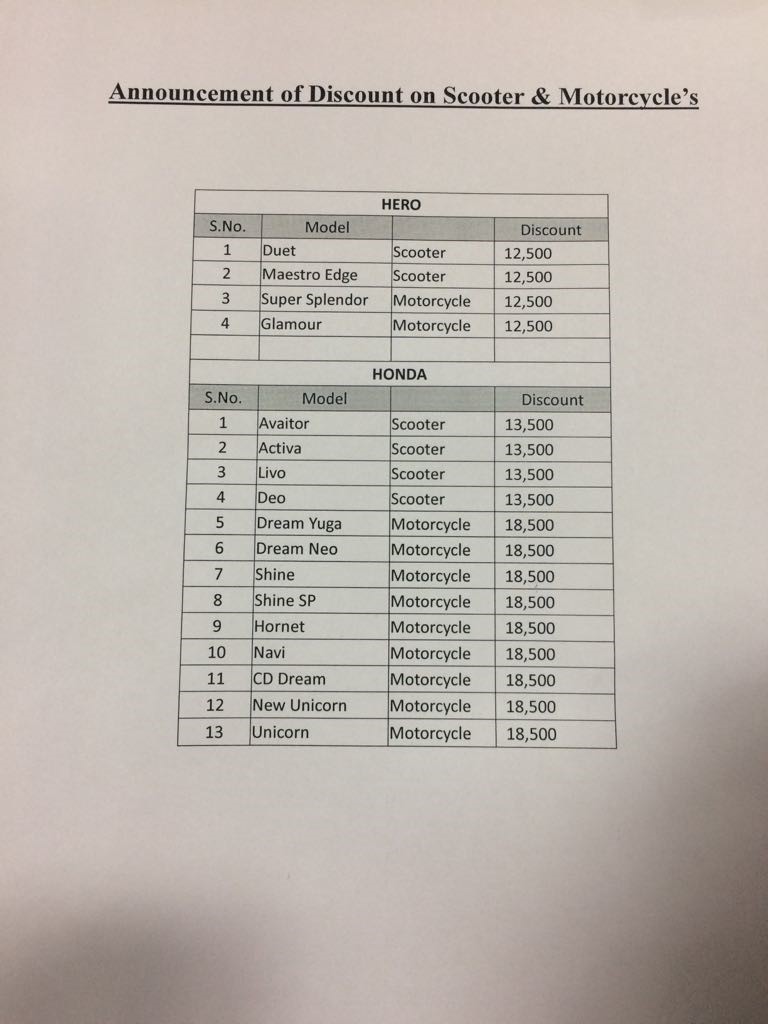 With the BS4 norms all set to kick in by 1st April 2017, 2-wheeler manufacturers have a lot of unsold inventory in stock and they are doing all they can to sell them off before the sale of BS3 vehicles gets banned. Due to this, most 2-wheeler manufacturers are offering truckloads of discounts and many dealers have different schemes and offers going on. Let us have a look.
Discounts On Hero Bikes
A local dealer is offering a flat discount of Rs. 12,500/- on the Duet, Maestro Edge, Super Splendor and Glamour. They have limited stocks and customers are thronging showrooms. Another local dealer is offering Rs. 14,000/- off on the Pleasure, Maestro Edge & Duet, Rs. 10,000/- off on the Passion & Passion Pro and Rs. 12,000/- off on the Glamour.
Discounts On Honda Bikes
Honda dealers are offering discounts of Rs. 13,500/- on the Aviator, Activa, Livo and Dio while a discount of Rs. 18,500/- is being offered on their commuter bikes. Honda dealers in Pune are offering a massive Rs. 20,000/- off on the Navi while discounts for other bikes range from Rs. 13,5000-18,800/-. The Pune dealer is also offering a free Navi on purchase of the CBR150 and CBR250! There are some other dealers who are offering Rs. 22,000/- off on the CBR150 and CBR250 bikes. There is a very long queue at the Honda Kolkata dealer and people have been waiting in line for more than 3 hours.
On a side note, even TVS is offering discounts to the tune of Rs. 21,000/- on its unsold stock. Bajaj too is offering discounts on its BS3 motorcycles to the tune of Rs. 12,000/- along with free insurance. Meanwhile Mahindra is offering Rs. 30,000/- discount on the BS3 version of the Mojo.
Discounts On BS3 Bikes
– Some dealers are offering a free Navi with the CBR150 and CBR250
– Honda 2-wheelers have a discount of Rs. 13,500-22,000/- depending on the model
– Hero commuter 2-wheelers have discounts ranging between Rs. 10,000-14,000/-