Buell Saves The Day For Hero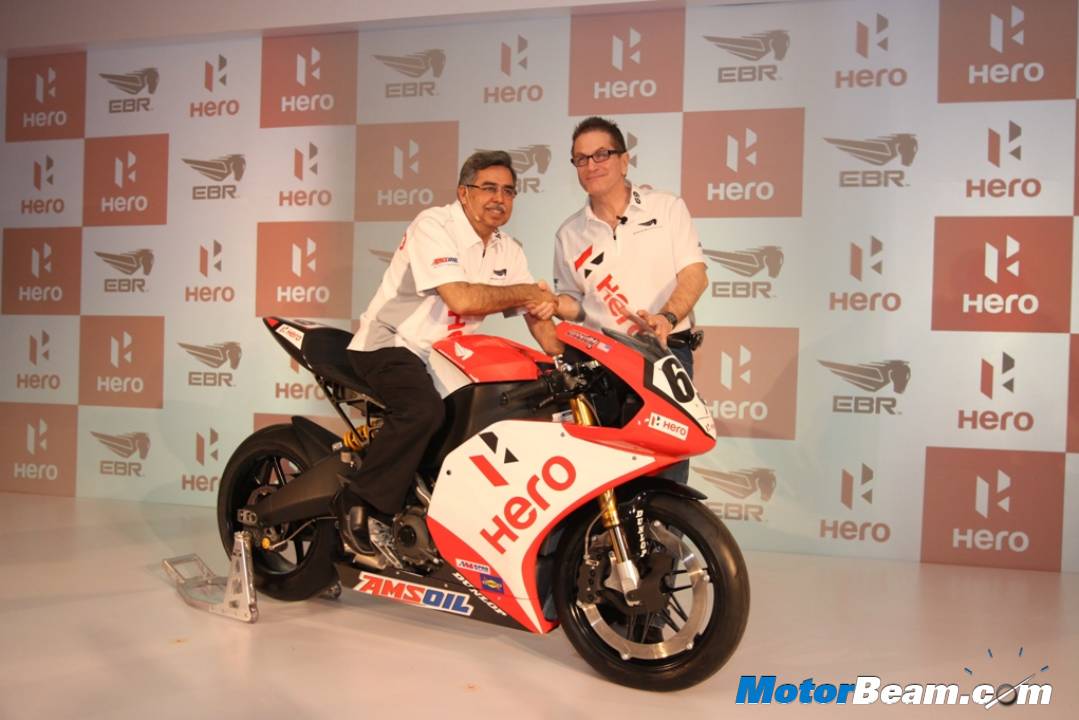 Hero MotoCorp has forged a strategic partnership with Erik Buell Racing (EBR), which will get Hero MotoCorp the much needed technology support once its technology tie-up with Honda comes to an end in 2014. Erik Buell Racing will also provide design to develop future models. Through this tie-up, Hero MotoCorp will also enter international motorcycle racing at AMA Pro Racing National Guard Superbikes Championship by sponsoring Team Hero and AMSOIL Hero. Both the teams will use Erik Buell Racings 1190RS bikes (pictured above). The EBR 1190RS is the flagship bike from EBR and only 100 units will be made. The bike uses carbon edition package to ensure lightness and strength of the body. The Hero Leap Scooter (pictured below) is being developed in collaboration with EBR.
But what is Erik Buell Racing? We have heard of Buell but not EBR. Well both Buell and EBR have been started by the same person. In 1983, Erik Buell, an engineer at Harley-Davidson left the company to open his own motorcycle company, which he named Buell. In 1993, Harley-Davidson acquired 49% stake and by 2003, Buell became a subsidiary of Harley. However in October 2009, Harley shut the Buell brand altogether. But in November 2009, Buell and Harley-Davidson decided to launch Erik Buell Racing, which became an independent company to produce racing bikes. The company only makes one motorcycle, which is currently offered in racing version but could be expanded to three versions – a race version, a road version and an adventure version.
Hero MotoCorp has made a very good decision of opting to collaborate with a company such as EBR. Once Honda stops supporting Hero, the company would have had trouble without a technology partner. Hero says they are also setting up their own in-house R&D center and is also looking at strategic international alliances to ensure it maintains its market leadership. EBR has already started work with Hero engineers to develop future products, so we can expect something from Hero in the 250cc and above segments in the near future, as Pawan Munjal himself has put it across that they plan to bring some scorchers on Indian roads soon.
The Buell 1125RS uses a 1190 cc, V-twin engine to produce 175 Hp of peak power. Buell has pioneered mass centralization and the 1125RS too uses a design theme which ensures good weight distribution. A drive belt is used on the 1125RS, preventing the need for any lubrication or adjustment. Do you think Hero MotoCorp will benefit from this partnership? Motorcycle enthusiasts are in for some excitement as we could soon see a 250cc and above bike from Hero, Aprilia, Yamaha and Suzuki. Looking at Hero's naming style, we guess the name of their 250 cc offering to be Enthusiasm!
[singlepic id= 9604 w=540 h=375 float=center]