Hero Motocorp vs Bajaj Auto – Q1 Results
Recently Hero MotoCorp and Bajaj Auto released their results for the first quarter of FY'13. The results show that Hero has written success story once again by selling 16,42,292 units which is way ahead of Bajaj Auto's figure of 9,82,623 units. Hero's numbers show growth in volumes of close to 4.47%, while Bajaj registered growth of 2.03% in volumes YoY basis for the 2-wheeler market.

Hero MotoCorp continued its pace very well after break up with Honda and is breaking its own records in history, over and over again. This proves the decision of Munjals, to part away with Honda, to be the perfect one. After split up, both the companies gained pace on their own which is quite surprising. They broke their record of highest ever monthly sales consecutively for last two months of Q1 by selling 5,51,557 (April) and 5,56,644 (May) units.
Also, selling more than 5 lakh units continuously for last 10+ months is itself a big achievement for any company. Company's turnover for the first quarter was Rs. 5613.9 crore. So if we take ratio of PAT and turnover for the period as a measure of performance of the company, then that ratio for Hero is 10.96%. But sales of June has witnessed fall in volumes which is the result of market slowdown. With two new entrants, Maestro and Ignitor, Hero MotoCorp hopes to do well in the next quarter which is usually the slowest quarter.
On the other hand, Bajaj Auto's total sales (2-wheelers + 3-wheelers, exports + domestic) have shown -1.2% change in volumes. But if we consider their 2-wheeler business their total volume (export + domestic) grew by 2% in Q1 of FY'13. Bajaj has recorded moderate demand in domestic market showing change of -1% which has been overcome by rise in volumes by 7% in exports market. Bajaj is one of its kind manufacturer which exports 37% of their total bike sales with 3,64,134 units exported in total.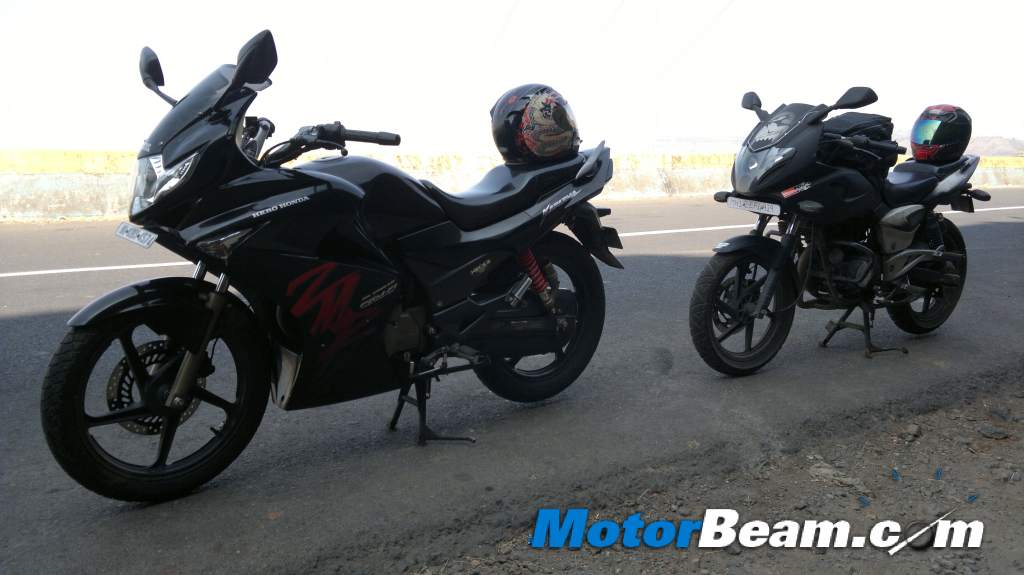 What Bajaj Auto always emphasizes on is highest EBIDTA, this time too they have registered EBIDTA of more than 19%. The ratio of PAT to Turnover is 14.22% which is more than Hero Motocorp, inspite of having sold lesser bikes. Bajaj also disclosed its market share in Sports and Commuter Segments. In sports bike segment they have 46% share with the Pulsar 200 NS yet to be available pan India. In Commuter deluxe segment, Bajaj lost almost 50% sales and has 18% market share. To tackle this, the Discover 125 ST is breaking grounds pan India slowly. In standard commuter segment Bajaj has 29% share with product like the Discover 100.
Overall this report shows us that these two companies operate on different principles. While Hero dominates entry level commuter segment in domestic market, Bajaj dominates in exports and domestic sports segment. Also despite of having sold almost double the volumes, with comparative higher prices, profit figures are lesser of Hero than Bajaj. The market will continue to be like this with both companies enjoying their own territory unless Bajaj launches a solid entry level bike or Hero repeats its CBZ history.