Fiat Punto Evo Abarth Essesse Test Drive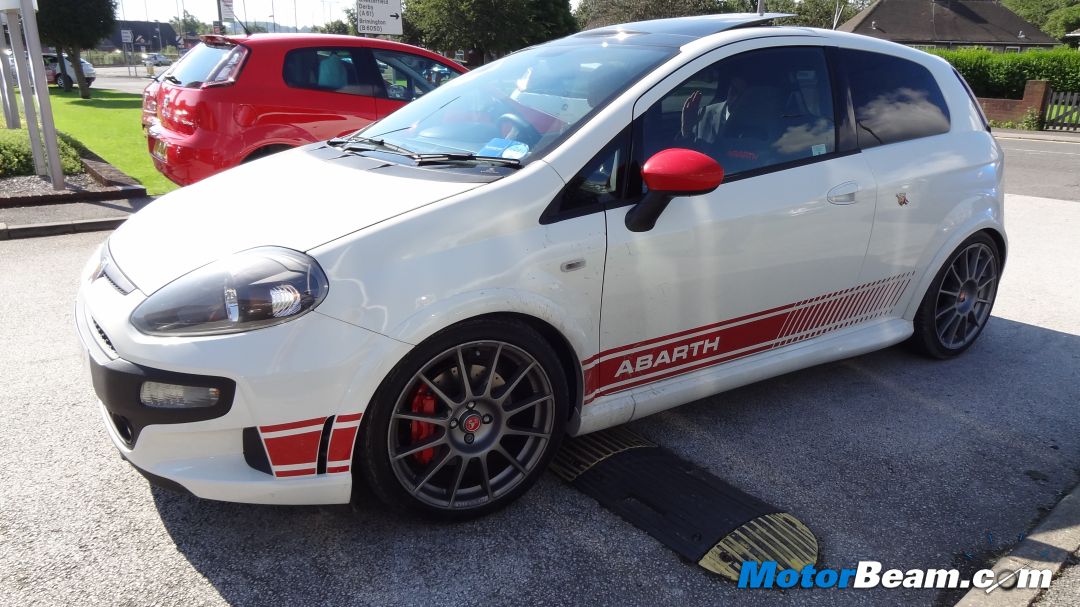 Car Tested: Fiat Punto Evo Abarth (upgraded with Essesse tuning kit)
Price UK: £16,857 (Rs. 14.70 lakhs) for base version excluding Essesse kit
Location: Autoworld, Brimmington Road North, Whitington Moore, Chesterfield
It was a sunny day with temperature of 15 degree Celsius. We started our journey to Chesterfield from Sheffield, a distance of 35 kms. One of my colleagues was ready to take me to Abarth Showroom in Sheffield. The drive from Sheffield to Chesterfield was pleasant in his Mercedes C-Class Petrol Automatic. The roads were amazing and alongside scenery took our breathe away. At 10:00 AM we reached Abarth showroom and it was a dream come true when I saw those two sexy Italian ladies in flesh – Abarth 500 and Punto EVO Abarth.
Showroom Experience – Autoworld is a dealer for many car manufacturers. At Abarth, they have a big showroom which is split into three different sections for Italian marvels – Alfa Romeo, FIAT and Abarth. I had already booked the Punto EVO test drive. The concerned person at the showroom welcomed us and took us across the showroom. We visited all the three sections. We were totally impressed by the showroom experience. After the showroom tour, we were taken for the test drive. The Punto Evo Essesse Abarth was the car. As I cranked the engine, I was amazed by the engine grunt.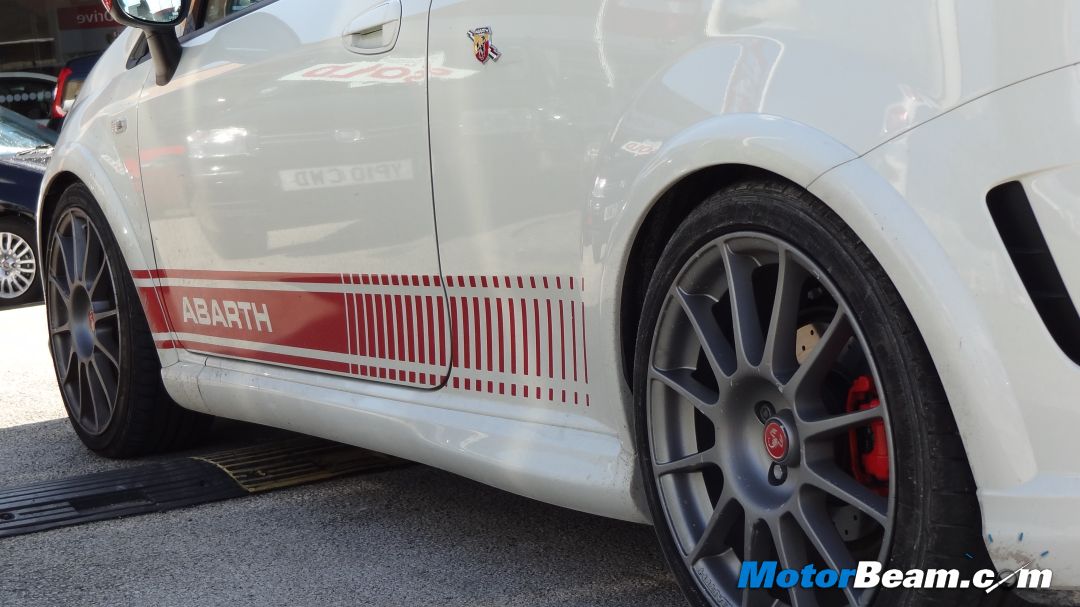 The Beast – ABARTH PUNTO EVO Esseesse 1.4 Turbo MultiAir 180 HP E5 3P Start and Stop Engine. Essesse means SS SuperSport. The Grande Punto has been around since 2005, and was updated in 2009 as the Punto Evo, something of a stop gap until its eventual replacement comes along. Abarth offers its own version of the Punto Evo for those who find the 500 either too small and has now rolled out an even more powerful version of the Italian performance hatch.
The engine's Electronic Control Unit (ECU) has been upgraded so that, along with its Garrett GT1446 fixed geometry turbo, the 1.4-litre turbo unit produces 180 BHP of peak power at 5750 RPM. These modifications give the Abarth Punto Evo Esseesse, a 0 to 100 km/h time of 7.5 seconds and a top speed of 216 km/h. Stopping power is supplied by disc brakes all round (fully floating self-ventilated at the front, cross drilled at the rear), complete with Brembo M4x40 front callipers. Updated Abarth springs and Koni FSD dampers are fitted in the front and the rear, which results in a lower ride height.
A six-speed manual gearbox is mated to engine and the car features Abarth's switch to transfer from 'Normal' driving mode to 'Sport'. Even though this upgrade relies heavily on modern technology, the Esseesse kit stays loyal to Abarth by being delivered to customers in a high quality wooden crate.
The Drive – I drove the car for quite a long time. I drove the car on Sport Mode to get the feel of Abarth DNA. The steering was very precise, as Punto was just hugging the road without any body roll. The throttle was asking me to revv more and more. I was getting the power in each and every gear and the turbo lag was almost zero. Brembo discs were doing their role very well with all four disc brakes working flawlessly. 18-inch alloy wheel was topping on the cake. The tyre profile was 215/40/17.
[youtube:http://www.youtube.com/watch?v=Pp4_LYteZTE 540 375]
After driving the Abarth Punto Evo, I wanted to know if the "Esseesse" package really makes a difference. Well, it does. It includes the best rims ever put on a hot hatch, a great BMC air filter and ventilated Brembo disc brakes like on a Porsche 911 .The power output is also much more direct and responsive. I think, the engine specifications speaks much about the performance of this car. In gear, the acceleration was amazing and you will never feel the turbo lag when you drive in sports mode. There is a button to toggle between the Sports and the Normal mode. I simply loved the engine grunt of this beast.
Fiat Punto Evo Essesse Abarth Specifications
Engine
– 1368cc, 4 cylinders in-line, 4-valves per cylinder
– power 180 HP at 5750 RPM
– max torque 270 Nm at 3000 RPM
– turbocharged with fixed geometry Garrett GT1446 turbocharger
– digital electronic solid-state ignition
– Start and Stop system
– digital gear shift Indicator
– new electro0hydraulic MultiAir intake valve management system
Transmission
– 6-speed manual gearbox
– lever for activating sporty drive (n/s)
Suspension
– front suspension with MacPherson layout and oversized anti-roll bar
– rear suspension with semi-independent configuration with torsion beam
– Koni shock absorbers with FSD valve
Brakes
– Brembo M4x40 front brake calipers
– front brakes with perforated, ventilated disc, diameter 305 mm x 28 mm with high-performance pads
– perforated rear disc brakes with diameter 264 mm x 11 mm
– with ABS + ESP
– torque transfer control system (TTC)
Wheels
– aluminum rims 7.5" X 18" ET 39, Abarth 'Esseesse' design
– 215/40 ZR18 tyres
Emissions and Consumption
– complies with Euro 5 EEC-p5 standard
– emissions of CO2 – 142 g/km
– combined cycle (l/100km) 6.9
Performance and Weight
– top speed: 216 km/h
– acceleration 0-100 km/h – 7.5 seconds
– 1185 kg
Overall, it was the best experience of my life. Though we have much more powerful cars like Ferrari, Maserati, Beamer, Audi and Volvo, driving Abarth, that too Punto was very different because this car is very close to my heart. I really loved this car and I would like to own this beast one day.
– Kedar Bendre
aka Punter on MotorBeam Forums