Hero RR 450 Rally Bike Unveiled, 2018 Dakar Team Announced
Hero announces 2018 Dakar team, unveils the RR 450 rally bike for the first time in India.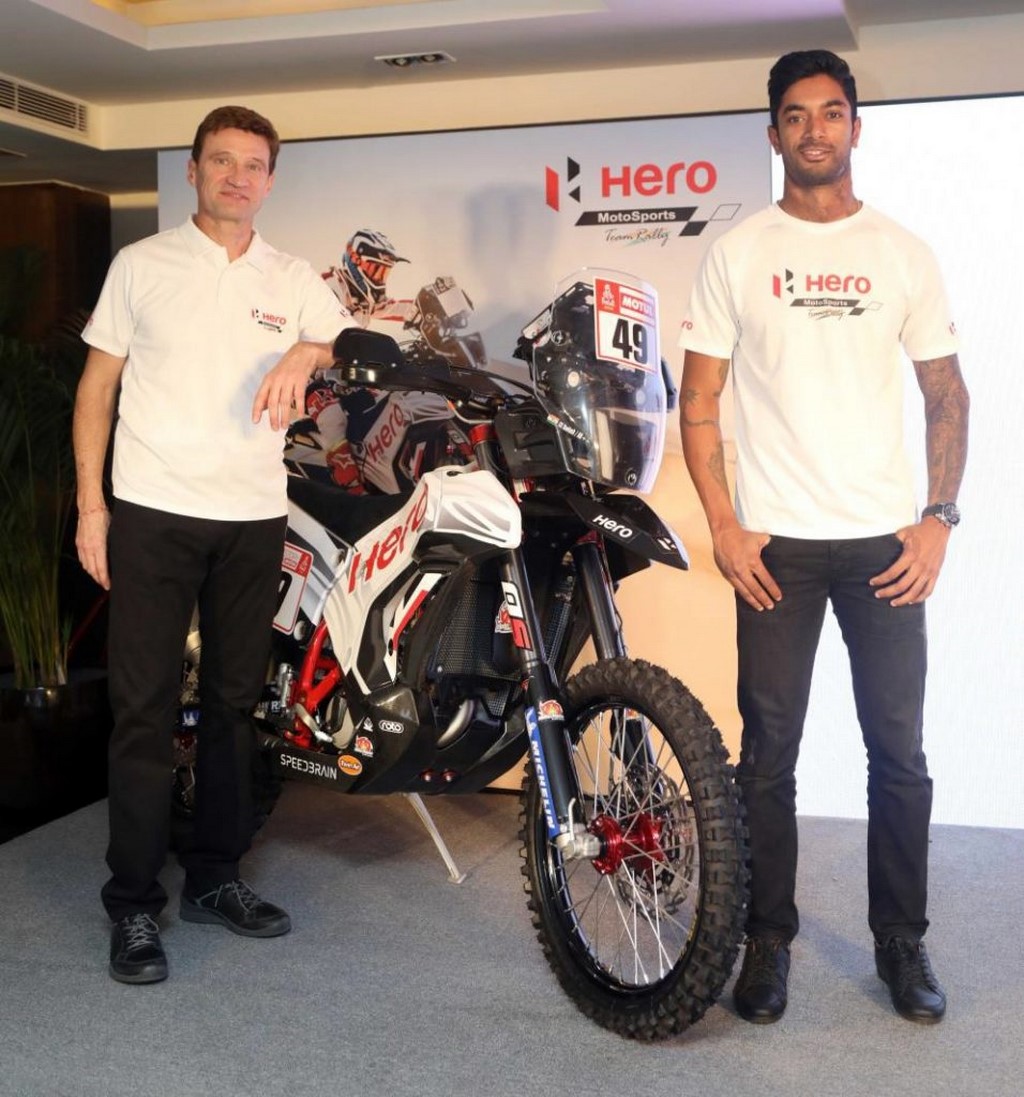 The motor-sport division of Hero MotoCorp has revealed the RR 450 rally bike for the first time in India. The company also announced its team comprising of CS Santosh, Joaquim Rodrigues and Oriol Mena Valdearcos for the 2018 Dakar Rally which starts on 6th January 2018. CS Santosh was the first Indian rider to compete in the Dakar Rally 2015. Oriol Mena Valdearcos was inducted into the team very recently and is part of Hero MotorSports' vision to identify new talent and nurture them into professional rally riders. The Spanish talent will be making his debut at the 2018 Dakar Rally. Joaquim Rodrigues needs no introduction, a winner of India BAJA 2017, he is popularly known as J-Rod.
Shifting focus to the rally bike, the Hero RR 450 gets redesigned tank, body parts and front-end to improve mass centralisation, handling and riding ergonomics. The new rally bike has proven its capabilities at the OiLibya Rally in Morocco this year. There have been several improvements in the bike, which have affected an increase in riders' confidence. The biggest rally-raid in the world, for its 40th edition, will cross three countries, starting from Peru on 6th January and travelling through Bolivia before concluding in Argentina on 20th January. Covering a stretch of almost 9000-kms, the overall 14 stages will include 100 percent dunes/off-piste, one marathon stage for all categories and one marathon stage for bikes and quads only.
Hero RR 450 Rally Bike
– The new Hero RR 450 rally bike will be making its debut at the Dakar this year
– Hero MotorSports Dakar team comprises of CS Santosh, Joaquim Rodrigues and Oriol Mena Valdearcos
– Oriol Mena Valdearcos will be making his debut at the 2018 Dakar Rally