Hero Unveils iON Hydrogen Fuell Cell Concept At Auto Expo [Live]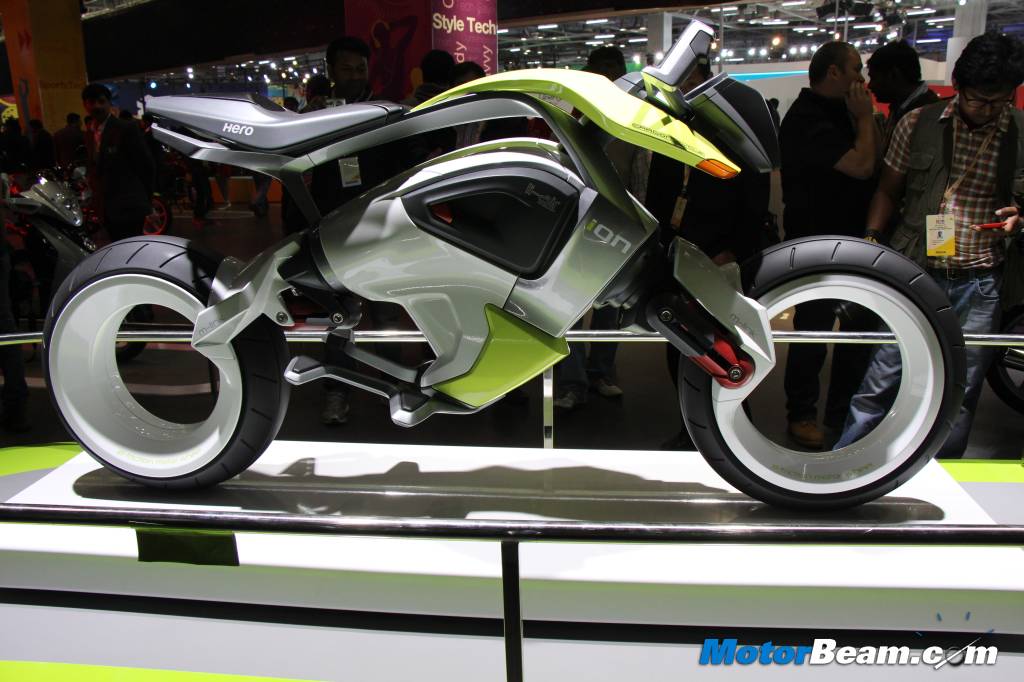 Hero unveiled the iON concept that will be running on hydrogen fuell cells instead of the conventional sources of fuel at the 2014 Auto Expo. The iON uses advanced Lithium – Air batteries and a hydrogen fuel extender packed into the centre structure with super capacitors that provide for energy needs of acceleration and braking.
The concept uses a host of state of the art features that come together to provide a true motorcycling experience without the loss of fun. A distinctive feature is the inclusion of hubless wheels on which the tyres are mounted on a hidden magnetic wheel. The hubless electric traction motor also double up as brakes. The concept gets Vehicle Control Module (VCM) which works together with Power, braking and steering (PBS), since the vehicle is controlled by finger touch control buttons built on the handle grips. The vehicle gets ride by wire technology which integrates multiple on-board traffic sensors for collision detection, while VSA system (Variable Situational Awareness) keeps track of the surrounding flow of traffic.
Other features include Rider information which connects the core basic information of the bike and transmits it to the rider's helmet. M-Link on the other hand is an advanced suspension technology that provides maximum control on the road and a confident driving experience. Flex Axis steering steers the iON through rotating the front and the rear wheel and suspension systems.
The vehicle is also a performer with 0-100 km/hr coming in 5 seconds and a top speed of 160 km/hr. The iON concept can do a range of 300 kms on a single charge. The concept also gets electronically controlled regenerative brakes with ABS and collision avoidance.