Mercedes-Benz GLA Makes India Debut At Auto Expo [Live]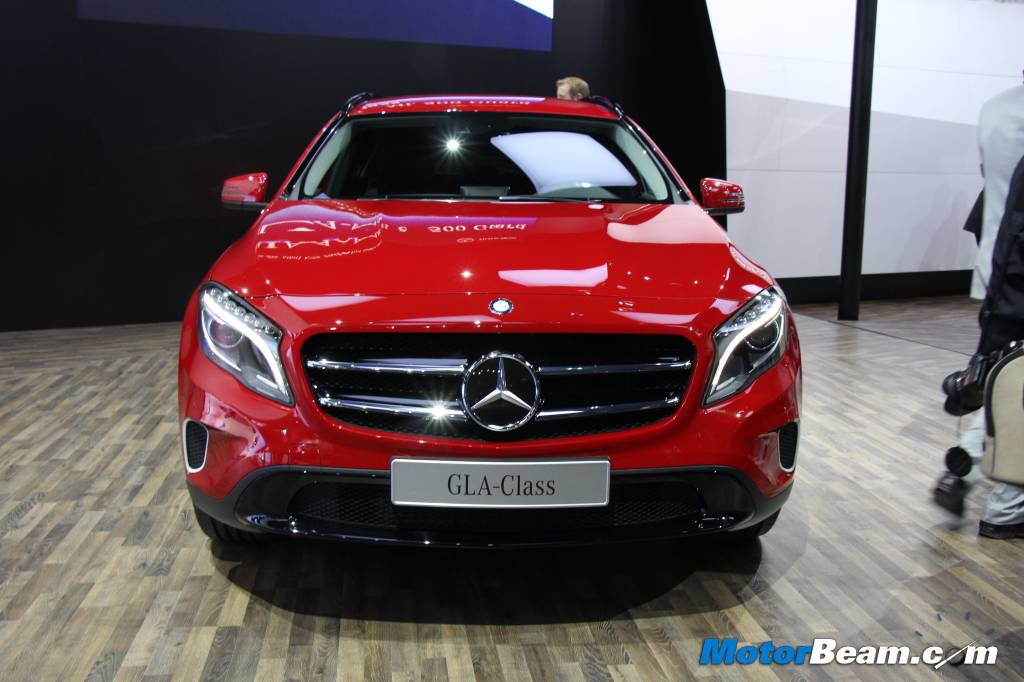 Mercedes-Benz have had an offensive 2013, winning back the number two position in the luxury car segment, followed by a plethora of launches bringing performance cars from their international lineup to India. As part of their strategy, Mercedes has showcased the new lineup of cars to be launched in the coming months including the CLA-Class and GLA-Class at the 2014 Auto Expo. Mercedes has also showcased the M Guard which is a high security version of the ML-Class. The GLA-Class however is the next most prominent launch that we will be seeing from the German automaker in India.
The GLA-Class is based on the platform underpinning the A and the B-Class and is an SUV of sorts. The car looks more like an estate and will be put up against German rivals BMW X1 and Audi Q3. Both the models have been successful in retaining customers and building volumes for their brands and Mercedes too plans to cash in on the SUV craze. Mercedes has offered the 4MATIC all wheel drive system on the GLA to offer good driving dynamics, while the car has has a drag co-efficient of 0.29. The overall design looks stout and does give a slightly rugged appeal with the high shoulder line and the muscular rear.
The interiors of the GLA are reminiscent of the A-Class and have everything of top quality. You also get decent headroom and leg room for the rear passengers thanks to the muscular rear design. You also get the COMAND infotainment system from Mercedes as standard on the GLA-Class. The 1.6-litre petrol engine and the 2.2-litre diesel engines power the A and B-Class. We expect the same engines to make their way on the GLA-Class as well albeit in a higher state of tune, when the production version will be launched. Mercedes will also be offering the 4-MATIC all-wheel drive system on the GLA along with a 7-speed dual clutch automatic gearbox. As part of the safety kit, the GLA will be loaded with Collision Prevent Assist and Attention Assist.
The GLA-Class will be sharing its engines and powertrains with the CLA-Class and also has an AMG variant internationally. Mercedes is planning to launch the GLA-Class by the end of this year, probably around the festive season and would want to retain the number one position they had for the most part of last decade. Prices haven't been announced, but expect an aggressive pricing strategy with the price for the base variant starting at Rs. 28 lakhs, going up to Rs. 34 lakhs for the top of the line version. BMW and Audi are sure to receive a dent in their sales from the three-pointed star.