Himalayan Spiti Escape In Mahindra Scorpio 4WD – Report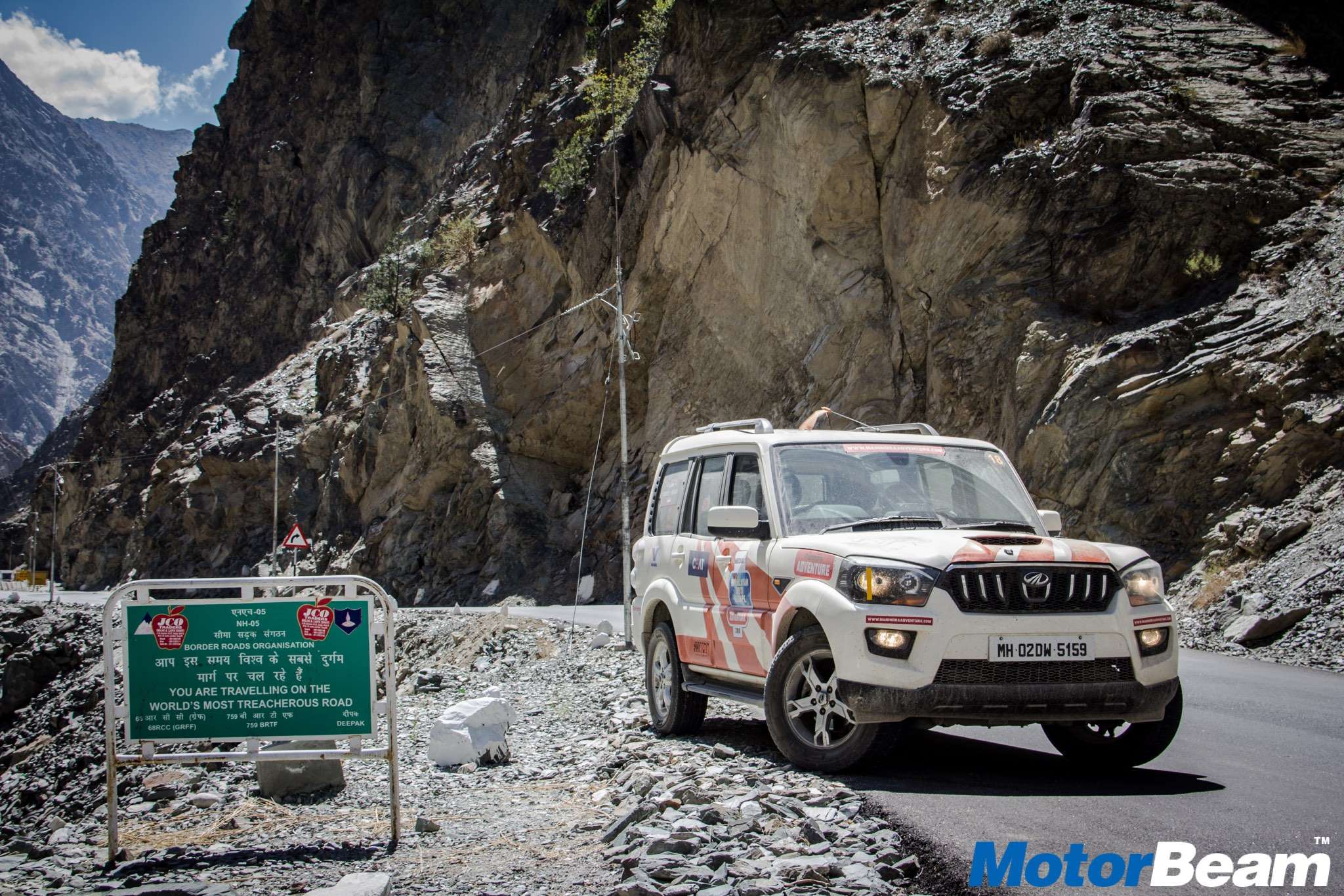 Himalayan Spiti Escape In Mahindra Scorpio
Exploring the beautiful Himachal in the Scorpio has made us a big fan of this Mahindra 4WD SUV
We all spend most of our time every day behind a computer screen as that has sort of become a habit that a day without the fingers on the keyboard seems difficult to digest. But this also causes people stress and we all need a break from work. Planning a vacation can be a daunting task but not if you decide to go on an expedition with Mahindra Adventure. Among a slew of events every year, one of them is the Himalayan Spiti Escape which is 10 days long and needs little planning from your end. Mahindra does everything from providing the car (new or old Scorpio 4WD) to arranging stay and food for participants (they only need to pay for the fuel). For this particular event, the cost is Rs. 1.50 lakhs for two people.
MotorBeam was part of the 2016 Himalayan Spiti Escape. There were around 20 cars – 1 Mahindra XUV500 (Advance car), 1 Mahindra Legend (Lead car), 1 Mahindra Thar (Float car), 1 heavily modified Mahindra Scorpio (Roving car), 1 service car (Mahindra Scorpio), 1 Mahindra Getaway (Sweep car), 10 Mahindra Scorpios for the participants (Adventure 1 to 10, comprising of both old and new Scorpios), 3 Media cars (2 invited by Mahindra and 1 invited by CEAT). All the cars are 4WD or AWD variants.
Day 1 – We arrived in Chandigarh at 'The Lalit' and were assigned our car (new generation Scorpio). Food and drink bags were given to everyone prior to the briefing. Participants got to know each other over dinner and the stage was set for an 8 AM departure the next day. Everyone was excited and was raring to go.
Day 2 – The second day, we got up at 6:30 AM and headed for breakfast at 7:15 AM. The flag-off happened exactly at 8 AM and all participants were on time, clearly showing that people take timings seriously even on a vacation. We got inside our new gen Scorpio which had two cartons of water bottles in the boot, showing the attention to detail by the organisers as water is the most crucial when you are travelling long and high altitudes. As we hit the road, we got accustomed to the convoy and its rules.
The lead car was being driven by five time national rally champion Hari Singh who has been rallying since three decades. Those who had heard about him instantly knew they were in safe hands. All cars were equipped with radio with the strict instructions being given to not press the PTT button accidentally (basically pressing it enables you to communicate with others). As we got on the Chandigarh highway towards Shimla, we took caution with the accelerator to not get fined for over speeding. A stop for snacks and a bio break meant almost an hour off the road.
The roads were deteriorating in quality, from the highway to the valley, potholes became a familiar sight but even worst roads were yet to come, or so we were told over the radio. The Scorpio was doing a fine job over these roads and the mHawk engine had more than enough punch to do overtakes without us having to plan them in advance. We headed to Wildflower Hall in Shimla for lunch and more than the food, it was the view from 8250 feet which really caught everyone's attention. Proceeding from there, we headed towards Narkanda. Just before reaching there, the crew decided to go uphill to Hatu Peak which is at a height of 11,152 feet.
4WD was put to test many times & the Scorpio proved itself by not faltering
This meant driving for 4 kms through a narrow off-road section which curved sharply. This was challenging indeed but a shift to 4-low meant there was no worry for the Scorpio which climbed to the altitude without any fuss. All participants did a good job of ensuring no clutch burn and we took almost 45 minutes to reach to the top. The effort to drive all the way up at crawling speeds turned out to be worth it as the scenery was breathtaking and the chilly weather gave us a trailer of what to expect in the coming days. Coming down took an hour and it was pitch dark, the projector headlights of the Scorpio giving excellent illumination of the road, or rather the lack of it, ahead. We reached our night stay at Tethys Retreat Resorts in Narkanda after driving 170 kms. We quickly checked into our room and went to the bonfire where everyone socialised over drinks before having dinner and calling it a night.
Day 3 – Today we were heading to Sangla (a 182 km drive) and we all were very excited as we were to get a taste of some real roads in this region. We started at 8 AM after a heavy breakfast and there were good roads for the first half of the day. En route we stopped at Rampur which is situated on the banks of the river Satluj. After freshening up, we headed to Sarahan for lunch which is an hour's drive up. Driving back down, we joined the road alongside the Satluj river towards Karcham. The roads started to get worse as we drove ahead and we had to take a detour as landslides had blocked the road. The bad conditions of the road and the landscape can be blamed at the hydroelectric power projects which have been put to run of the river.
If you want to disconnect from the world, visiting the Spiti valley is a good option
We then start climbing up the Baspa river to Sangla Valley. It's Sunday evening and Formula 1 race has just started. I shift to the side and we power up the Reliance Jio to see the race while someone else drives. This also helps us admire the effort gone into making the roads, which although broken, still seem a feat. The view is amazing and the roads although narrow, isn't giving much trouble to the Mahindra Scorpio which takes everything in its stride as we chug along in 2-wheel drive mode. We reached Batseri village where we stay at Banjara Camps and power up the Jio again, this time to watch MotoGP. Our room is surrounded by the Himalayas at all sides and the weather is chilly but there is a campfire and drinks to warm everyone down.
Day 4 – After a long day yesterday, today was sort of a free day. We had to be in our cars at 10 O'clock and were heading to Chitkul which is just 22 kms away. Now mind you, 22 kms doesn't mean 20 minutes but almost two hours as the road conditions are really very bad. The road just doesn't have potholes, it also has a lot of stones, sometimes small streams and the bridges aren't very stable either, so only one car can cross at a time. Add the bio breaks to the mix and you are looking at doing little progress in much time. What's special about Chitkul? It's the last inhabited village near the Indo-Tibet border and the Indian road ends here. It's also the last point one can travel in India without a permit. We have lunch by the river for which we had to engage 4-low to get there through the narrow broken road.
Day 5 – Leaving Sangla, we head back through the Baspa river to drive alongside the Sutluj where the roads are in a terrible state. We leave the Sutluj to enter the Spiti valley where the views are simply breathtaking. There is no civilisation en route which means a packed lunch in the car. Our destination for the day is Nako and we keep climbing as we reach 12,014 feet. Today's drive might just be 133 kms but it's going to take a long time due to the road conditions and the climbing of altitude. We read sign boards which say that this is the world's most treacherous road and we experience the same later when a landslide results in a two hour wait. As we near Nako, the road conditions start to improve drastically, the tarmac is smooth and we are able to up our pace. Our stay for the night is at Kinner Camps, so out come the gloves and monkey cap. This day also marks the end of any sort of network, so the phones turn into bricks as even more attention goes in admiring the beauty of Himachal.
Day 6 – When I got up the next day, I was raring to go. Sleeping in the tent was comfortable but it was cold, although hot water was arranged for us. A walk of around a km towards our car meant some hard work before the mHawk motor took over. We were heading to Kaza and it was a 112 km drive today. We took a 10 km detour to go to Giu village to see a 500 year old Mummy. This meant two extra hours of driving which was worth it. Road conditions remained bad throughout. We reached Tabo where we had lunch and visited the 5000 year old Monastery which is one of the seven wonders of India and the biggest attraction of the village.
The views in Kaza are breathtaking, a must visit place for driving enthusiasts
We drove towards Kaza and the views just started getting better and better – high mountains, crystal clear river, snowy crows and the freshest air in the past six days. Till now, the roads were so broken that the cars were kicking up a lot of dust which meant not only was the air filter of our Scorpio getting clogged but even our nose needed a good clean every day. Our night stay was at the Hotel Grand Dewachen which is at the outskirts of Kaza, located at 11,980 feet.
Day 7 – The day we all had been waiting for. We go to many highest points in the world. We head to 15,000 feet, making our own road. With the Scorpio engaged in 4-low, we climb up to reach a beautiful view of the mountains where the above picture was taken. To reach here safe and sound, I was drinking a litre of water every hour and that meant a lot of bio breaks. We headed to Komic village which is the highest inhabited village in the world (connected by a motorable road) at 14,806 feet.
We then went to Hikkim where the world's highest post office is situation at 14,567 feet. Almost everyone mailed a postcard although not all of us have received it yet. It was lunch time and a nice lunch was served along the Spiti river (a cultural dance was also performed), followed by a brief off-roading session. A couple of cars got stuck but where winched out in no time. Driving through the river, many did hit the underbelly on the rocks although no cars had any damage (the service team was quick to check the same and also monitor tyre pressure). We then filled our vehicle's tank at the highest petrol pump in the world.
Day 8 – After leaving not before 8 AM every day, we hadn't exactly become lazy but were used to taking it easy in the morning. But today wasn't that day as we were traveling 235 kms, from Kaza to Manali, detouring 28 kms (to and fro) to the Chandertal lake. We were in our cars at 6:05 AM and stopped at the highest point of the journey at 15,060 feet at Kunzum pass. When we reached for our breakfast break, the team had already set up food which was a big relief as all were hungry. The detour to Chandertal lake made us realise that the worst of the worst was here. The road was super narrow, horribly broken with steep inclines and decently big puddles to cross due to a water streams en route.
It was here the Advance car really showed its advantage by going ahead and stopping oncoming traffic and making them park on the extremely side so the convoy could easily drive past. We were in driving in 4-low and as we neared the lake, the twists and turns upwards meant we had to be very careful while turning, otherwise reversing was needed. A 12 km drive to the lake, followed by 2 kms of walking was completely worth the effort as the crystal clear water and the scenery was a sight to behold. This 28 kms detour (to and fro and walking to the lake and spending time there) resulted in three hours of time. Everyone was hungry so we stopped at the famous Chacha-Chachi dhabba for lunch.
The roads got really bad from here and there were just too many stones which meant slowing down. Crossing small streams became fun as we splashed water to do something different. The pace was just too slow, we were averaging not more than 20 kms an hour and Rohtang pass was still far away. Everyone wanted to cross Rohtang as soon as possible as that meant mobile network coming back. It was not before 7 PM that we reached Rohtang and it was surprisingly not crowded (thank you NGT). It took us another couple of hours to reach Manali where we stayed at Jimmy Johnson hotel and feasted on fish trout.
Day 9 – After a tiring day just prior, today was a free day so we went around the market and chilled. The drive next day was the longest at 382 kms. Many people had afternoon flights to catch and thus a 5 AM start was decided. This meant we slept really early, at least some of us tried to.
Day 10 – A 5 AM start after a late night of drinks for some did not seem like a possibility but shockingly, everyone was on time and we were on the road at 5:15 AM. One of the participants felt sleepy but there was nothing to worry as Mahindra had backup drivers to take over. The drive was the least adventurous here as we had touched base with civilisation which wasn't such a good thing as this meant we had to deal with traffic. We reach Chandigarh by 2 PM and parked our cars near the airport by 3 PM. Since many people had flights to catch, this day, which had the most kms, also had the least breaks. Somehow the participants were less inclined to go to the loo or stretch their legs.
Mahindra Scorpio 4WD – Our home for the 10 days was this SUV which performed flawlessly. We had only one issue with the vehicle, other than that, it never let us down, neither did any other car on this trip. The issue was the driver side seatbelt which wouldn't come out easily and needed to be carefully pulled out. We had zero punctures and the CEAT tyres worked well even where there were no roads. Some people did have punctures, one car had two and within no time, the service team replaced the tyres. The engine did not skip a beat even at 15,000 feet and mind you, these cars are used very rough. I remember jumping over bad roads and not being easy with the Scorpio when the going got tough.
The ride quality is decent but gets a bit bouncy at the rear. We also drove the old Scorpio which felt more fun to drive but the ride was bouncy even at the front. The mileage we got on this 1200 km trip was 9 km/l which is good considering we drove in lower gears, with 100% AC and also in 4-wheel drive modes for a long time. But this trip really highlighted three things – India really is beautiful, the Scorpio is tough and Mahindra Adventure let's you take a road trip without having to worry about anything. We spoke to the participants at the airport while returning back and they happily said that the money was well spent and they will come back for more.