Evolution Of Bajaj Pulsar – 10 Years Of Legacy
I remember when I was in school, one fine night I saw an unusual machine standing by one road. I was not aware of what exactly it is? Those days were not like now, when you get to know about a vehicle even when it has just entered its conceptualization phase. So all the information I was having about that machine is the machine itself. I saw a big muscular tank, round headlight and a bigger engine that was roaring at a different higher note. While running eyes all over it, I found Bajaj emblem over the tank.
I was kind of shocked to see such a machine from Bajaj Auto. Bajaj, in collaboration with Kawasaki, was the brand associated with products like Caliber, Boxer, M80 Major, etc. After separating with Kawasaki, the first product to come out from Bajaj was Byk; an ugly looking, underpowered bike. Looking at its history, it was quite hard to believe what I was seeing, that big bike branded Bajaj Pulsar! This is the bike which later proved to be a fortune changer for Bajaj Auto in India.
Better evolution is always a result of better genes. Pulsar series was initially launched in India in 2001 with out of the way styling and power figures. The sports bike segment was in its nascent stage in India with only one offering Hero Honda CBZ. The response from customers was good enough for Bajaj to go further and give customers what they wanted, more power and more style at minimum price. There are many steps through which Pulsar's path to glory have passed, which is explained in the infographic below. After 10 years of being in service, there aroused need of overhauling the design and technology of a Pulsar so that it gets the appeal and muscles to challenge new breed of sports machines. And outcome is the Pulsar 200 NS which swore to take the Pulsar legacy further with its leaner looks, technically sound underpinnings and advanced technology.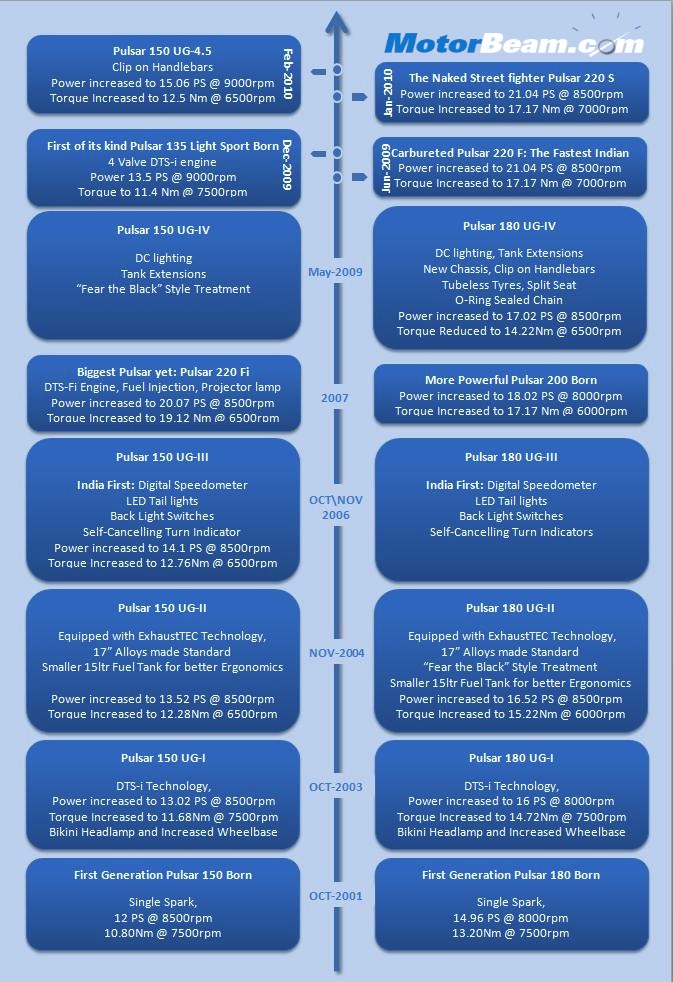 There are some landmarks Bajaj Auto has created while evolving Pulsar –
– DTS-i Technology – Digital Twin Spark-plug Ignition System
– Triple Spark Ignition system (Pulsar 200 NS)
– ExhaustTEC – Exhaust Torque Expansion Chamber
– TRICS III – Throttle Responsive Ignition Control System is basically a microprocessor controlled process which modifies ignition timing based on load requirements and riding style
– CDI – Capacitive Discharge Ignition
– Four valve technology (in Pulsar 135 LS and Pulsar 200 NS)
– LED tail lights
– Back light switches
– Digital speedometer
– Self-canceling turn indicators
– Projector headlight (on 220F)
It is the list of technologies that has made the Pulsar a perfect sporty machine which lives up to our need and greed of a sports bike. From the time of inception these things are what helped Bajaj to lead the sport bike segment, undoubtedly. Nobody knows how the future of sports bike in India will evolve to. However the name Pulsar will be always be remembered as the bike that started it all.