Honda CBR250R Chennai Owners Meet 2012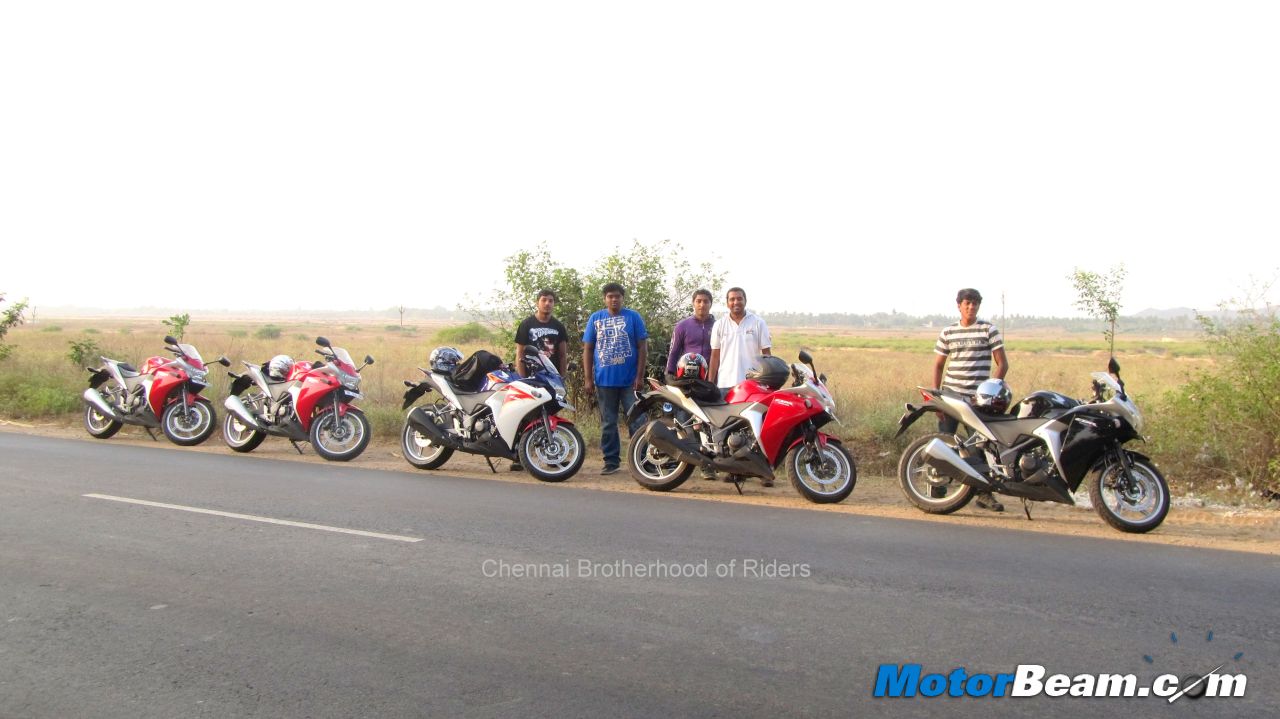 Our group, "Chennai Brotherhood Riders" otherwise known as the CBR owners group of Chennai, is a group which is dedicated to the owners of the CBR250R in the city of Chennai. We found this group about four months back. We are still in the growing process stage. Our logo has just been designed and have just started advertising our group. We had our first meet on the 8th of April 2012 and had 13 riders come for the meet! It was a very positive sign. Knowing that people were interested in such meets, we had planned for a ride of about 180 kms. This trip was planned for the 5th of May 2012.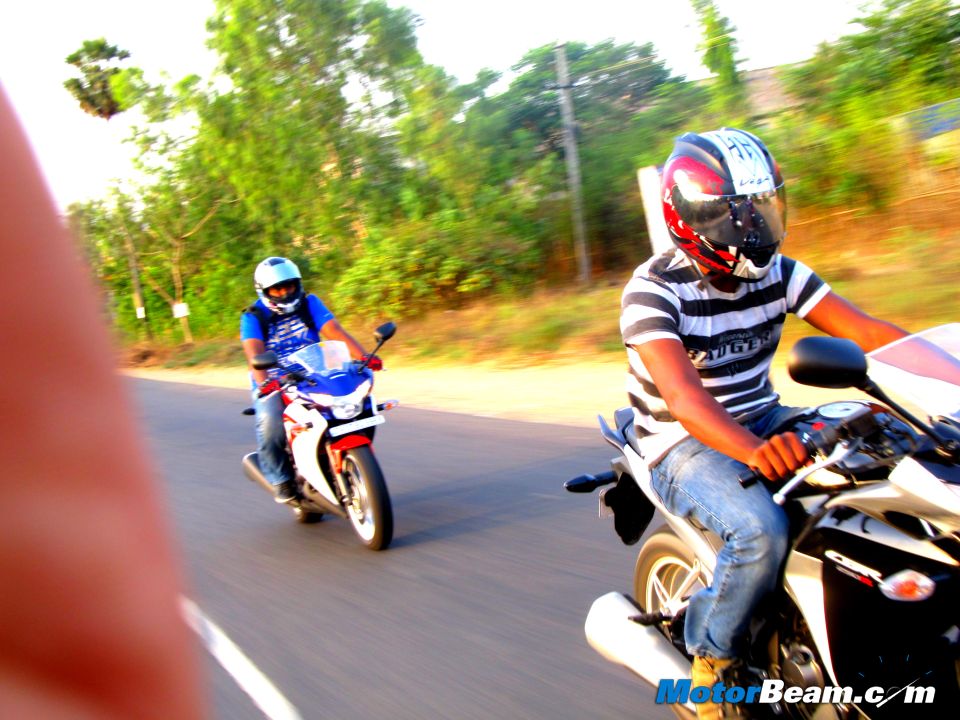 As expected, we had lots of interest towards this trip. Five riders were confirmed, considering the fact that we have only about 35 members this was a good turnout. The route was planned to look like a circuit, Chennai – Chengalpetu – Kanchipuram – Chennai. We planned to meet at a neutral location as all the riders were coming from different parts of Chennai. The plan was to meet at 5:30 AM and start on the trip! The confirmed riders were Srivatsav, Nalir, Arun, Chandru, Prithvi and Thyagarajan (pillion rider and photographer).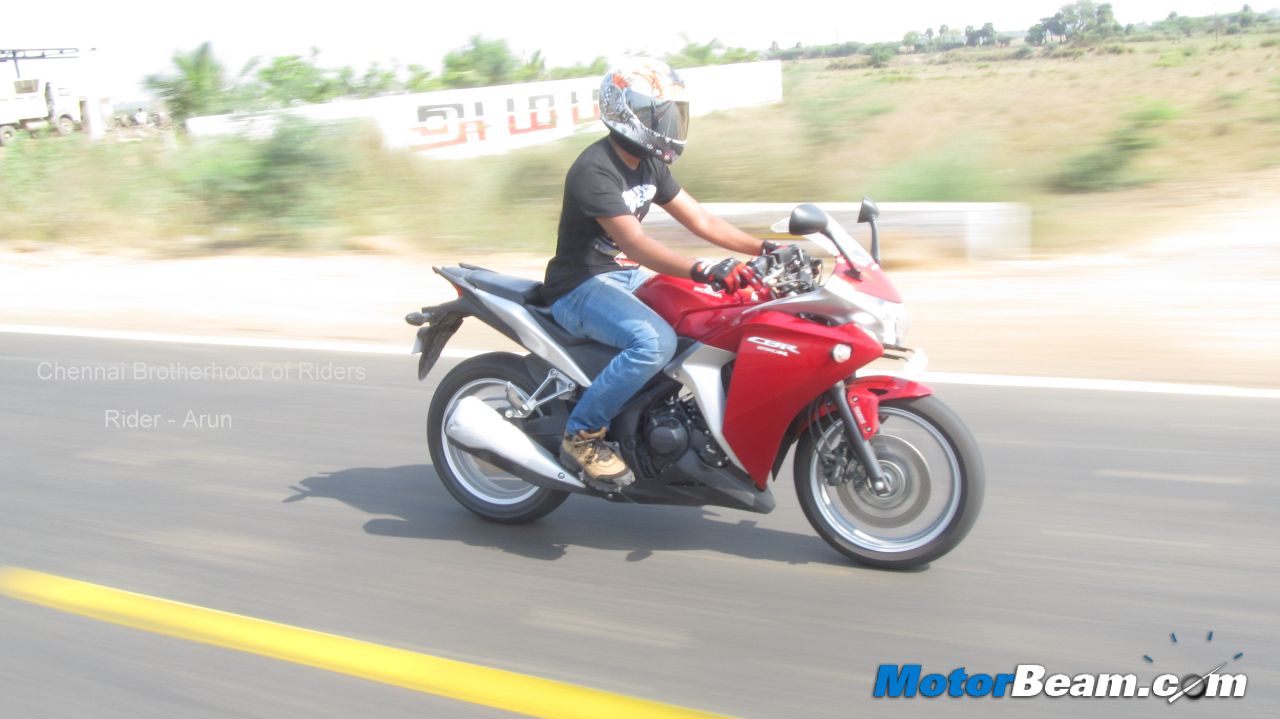 On the day of day of the ride, we all had assembled at the starting point at the exact time! There were a total of 5 bikes (3 red, 1 black and 1 tri-color). After a few photo's, we started on our trip. Since it was the early part of the morning, the cool breeze was an absolute delight and minimum traffic added to our happiness. We had got so much attention from pedestrians, cars, buses and other bikes. The first leg of our trip was from Chennai to Chengalpetu. The NH roads were fantastic to ride on and the scenery was absolutely amazing. We rode for about an hour and took our first pit stop on the way to Kanchipuram. This stop also acted as a photo shoot and all the riders discussed about each others bikes.
We even managed to spot three camouflaged cars that were being tested. We spent about 20 minutes talking and after that we headed to Kanchipuram for breakfast. Though the road to Kanchipuram was a little rough, the scenery was absolutely breathtaking. It was fun to ride as we were in a single line formation and all the riders driving at a constant rate of speed. We reached the hotel after 25 minutes and had a very tasty breakfast. After 30 minutes and with full tummies we began our return ride to Chennai. I must say, the roads in Kanchipuram were very confusing but the locals helped us to find the by-pass road.
Finally we managed to get on the by-pass roads which were the best roads we had been on all day. Since there was no vehicles on the road, we decided to test the top speed of our machines, Arun and Chandru were the fastest reaching 155 km/h. Srivatsav reached 144 km/h with a pillion rider but still had some juice left. The climate at this time was very hot but we kept riding without taking any breaks. We then reached the Chennai-Bangalore highway. Prithvi reached 1000 kms mark on his bike. We were then caught up in some traffic and it took time to navigate through it in which we lost some time.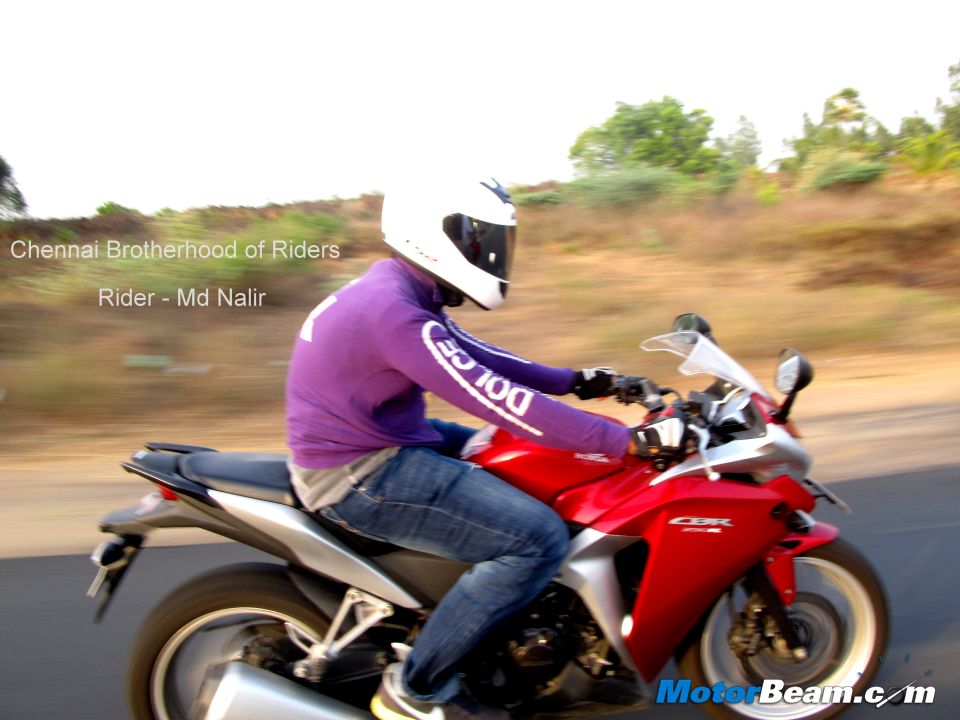 Eventually we reached our ending point, parked our bikes and thanked each other for making the ride worth the time. We had a final photo shoot and then split from there. I must say, it was one hell of a ride. All the riders complimented each other and rode like a team. We could really feel the brotherhood spirit.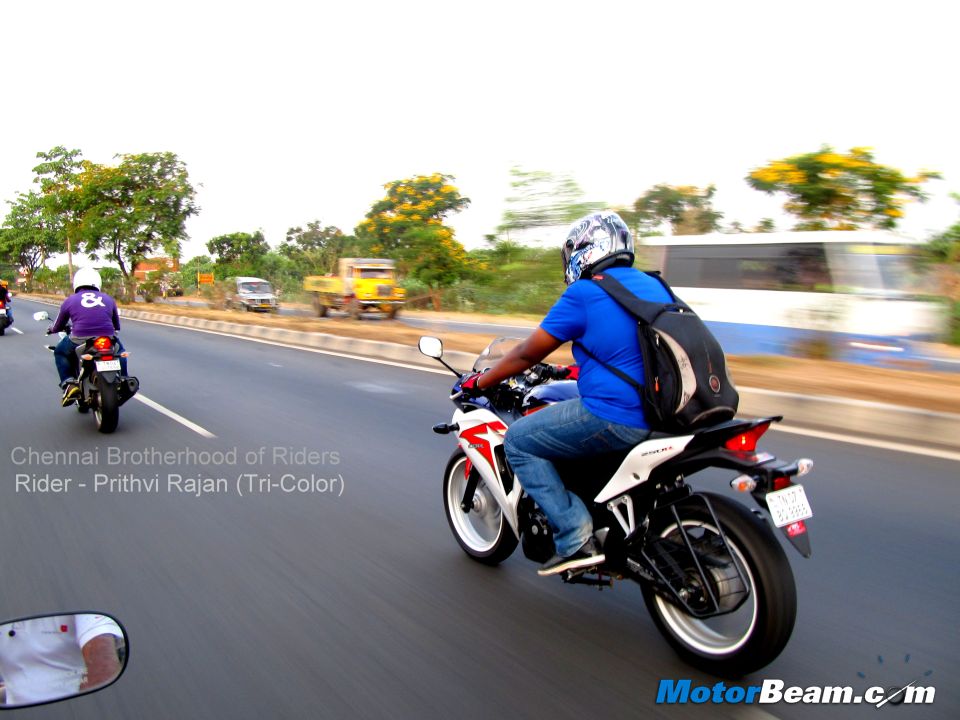 Honda CBR250R Owners Meet 2012 – Trip Log
Total time taken- 4 hours and 10 minutes (250 minutes)
Break – 20 minutes for photoshoot, 30 minutes for breakfast
Average fuel consumption – 35.8kmpl (under different riding conditions)
Road conditions- 70% good (NH and Chennai by-pass)
30% bad (road to Kanchipuram)
– Srivatsav Bhoopathy (you too can join us on Facebook here)