Honda Ten10 Racing Academy Experience [Double Win]
Honda Ten10 Racing Academy Experience
One Make races is one of the best ways to start racing in India & show your talent to everyone
It is said, "Racing began when the world's second bike was built". And today, racing is defined by Moto GP, F1, WBSK and so much more. The sport enthralls enthusiasts like nothing else. Everyone wants to get on their motorcycles and hit the track, even with very little knowledge about what they're going to do once they get down to it. I was one such rider, who's been practicing around streets, ghats and sometimes even on my bed trying to follow in on Vale's footsteps. Then one day, came an invitation knocking on my door. It seemed almost like a Royal Summon to join the Queen for a cup of tea; I was invited to the fifth and the final round of Honda's One Make Championship at MMRT, Chennai. From that moment to the second I got to the track seemed like an eternity, for I had been waiting for it my entire adolescent life. I was awestruck to see the pits, the pit straight and everything else that I had only seen on a flatscreen.
I, along with several other equally passionate journalists was lead to the media centre at the track. Little did I know that Friday was going to be a practice session and that we were actually going to be taught how to race a bike. Mr. Ramji Govindrajan, director of Ten10 Racing, was going to be our teacher for the day. With an intricately detailed presentation ready, Mr. Ramji began with basics of racing motorcycles. The day, divided into four sessions, gave us ample amount of track time with certified trainers including Sarath Kumar (former Moto3 rider), along with interactive classroom sessions. The training provided by Ten10 Racing really helped understand riding better and shaped me into something that I never imagined myself to be. Mr. Ramji would observe us on track and would later give us pointers based on the mistakes in our riding style. Friday was an exhausting day after hours and hours of riding under sun and discovering limits; forgetting about the possibility to crash!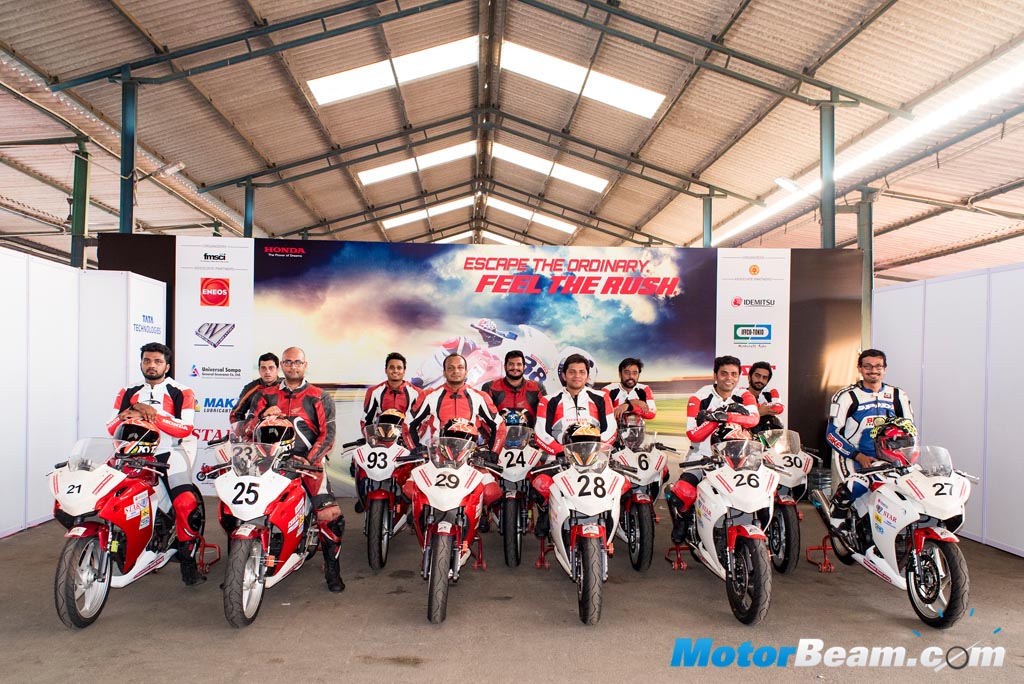 Saturday dawned, the day for every participant to realize where they truly stands. We were briefed by FMSCI track officials about Do's and Don'ts of track behaviour; not that Mr. Ramji hadn't made it any clearer on Friday. The national as well as the Honda One Make Championship qualifiers had begun. Watching the professionals race on mere 165cc monsters put us media persons to shame. The timing sheets spoke for themselves. It is surprising how much difference hours and hours of practice and technique can make. We rode for pleasure, but these guys rode like their life depended on it. Watching them was an inspiration and a testament to the amount of dedication a professional racer puts in. Saturday was a busy day for the track and we were allotted only ten minutes for qualifying and putting out our best time. I qualified for pole position in the Media Race category.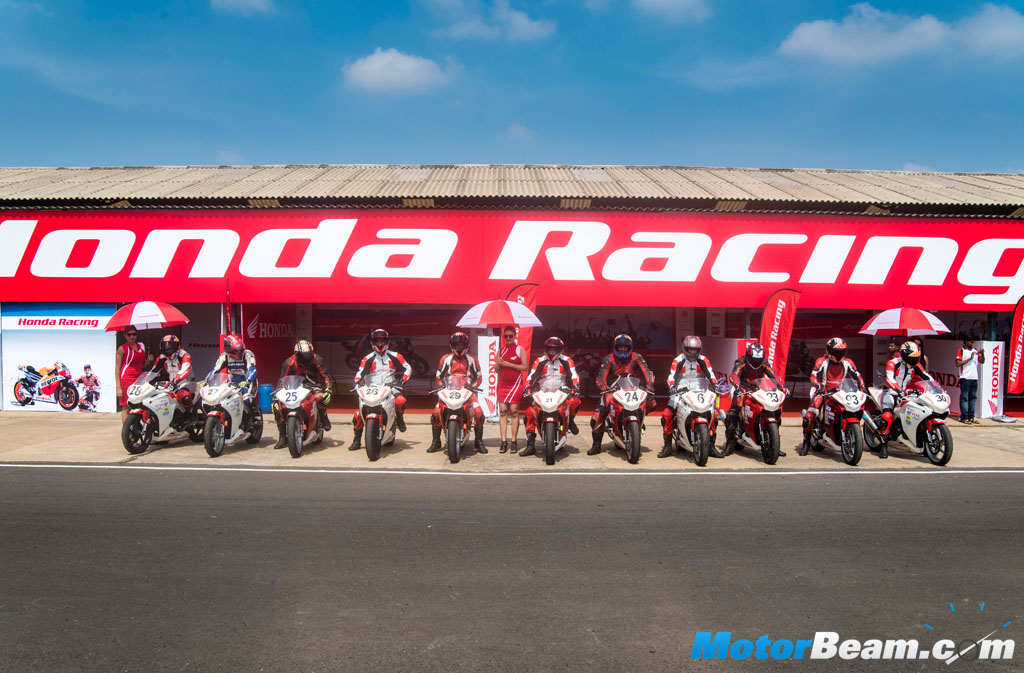 The highlight of the day was the first ever all women's qualifiers. It is for the first time that Honda Ten10 Racing has trained women and held a women's round in India in the CBR 150R category. It was an absolute delight watching the girls ride it out on the track; a picture that is rare to see even on the streets. It is definitely a great initiative by Honda to break all gender stigmas that revolve around motorsports. Proud parents, encouraging their daughter to race bikes is a sight I never expected to see. I consider myself fortunate enough to have witnessed their happiness.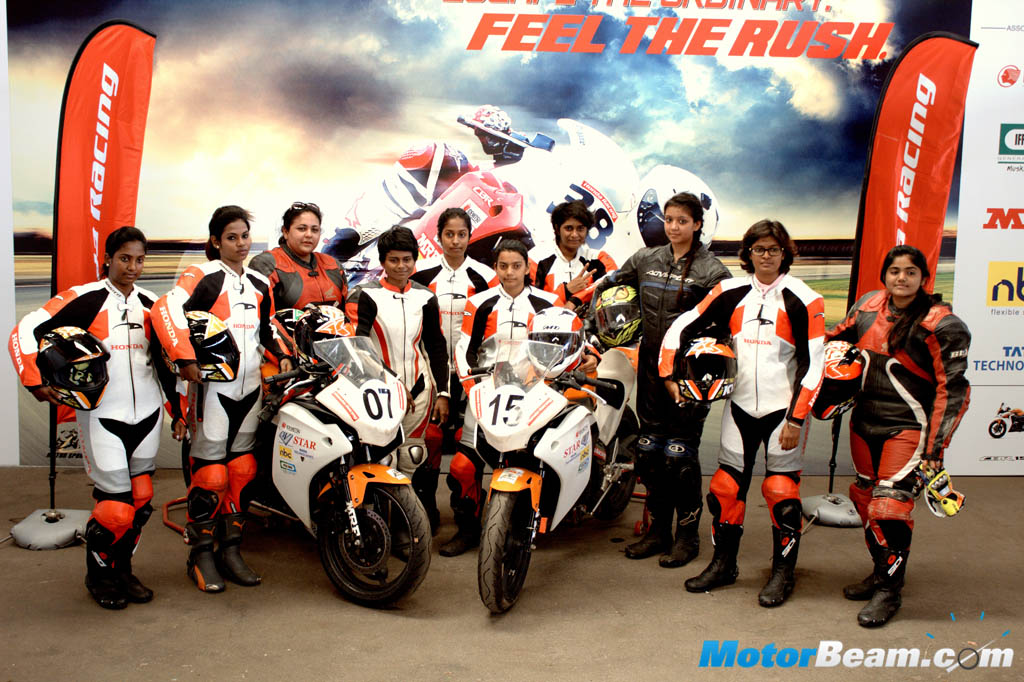 On the first light of raceday, I sprung up from the bed. I was waiting to get ready for my first ever race the whole night. My entire sleep was filled with thoughts about strategies and the possibility that I could win. I couldn't wait to get to the track. The teams were busy making final tweaks to their machines. Mr. Ramji gave us an unexpected visit amidst all the havoc of race day preparations. He truly cared for the students he's trained and wished us luck for the race. Mr. Mokshith SN was in charge of the technical aspect of our bikes. His passion and dedication to the sport was truly reflected when he taught us how to set up a bike for individual riding styles. He was my confidante when I started facing problems with the motorcycle due to my riding style and helped me get adjusted to the bike. In his calm and sophisticated manner, Mr. Mokshith answered any technical questions.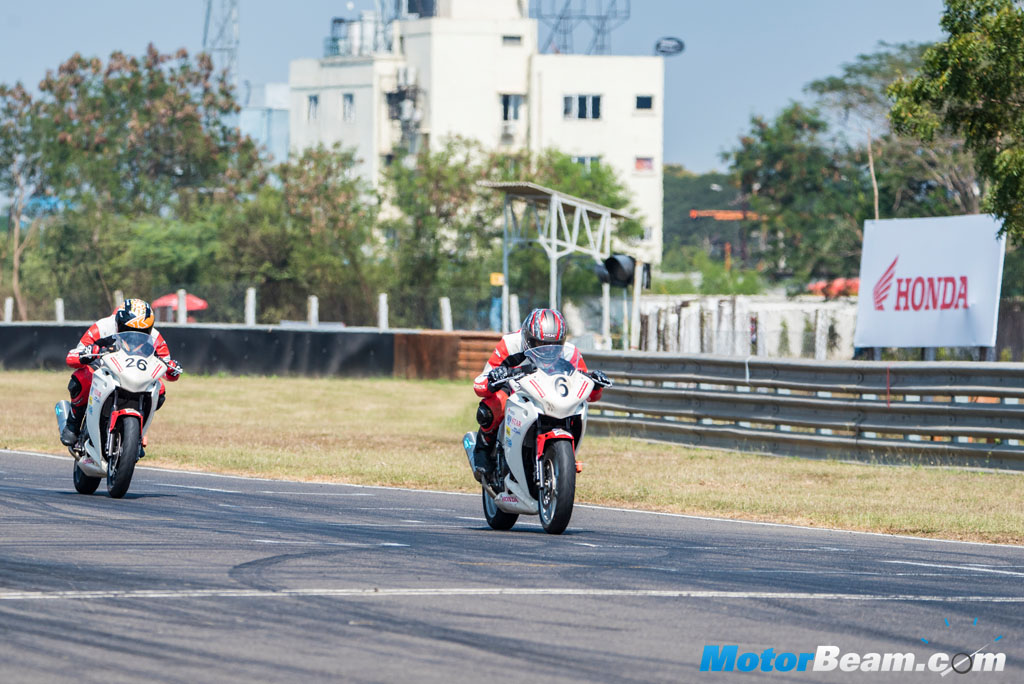 Winning in any race gives an all time high, nothing feels better than winning
Just like any other motorcycle race, both my races were filled with action. I couldn't get a proper race start because I didn't practice it well enough. Starting from the pole seemed futile as four riders raced ahead of me due to a late start on my end. However, being one of the lightest on the grid, I managed to overtake all of them within the first two corners. From then, it was me in the lead till the end of the race while getting some heat from two other riders. However, they crashed in between and I led from the rest of group with a huge gap for the remaining race. I had won the first ever race in my life. It was a proud and a slightly disappointing moment to have no one to enjoy my victory lap with. This funnily goes for the second race as well.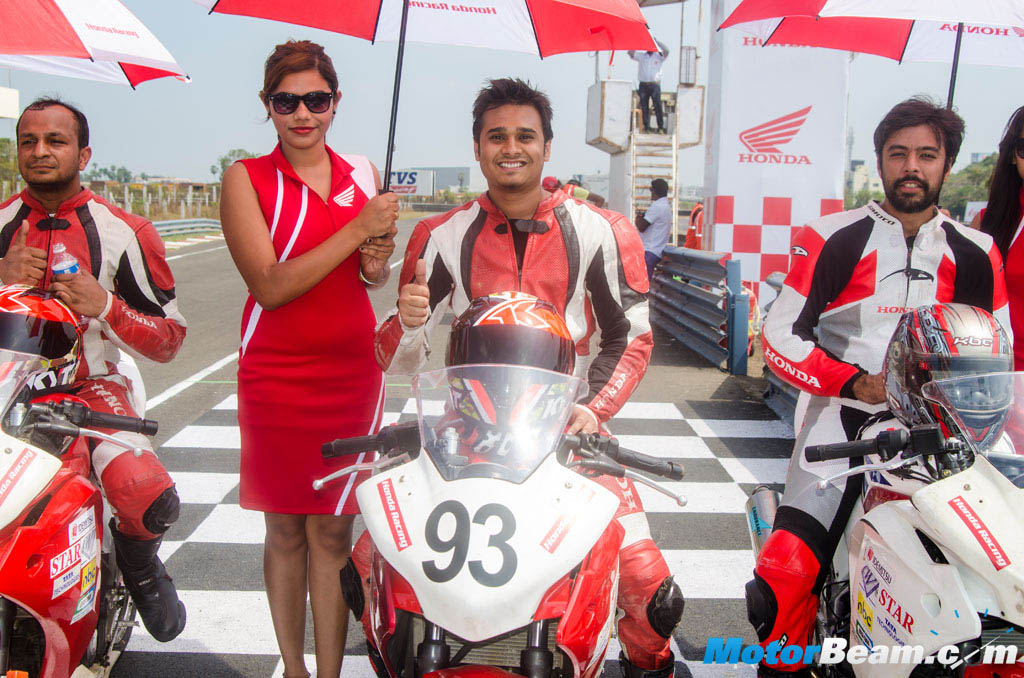 By late afternoon, all races were completed and preparations for the prize distribution were on the way. Honda left no stone unturned to make the prize distribution ceremony as glamorous as it could. The winners from all categories- 150cc, 250cc, Ladies and Media Race were felicitated along with first and second runner ups on the podium. It was an absolute delight seeing my wildest fantasies coming to life; something that I always wondered watching Vale, whether one day I could stand up there. I could see a similar sense of pride and satisfaction in winners of other categories and their hard work being expressed in the form of mere smiles.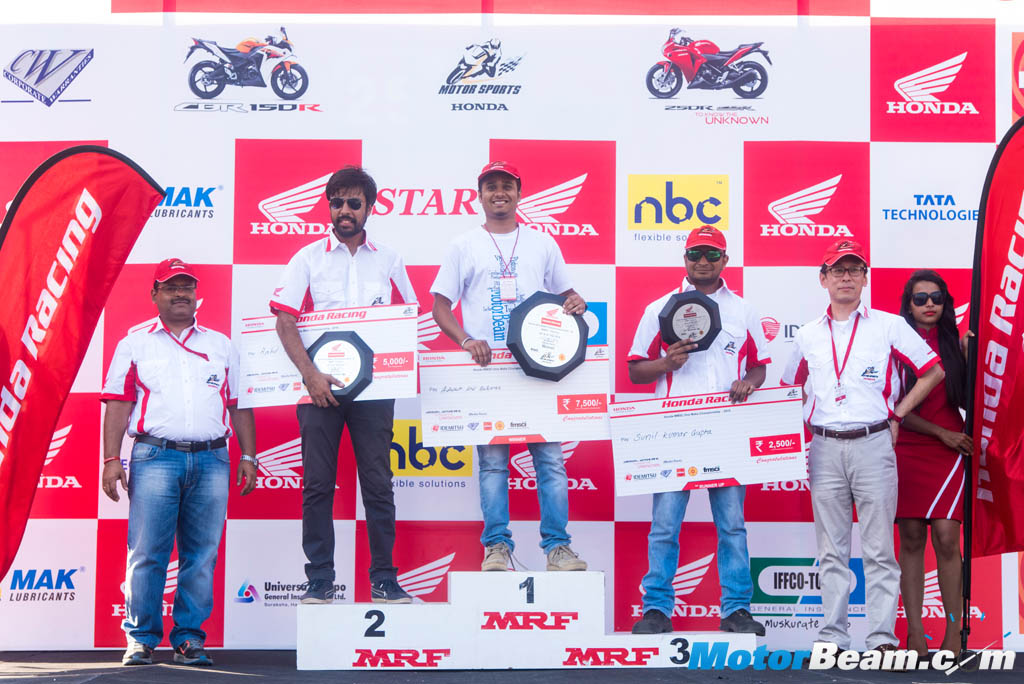 The Indian Motorsport scene requires more attention and the talent participating in it must be recognized in order for India to have a significant presence in the world of racing. Honda is one of the first to push motorsports in India, and in association with Ten10 Racing, it has made significant contributions in the growth of this passionate sport that is yet to be discovered by the Indian masses. With the Ten10 Racing Academy, new and young aspirants are definitely being shaped into able and skillful racers, which is just what we need right now.
Pictures: Srinivasa Krishnan
Further Reading –
2015 Honda CBR250R One Make Race Bike Review