Hyundai Achieves 91% Manufacturing Capacity Utlilisation, GM Comes Last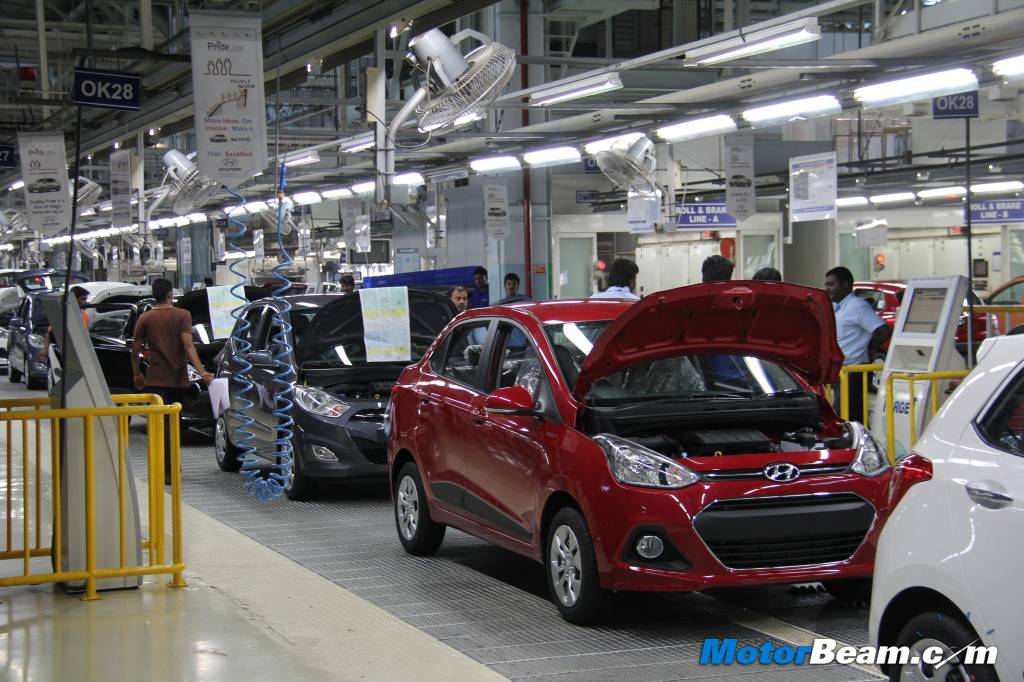 Not just the common man, but auto manufacturers too are optimistic of the newly formed government that is expected to bring some much needed respite to the automotive market that has been seeing sluggish sales over the past one year. The economic slowdown heavily affected auto makers, which have idled manufacturing capacities gone unutilized or underutilized. With over Rs. 20,000 crores invested in the setup of these manufacturing facilities, the automobile companies barely used 55 percent of the installed capacity in the last fiscal year.
Despite an installed capacity of producing 51.38 lakh vehicles per year from all manufacturing facilities, total production last fiscal was limited to 28.49 lakh units. Lagging behind massively in meeting total production was American auto giant General Motors. The company with an illustrious history of recalls and lethargic demand for its vehicles saw a mere 78,426 vehicles produced out of an installed capacity of 2.82 lakh units per annum over the last fiscal. Production was also halted briefly at GM's facility due to issues in the then newly launched Chevrolet Sail sedan and hatchback models. The company's total output was only 28 percent of the installed capacity.
Rising above GM were partners Tata-Fiat which utilised only 33 percent of the total installed capacity. With a slow selling year for almost all Tata models, the reduction in manufacturing seems obvious. Managing decent manufacturing capacity though has been Renault-Nissan which utilised 55 percent of their installed capacity, while Honda Cars India was doing tad better at 56 percent. With exports playing a major role, the facilities have been operating efficiently for certain manufacturers.
While India's largest selling manufacturer Maruti Suzuki utilised 77 percent of the installed capacity, it was the country's largest exporter Hyundai that has been operating at full steam with 91 percent of the installed capacity utilised. With an installed capacity of 6.80 lakhs, the company produced 6,19,876 vehicles in the last fiscal. Hyundai has certainly seen the demand only rise, not only in the domestic market but overseas as well, which has helped the manufacturer top the list. In the past few years too, Hyundai has been consistent with its export operations and produced a total of 6.41 lakh vehicles in 2012.
Other manufacturers are expected to perform better and have also been adding production lines and improving the total number of installed capacity for a long term goal, betting big on the Indian market. Ford that currently operates at 67 percent has commenced its third shift operations for the EcoSport, while the production of the Datsun range will only add volumes for Nissan. Maruti and Ford also plan to invest in new plants that will expand their existing capacities by 2.40 lakh units and 1 lakh units respectively.
Source – ETAuto