Innova vs Lodgy vs Mobilio vs Ertiga – Spec Comparo
The MPV segment in India is buzzing with rivals and Renault has just entered the competition with the Lodgy MPV. The Lodgy will be launched next month and we compare it to its closest rivals.
Exteriors – None of these MPVs have beautiful looks at all. The earlier Toyota Innovas used to look good but the company kept ruining the design after every facelift. The Renault Lodgy looks quirky from certain angles. It has a breadbox van look to it and quite a few buyers won't be enthralled by the design. The Maruti Ertiga has a very clean and neutral design but it looks too similar to its younger siblings like the Swift and Ritz. The Honda Mobilio has a sporty design and it features some sharp lines and creases. The Honda Mobilio RS looks the best.
Interiors – Interiors on the Innova are very basic and come with only bare amount of needed features. There are no signs of bling or jazz to the best-seller's interiors. The Lodgy again has functional interiors and the layout is very practical. The Ertiga also has a nice and simple design that is shared with the Swift. The Mobilio has a quirky looking dashboard and it is liked by some and disliked by many.
Engines – The Toyota comes with an old 2.5-litre unit that is being used since a long time now. However, this engine has proved to be utterly reliable and pretty much robust. The Lodgy, Ertiga and Mobilio come with smaller engine capacities and yet they produce similar levels of power as the Innova. All of these MPVs come with a 5-speed manual gearbox and no automatic is offered.
The Ertiga and Mobilio are the only ones here to get a petrol engine too. The Ertiga has a 1.4-litre unit while the 1.5-litre on the Honda is very free-revving and quite fun. The Innova used to be offered with a petrol engine in its earlier days but buyers hardly preferred the petrol variants and hence it got discontinued.
Pricing and Verdict – The Innova is the priciest of the lot and yet it sells the most. Toyota's bullet-proof reliability and hassle-free ownership experience is what attracts buyers to the MPV. The Ertiga is the cheapest here and again Maruti's service network is the most significant reason behind the Ertiga's sales which are very close to the Innova. The Mobilio is priced higher than what it offers and it is not much of a value-for-money proposition. The Lodgy's fate will be decided on how well it is priced by the company. Also, Renault does not have much of a presence in India so sales in smaller markets will be a hinderance.
Innova vs Lodgy vs Ertiga vs Mobilio – Diesel Spec Comparo
Ertiga vs Mobilio – Petrol Spec Comparo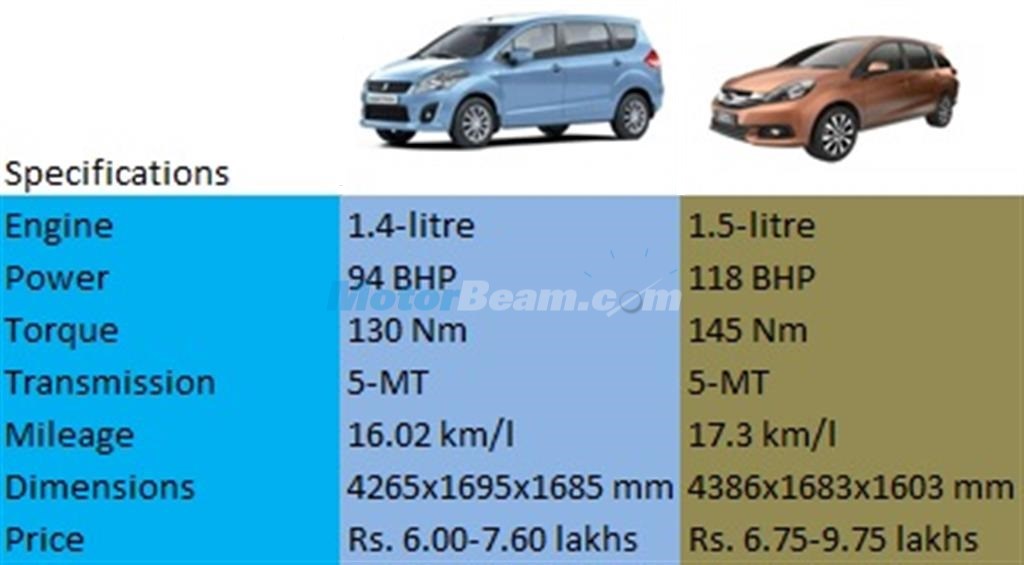 *all prices are ex-showroom, Delhi.