Interview With Chithra Priya – India's Only Woman Saddlesore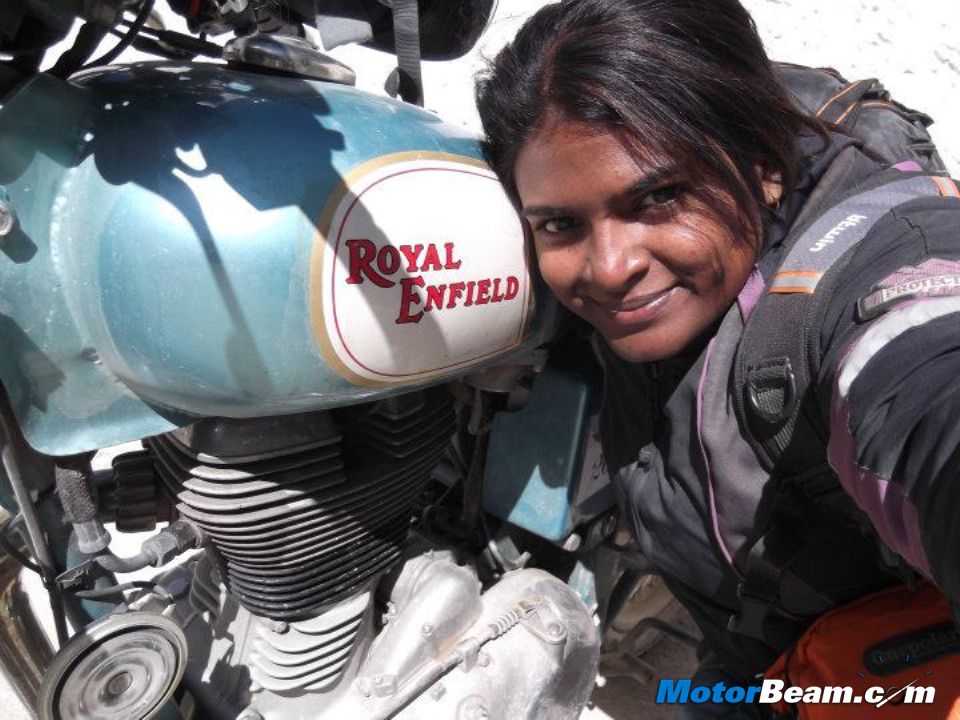 Chithra Priya needs no introduction. She is an avid biker, who completed the grueling Saddlesore on a Honda CBR250R recently. But that is not her only achievement on two-wheels as she has also been a part of the first ever all women riding group to cross the Himalayas. MotorBeam special correspondent Viraja D Vakada catches up with her to ask her some questions in an exclusive interview.
Tell us about yourself. Who you are? What you do?
Hi, I am R. Chithra Priya. I am currently pursuing Motorcycle racing. I did my graduation in BSc. Visual Communication and Master's in Digital Film making. I also run an NGO called Tree Foundation for wild life conservation.
When and how did your love for cars/bikes or both start?
I have been always very active and I love sports for that matter. To tell you the truth, speed thrills me and I love the feeling of taking off. And bikes give me that feeling of freedom from everything. They teach me something new every day. There is lot of concentration required when you ride. I have the best of my time when I am on my bike. We seem to share some great bonding with each other.
Which car/bike do you currently own?
I own a Black Maruti Suzuki Swift. But I own 8 bikes. Yamaha Enticer was my first bike and my first love too. Apart from that I own two of Yamaha Crux, an RTR and a Pulsar to name a few. I am really loyal to the Yamaha brand. In fact I have plans of getting Yamaha logo tattooed on my back in the near future.
When did you buy your car/bike?
I bought my first bike in the year 2004.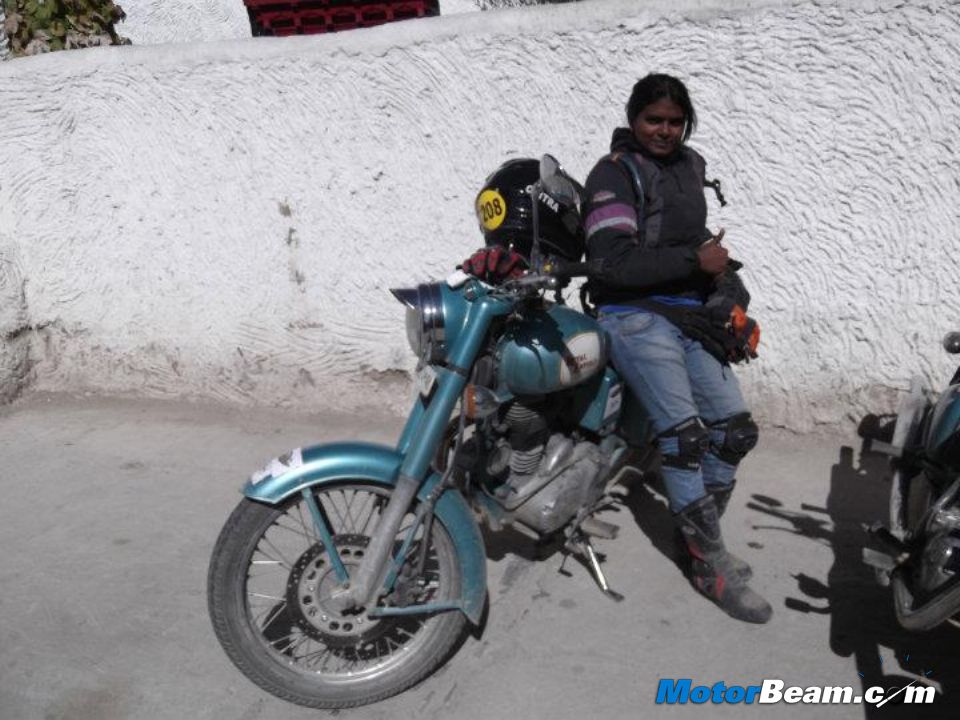 What made you buy this particular car/bike?
I bought bikes based on the purpose I was using them for. I race under two categories – 80 to 110 km/h and 110 to 160 km/h. So, depending upon that, I buy the bikes that suit my purpose. I test the bikes on the race tracks before buying.
How many kms have you done? How many do you do everyday?
Since I have traveled most of the places in our country on a bike, I don't think I have done anything less than 3 lakh kms till date. On a daily basis I ride but nothing in specific.
What do you love the most about your car/bike?
Well, I love the speaker system of my car. I love listening to music while I drive. I have tweaked the system a bit and I added two big woofers.
Coming to bikes, there are 101 things I love about my bike. My bike gives me freedom. I feel at peace and out of the world. I forget all my worries when I am on my bike. To tell you the secret, I have had the best of my conversations on and with my bike. It is the best company I have. It just listens to me and never lets me down.
What you don't like about your car/bike?
This question will not have an answer because I just love my car and my bikes. But still if you want an answer, I would say, I would not like bikes that do not give speed.
Will you trade your car/bike for any other vehicle? If yes, which one?
I would trade it for bigger bikes like the Yamaha R1 or R6. In cars it would be definitely Hummer.
What is the longest you drove/rode your car/bike and where?
I once rode 7000 kms in 30 days starting from Kanya Kumari to Pune. I also covered a distance of 2000 kms from Delhi to Kharthungla. Apart from that, something that you already know, I covered 1650 kms in 24 hours as part of the Saddlesore. It was a Bangalore to Pune and back to Bangalore trip.
How did the idea of doing the Saddlesore come in your mind? Was there any opposition from family and friends?
My parents have been always very supportive. All they would say is "take care". In fact, they have been encouraging whenever I took up such challenges. Friends were surprised initially but after all my achievements they are now used to it. They are always there to support me when I need them the most.
I got to know about the Saddlesore almost a year and a half back but I was not prepared for it. After a lot of planning and training I decided to give it a shot. The reason I wanted to do it was to experience it myself and wanted to test myself if I could really do it. I conditioned myself and tried to understand the intricacies better and on 25th December, 2011 I took off and the rest is as you know history.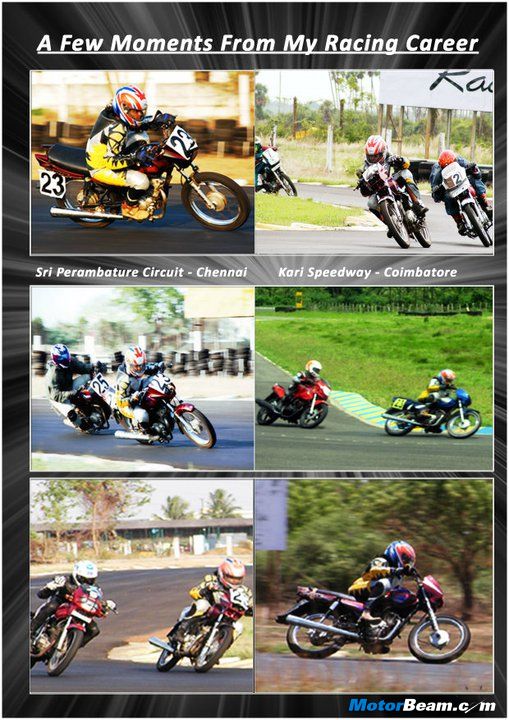 What makes you so inclined towards bikes and what pulls you towards 2-wheels?
My brothers taught me bike riding. Once I learnt riding, I perfected it very soon. When my close ones saw me riding at my best they asked me to try something more. After my first bike race in Tamil Nadu where I was the only girl to race with guys, I decided to pursue biking.
What is the fastest speed you have achieved on your car/bike?
In my car the top speed I attained was 140 kmph I once pushed the Yamaha R6 to a top speed of 187 Kmph with a pillon rider. In my Saddlesore the top speed I could attain was 155 km/h on the Honda CBR250R.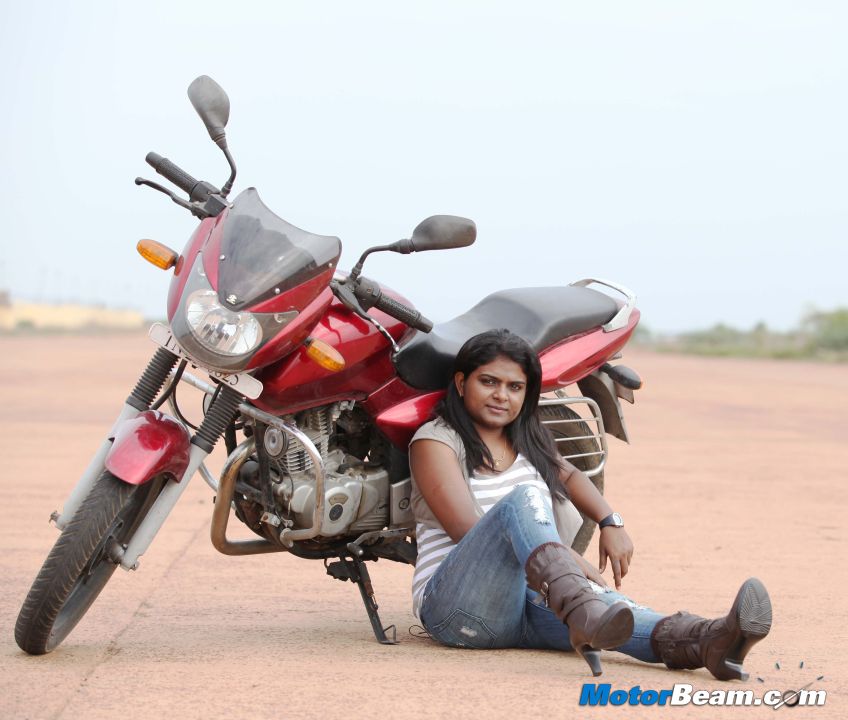 What mileage does your vehicle give you?
Around 20 to 25 km/l I guess.
What is the craziest thing you have done in your life?
Once I got up at 5 AM in the morning. I grabbed my camera and drove to Pondicherry for my wild life conservation film. And what I saw there was something not everyone gets to see. After 60 years, people there witnessed the coastline. Yes, it was the day Tsunami hit and I was one of those lucky few to witness it and come out alive.
What modifications have you done to your vehicle and what do you plan to do in the future?
I painted my Enticer in black and silver to give it a tribal look. I generally do external modifications. In future am planning for army camouflage design. I have not done internal modifications much but in future I might tweak it a bit for higher speeds.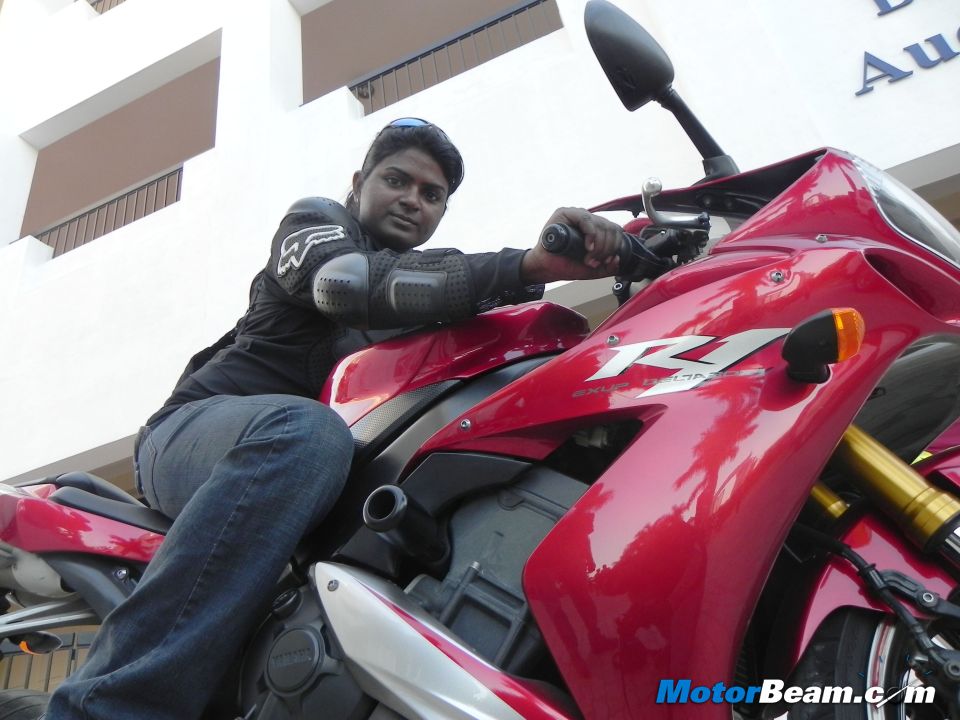 Why is your car/bike so special to you?
I love all bikes. Yamaha bikes are my favourite because they are sturdy and long lasting. They always listen to me and provide great comfort level.
Which is your dream car/bike?
Dream Car – Hummer and Jaguar
Dream Bike – Yamaha R6
Which car/bike sold in India is your current favourite?
KTM Duke 200 is my current favorite and I am planning to buy it soon.
Any advice for MotorBeam readers?
Dear readers, if u want to ride don't let anything stop u. Just do it. Follow your passion and then there is no looking back.
Tell us about your Saddlesore experience.
On 25 Dec 2011, I started my ride from Bangalore, early in the morning at 6:00 AM. I got the first petrol pump receipt at 6:50 AM. This meant I needed to get back to Bangalore the next day by 6:50 AM to successfully complete the challenge. The trip from Bangalore to Pune was not much challenging.
I reached Pune by 5 in the evening. I lost almost 2 hours near the toll collection booth. I grabbed a coffee from CCD near Katraj and without wasting anymore time I started back. At one point I was lost as I took the old Pune route. But then soon I was back on the highway.
Things were going fine until I felt sudden twist in my back nerve. It was getting cold and the temperature dropped to almost 2 degrees. 600 kms more and my body was denying to support me. But it was my determination that did not let me stop. There were many challenges. I had to be even careful not to invite attention from locals or other truck drivers. My head was feeling heavy due to the weight of the helmet. My eyes were swollen and I was finding it hard to see. I was all blurred at times. It was 4 o'clock in the morning and still 300 kms to go. At 6 AM I saw the electronic city flyover and few Coffee Days on the way. My heart was beating faster out of joy. The odometer read 1650 km. All I needed was a receipt. I went to the first petrol pump on my way. Unfortunately there was no petrol as the previous day it was Christmas. What kind of anti-climax it could be? I crossed two more petrol pumps but with no success. Finally I found one and got my official check in at 6.21 AM. I did it.
I reached my service apartment and after a quick shower came back to my senses. I was on the bed for the next 3 days. But I was totally content and extremely happy. I had proven that there is nothing that a woman cannot do.