Isuzu Begins Construction Of New Facility In Andhra Pradesh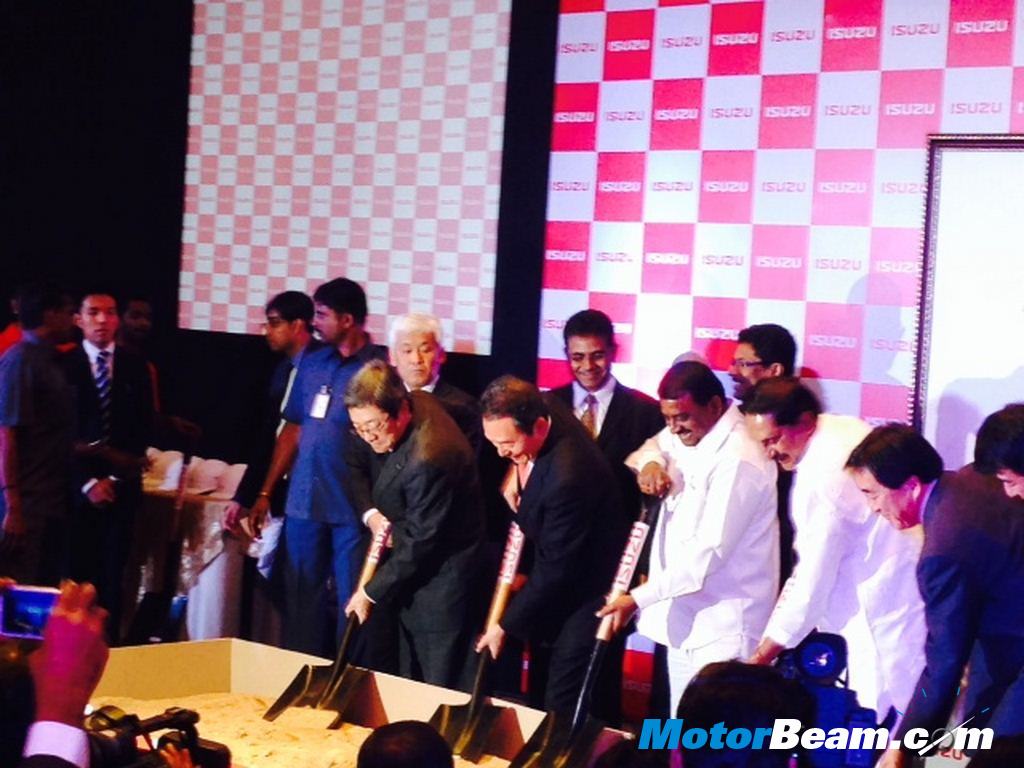 Isuzu Motor India has today unveiled the foundation stone for its new manufacturing facility at Hyderabad, Andhra Pradesh. Last year, Isuzu acquired 107 acres of land for setting up their new manufacturing plant in India. The Japanese automaker is aiming to commence the commercial operations by early 2016. Initial production capacity of the plant will be 50,000 units per year. Isuzu eventually intends to ramp up the annual production capacity to 1,20,000 units per year.
With an accumulated investment of Rs. 3000 crores, Isuzu Motor India plans a production capacity of 1,20,000 units, leading to 2000 – 3000 jobs. Mr. Susumu Hosoi (President and Representative Director, Isuzu Motors) says that their investment showcases the company's long term commitment to the Indian market and they will gradually increase their presence in India. Mr. Takashi Kikuchi (President and Managing Director, Isuzu Motors India) says that India is the key region in the company's global growth strategy for its emerging markets.
The new Isuzu plant will have facilities like Painting Booth & Oven, Water tester, Combination tester and Spot welding machines. To ensure environmental compliance, Isuzu is considering to develop sustainable and energy efficiency practices including ZLD (Zero Liquid Discharge) facility and ETP (Effluent Treatment Plant) process. Isuzu Motors has also provided training kit for the students that include practical knowledge of engine assembly, chassis, transmission, and steering systems. Isuzu will be conducting advanced automobile diesel engine training at ITI Tirupati for ITI technical staff.
Isuzu currently has very few dealers in India but plans to expand them to 180 showrooms by 2018. By next year, Isuzu will have set up 60 outlets across the country. The current focus is on utility vehicles over lifestyle offerings while attention is diverted towards South India for overall growth. Isuzu will only sell premium SUVs and pickup trucks in India. The company plans to extensively localise components for aggressive pricing.