J.D. Power 'India APEAL Study 2012' Released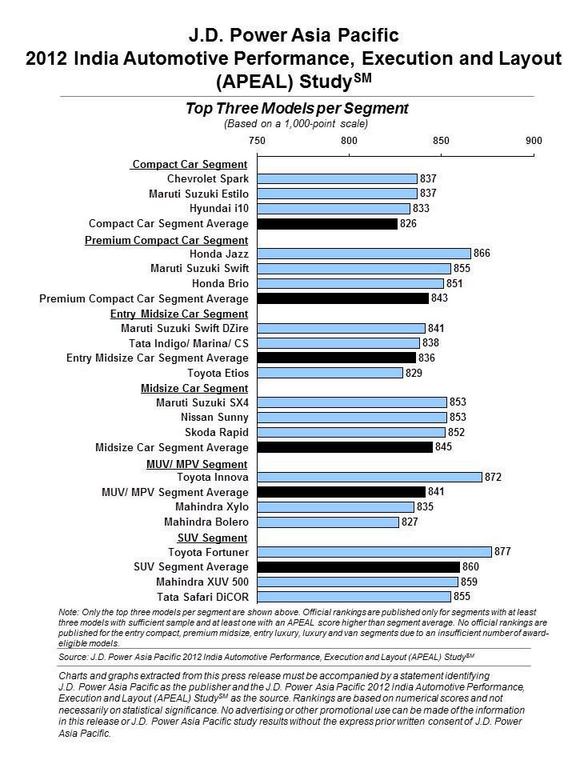 The J. D. Power 'India APEAL Study' is a study conducted every year in India to gauge the performance of the Indian Car Industry in terms of customer satisfaction. It was started is 1998 to analyze the satisfaction of customers with the cars as well as improvements made by the car companies to meet the requirements of the customers. This year it was conducted from November 2011 to July 2012 and 8000 owners of new cars responded to the study within two months of ownership. The categories for the study are – vehicle exterior; vehicle interior; storage and space; audio/ entertainment/ navigation; seats; heating, ventilation and air conditioning (HVAC); driving dynamics; engine/ transmission; visibility and driving safety; and fuel economy.
In the overall results, Maruti claimed three awards and Toyota claimed two. Also the in general satisfaction of customers towards their cars has increased by a decent amount from last year. The category that was given most importance was the 'visibility and driving safety' and 'fuel economy'. Though a noted increase in importance has been observed for the 'interior quality and features' in the past few years with manufacturers responding with lots of improvements as well. A noted improvement in satisfaction has been seen in the small car and MUV/SUV segment in terms of interior quality.
Another major change noticed was satisfaction levels with diesel engined cars over the last 4 years. In 2009 petrol car users were more satisfied with their cars than diesel car owners but in 2012 it's exactly opposite with satisfaction of diesel car owners being much higher than petrol car users. This shift is due to the wide gap in the petrol and diesel prices where more people are opting for diesel cars and are relatively spending a lot less on running their cars than petrol cars.
The winners in the different car segments are –
Compact Car – Chevrolet Spark and Maruti Suzuki Estilo tied in this category
Premium Compact Car – Honda Jazz
Midsize Car – Maruti Suzuki Swift DZire won for the 5th consecutive year
MUV/MPV Segment – Toyota Innova won for the 6th consecutive year
SUV Segment – Toyota Fortuner.