Top 25 Selling Cars In January 2019
The Maruti Alto remains first, Wagon R makes a tremendous growth to come in top 10.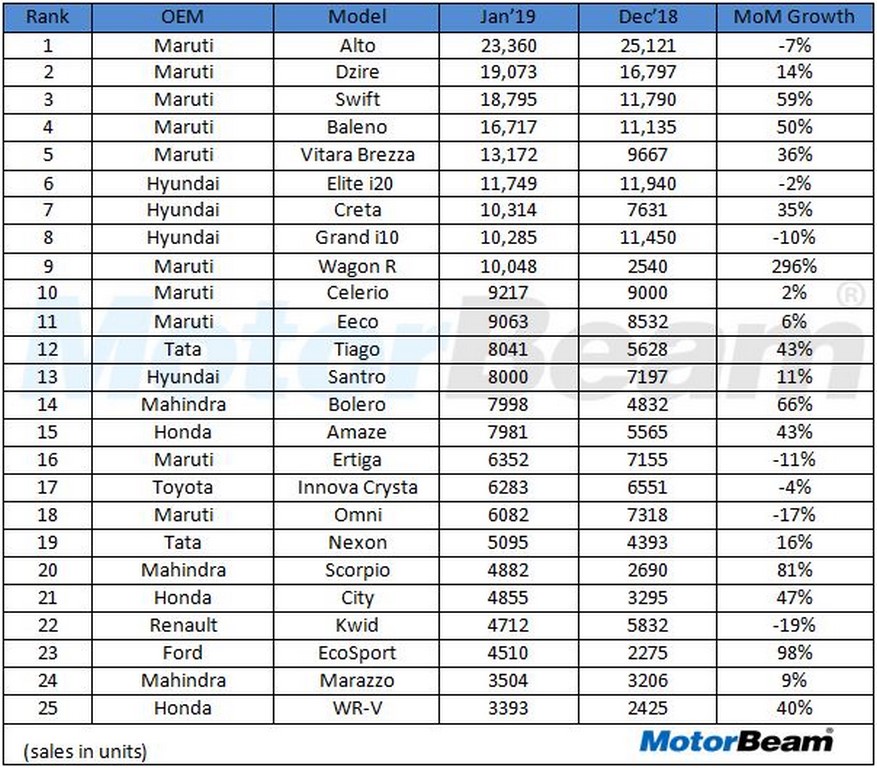 The Maruti Alto led the top 25 selling car list in January but saw a sales dip of 7 percent. Maruti Suzuki has taken the top five positions in the list, with just the Alto faltering in sales. The rest, especially the Swift saw a good rise in sales.
Maruti managed to sell only 16,797 units of the Dzire and 11,790 units of the Swift in December but sold 19,073 units and 18,795 units in January, thereby seeing an increase by 14 percent and 59 percent respectively. The Hyundai Santro missed the top 10 car list last year in December, and it still did this time but made a fair comeback by selling 8000 units and securing the 13th position.
The Maruti Baleno rose up by two positions in comparison to the previous months and saw a month on month growth of 50 percent, thanks to the arrival of the facelift. The most significant increase in sales is of Maruti Wagon R. A staggering 296 percent is obviously good news for Maruti Suzuki. The older model got discontinued and the new generation has come in, garnering excellent response. Hyundai gave a tough fight to Maruti. At sixth place, it's the Hyundai Elite i20 followed by Creta and Grand i10. The Hyundai Creta has been in the top 10 list of almost every month since its launch.
The Mahindra Scorpio and Ford EcoSport saw a manifold rise of 81 percent and 98 percent respectively. The Ford Endeavour saw zero sales in January as the 2019 facelift model is set to be launched on the 22nd of this month. Funnily, Toyota Fortuner saw a 23 percent fall in year on year comparison but saw a 23 percent rise in the month to month comparison.
January 2019 Car Sales
– Maruti takes the top 5 spots in the selling list
– Maruti Wagon R has a staggering 296 percent rise in the month on month growth
– The Ford Endeavour sold 0 units in January 2019