July 2012 Sales Figures & Analysis
The Big Picture – July is the month which brought us average results from every manufacturer and has been as expected by us. The numero uno MSIL felt a little jolt this month because of the unrest at the Manesar plant with sales falling by 15% and the situation will worsen further in the next month. Notice that the market share of MSIL, which used to soar around 50%, is now falling below 40%. Hyundai, being at number 2, also saw a decline is sales mainly because of the lack of diesel hearted small cars and overall slowdown in the economy.
Main highlight is that Tata has regained the number 3 spot from Mahindra after two months and that too with big margins. The comeback action was so strong that they came close to Hyundai also, although 1,300 units still falling short. Loss of MSIL has resulted into Mahindra having double digit market share for the first time and it stood at number 4. Second thing that gets our attention is the gain of Renault, which is evident from its Duster's launch. This jump took Renault ahead of Fiat by big margins! Fiat guys please do gear up, atleast now! Skoda lost its sales and that too with -58% fall in units sold. Overall, the month of July went smoothly with visible effects of general slowdown and recorded overall -2.63% loss by selling 192576 units.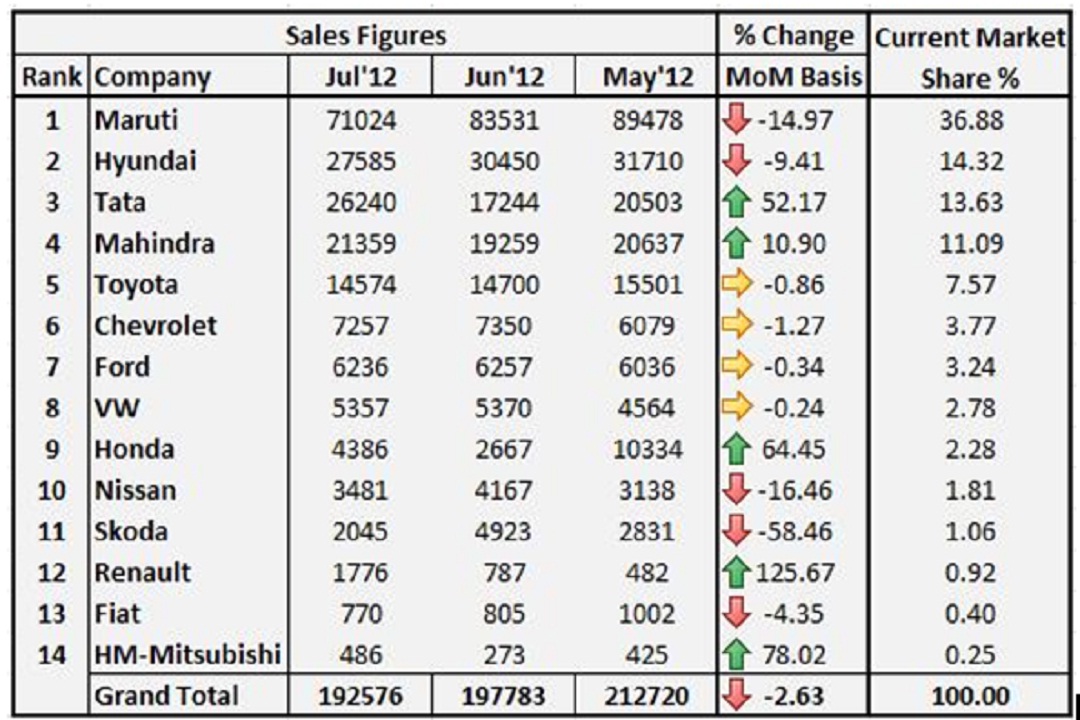 The Top-20 chart is quite neutral as there is no change in Top 5 rankers with Alto leading the charts. Tata stable has shown strong comeback with Indica series showing gain by 9 positions, Indigo series making a comeback in Top 10 and Sumo entering league at 20th spot. Also what is worth noticing is that Ertiga overtook the Innova by almost 400 numbers. XUV 500 has crossed 4000 units mark for the first time in its lifetime. Looks like Mahindra is rolling out XUVs in full capacity. We can expect much reduced waiting periods for XUV soon.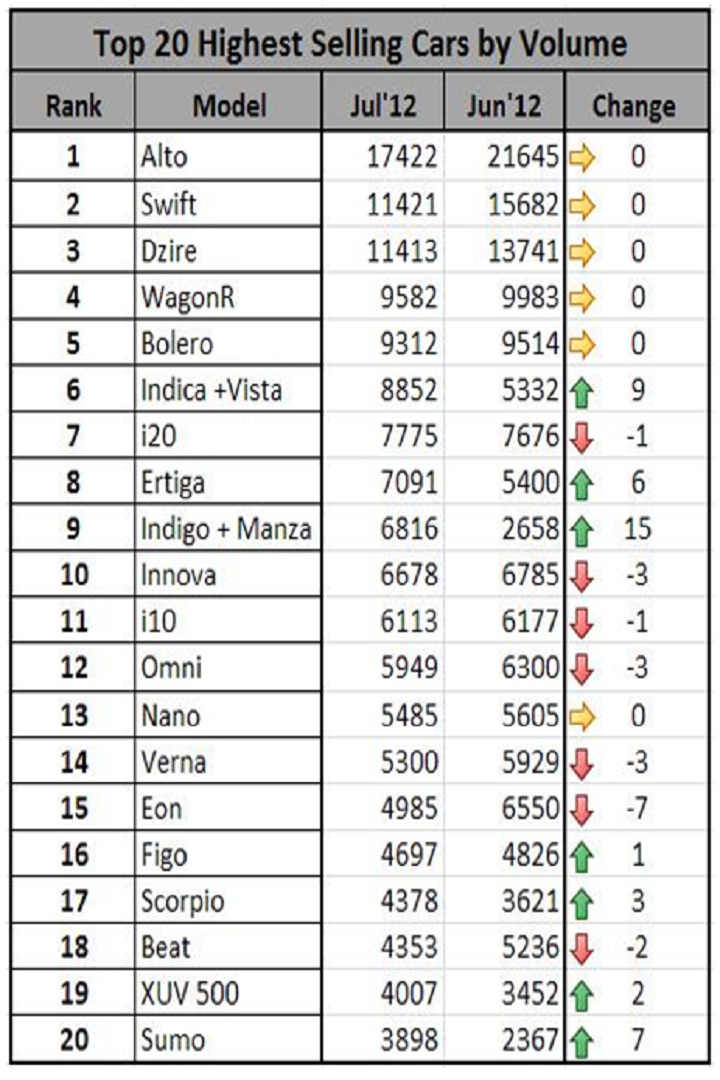 Company-wise Break Up – As always, Maruti has secured top spot this month also even after losing 12.5 k units. This loss is mainly accounted by Swift platform and Alto. Surprisingly, Estilo managed thousand plus numbers once again where as Ritz and A-star have shown poor performance. Looking at Eeco numbers, it appears that the initial demand from taxi market has settled down and Eeco will now have to rely on family buyers. From the house of Hyundai, the top seller is i20. The entry level offering namely Eon has suffered huge loss and sold just 4985 units. Dispatch of the new Elantra has started in July and soon we will see it on road. Overall Hyundai registered loss of sales close to -10%.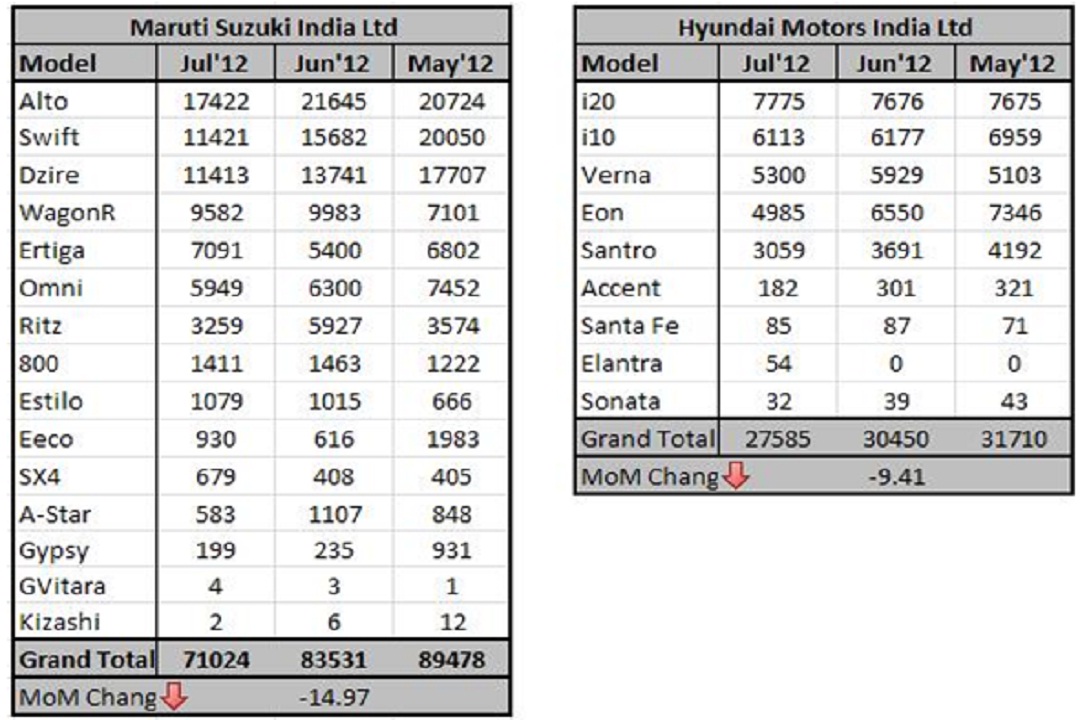 As we speculated last time, Tata has come out of downfall and sold 9k units more than the previous month. The key sellers, Indica and Indigo range are back in full swing as 8,852 and 6,816 units were sold respectively. Surprisingly Sumo gained volumes; this might be an effect of some bulk orders. With these gains, Tata motors recorded 52.17% rise in sales for July. The Utility Vehicle expert Mahindra is doing magic with its top 3 offerings. The Bolero is being sold consistently above 9k units, Scorpio is selling in good numbers and their flagship model XUV 500 has crossed 4k mark for the first time. In spite of 10.2% rise in sales they have lost number 3 position. Performance of refreshed Verito has to be looked after by Mahindra in the coming months.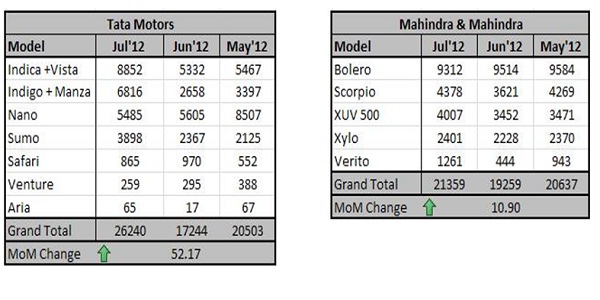 There is nothing much to talk about these two companies from Japan as Toyota showed usual performance with not much change in the sales. Honda Siel India is trying to gain momentum with its existing portfolio and showed 64.45% rise in sales over the last month. Honda Civic will be leaving these charts soon as they have pulled the plug on it, sadly.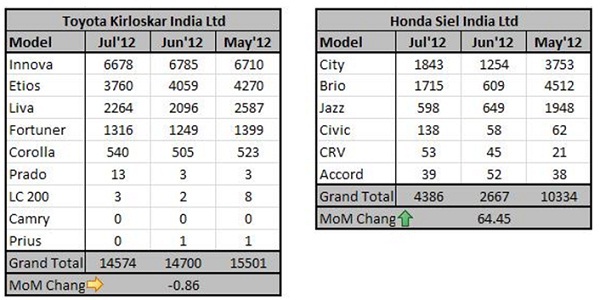 For GM, loss of Beat is covered up by Tavera in this month making it lose by just -1.27% in sales. On the other hand, Ford has succeeded in maintaining sales figures in such tight conditions. So both American firms have shown quite average performance and no big change over the previous month.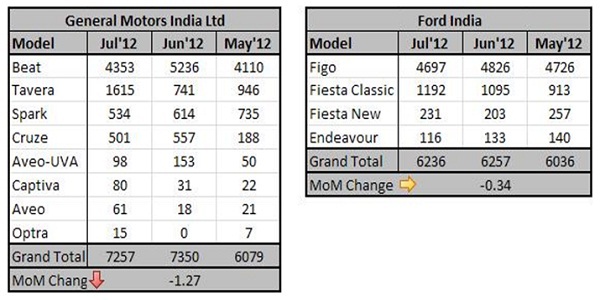 Volkswagen India showed an average performance but the matter of concern for them is the falling sales of Passat as it touched sales figure of mere 55. But their German counterpart Skoda seems to be in trouble once again and recorded -58.46 % loss of sale. Their hatchback offering Fabia is struggling hard as only 215 units has been sold in July. This is quite serious as Skoda has variety of products that caters to almost every segment with both petrol and diesel hearts.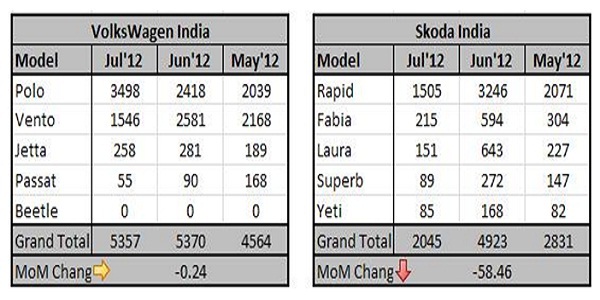 Duster is the only thing to talk about in following tables. Just because of it Renault India has seen such strong demand for the first time. Duster is appearing to be fortune maker for Renault India. The guys as Nissan may be praying strongly for rebadged Duster to arrive in their stable.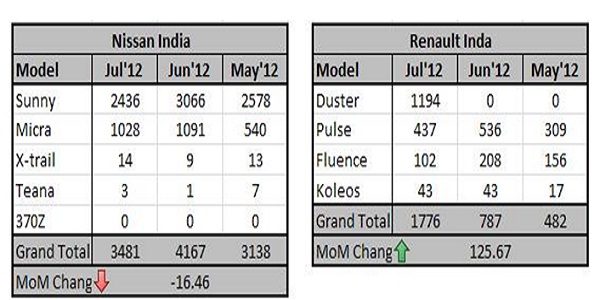 It has always been the same show every month with these two companies. Fiat lost some more numbers once again and now lagging even behind Renault India. Soon we may see following two companies swap their positions with each other in table. Pajero Sport is one and the only one which has gained sales out of all cars from both companies.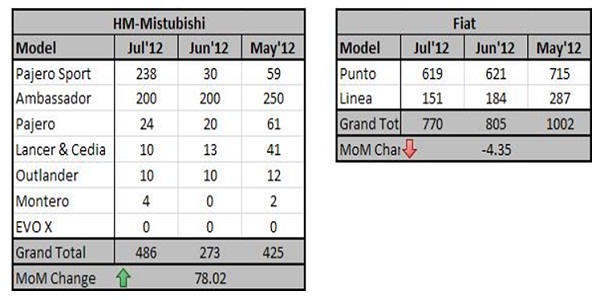 Category and Body style wise Break up – The B2 segment, which accounts for Swift, i20 etc. is the one which is having highest market share i.e. 22.71%. Utility segment comes next with few units sold less. As we have been seeing over past few months, UV segment has taken over sedan in terms of market share. Now UV sales accounts for 26.41% of market as compared 21.06% of sedans.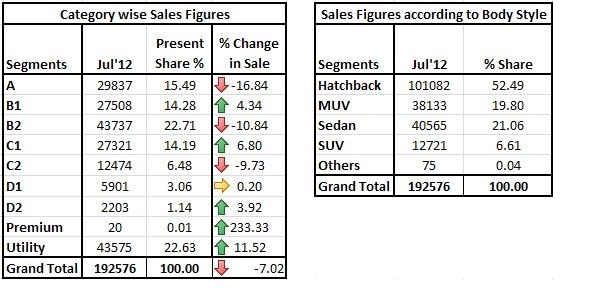 Gainers Vs Losers –
Podium Finishers –
Inspired by Olympics, this time we have brought to you the 'Podium Finishers' feature. It shows the top three sellers in each car segment. It will enable you to compare the cars in the same segment in terms of their demand in the market. Do let us know what you think about it.
Thinks to look out for in August 2012 –
When will Manesar plant start its operations?
How Maruti Suzuki will handle the Swift and DZire demand?
How far Duster can take Renault India?
Can refreshed Verito give Mahindra a stand in small passenger car segment?
How badly the petrol effect can hurt i10 and Brio?
Ertiga: can it keep the pace ahead of Innova?
Elantra is coming out in August, how it will be taken up?