June 2013 Sales Figures & Analysis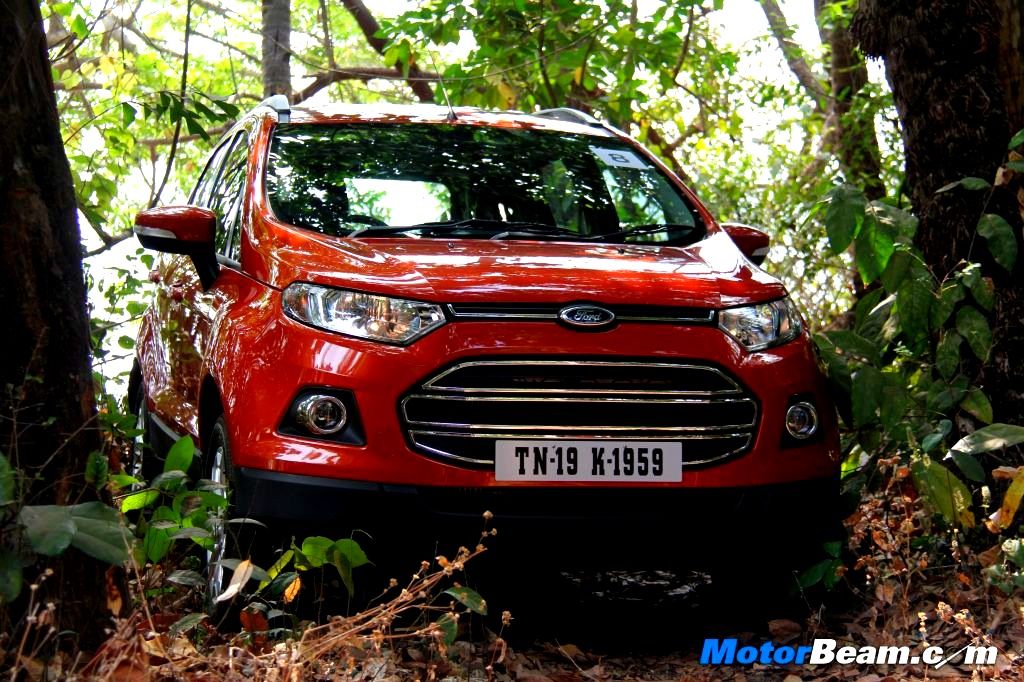 The Big Picture –
June month's sales report falls in line with the overall market sentiments and continues the downslide. June becomes the lowest selling month in calendar year 2013 and second lowest since January 2012.
Industry recorded fall in sales of 3.04% over last month and that of 5.22% as compared to June month of last year.
Sales figures, compared to last month, came out to be impressive for many manufacturers. Thanks to some sensational product launches.
But the picture turns grey when we compare the sales figures of majority of companies to their respective sales figures of same month in the last year.
Honda's surge in overall ranking turned out to be momentary act as company is back on its home position which is number 6. This also means Tata Motors has climbed up two steps to their home position of number 4.
But top three positions remains intact where Maruti Suzuki tops the chart followed by Hyundai at second place and Mahindra & Mahindra at number 3.
A cracker product in portfolio is driving the fortune of many companies ahead. For example Amaze from Honda, EcoSport from Ford, Enjoy and Sail twins from Chevrolet, Duster from Renault etc. The future belongs to the company whose product dominates the competition.
Month of June might not have come out with good results, but it has witnessed the launch of products like EcoSport, Micra Active, New Micra and Verito Vibe which have potential of propelling the market to new highs.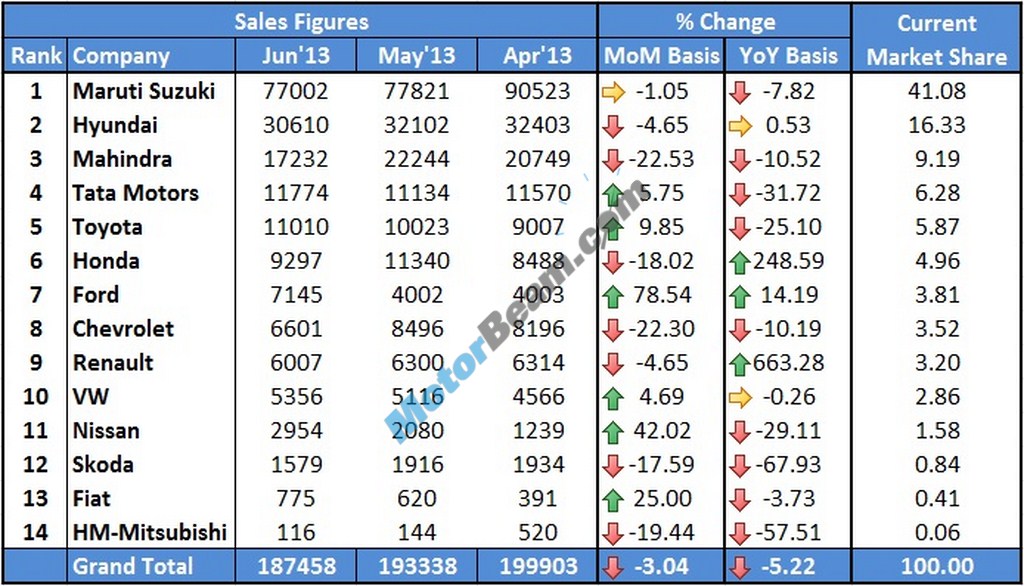 Top 20 –
All three contenders are back to their respective podium places which they are habitual to, i.e. Alto 800 leads the chart, followed by Swift at number 2 and Dzire at number 3.
After a long time, Hyundai managed to make it into Top 5 with their hatch i10.
Honda pushed hard last month and hence in June they fell short to deliver Amaze to the consumers, because of the lack of capacity, but it is still in Top10 list though.
Interesting things to see are cars at number 14 and 15. There we have SUV which dominated Indian terrain for last one year, the Renault Duster, which is very closely chased by newest entrant Ford EcoSport at its tail. Things are very likely to change in next month itself as Ford EcoSport is in sprint mode right now and is having many cars on its cross-hair.
Rest, the table is quite unchanged.
Company wise Break-up –
This time sales figures from the camp of Maruti Suzuki are quite ambiguous and we are not able to pin point the reason of falling sales of certain models like Dzire, WagonR etc. Company undertook the yearly planned maintenance activity in this month and almost all cars across its portfolio are experiencing intense competition from latest market offerings. So "Dzire's just 12,548 unit sales figure is result of what?" this question can only be answered in next month only.
Month of June for Hyundai has brought them some sweet and some sour moments. Surprisingly except Santro, which is their oldest offering, every other car has underperformed by small margins.
But things are not that much worrisome as overall market itself is not in good mood.
Mahindra & Mahindra  is the company which has maximum number of Utility Vehicles in its portfolio. That segment got into trouble when our honorable Finance Minister slapped an (one more) additional tax on certain UVs, which translated into prices of those SUVs going north. Four cars from the company, Bolero, Quanto, XUV 500 and Xylo, have recorded lowest ever monthly sales since January 2012. 

Out of those four, XUV 500 and Quanto are quite new products. Alarming situation here for the company

HORIZONEXT program has been kicked off in Tata Motors, which promises to overhaul the company's product lineup as well as overall image of the brand. 

Thus five products received the facelift in June as part of this program along with promise of improved after sales service experience. 

We can't actually claim that company started to taste the fruits of this program yet, but after long time company has shown positive monthly growth in sales figure. July month's sales figures can clearly depict the impact of this program on company's performance.
With the contribution from Innova and Fortuner, Toyota registered a good monthly growth in their sales figures. In the coming months, Toyota doesn't have anything promising on offer, so the company has to try very hard and survive the wave of upcoming new launches. We are expecting that the company will bring out more offers and discounts soon.
Honda is heavily relying on its compact sedan Amaze as of today. It is quite evident in company's overall sales figure, which is highly influenced by Amaze's sales. This month company has dispatched almost all cars, which they can produce in a single month. Company needs to rectify this manufacturing constraint to give a full strength fight to the competition.
Negative publicity about car being Chinese product got amplified, when the news aired saying that Sail twins are having some technical problems and their production is halted. 

What could be worst thing than this which can happen to any company? That problem has impacted the production and dispatch figures of the company very badly. Now we have to see how company corrects the issue technically and publicly as well. Hope that company continues its success story with Sail and Enjoy after the resolution of the issue.

After betting everything on it, Ford has finally launched EcoSport in India. Company justified the delay in launch with killer pricing and positioning of the car. 

We can see that company has dispatched 4002 units of EcoSport in just 15 days after the launch, which is commendable. EcoSport has put an end to the downfall of the company, which was going on since past many months. Now EcoSport is most likely to drive the company way ahead of the competition single handedly till the next gen Figo arrives.
Volkswagen is striving hard to push their maximum cars to the consumer. They are highly relying on their two products, Polo and Vento, as those are the only products which are in volume segment game. 

In June, both the products did well and hence the company fared well too.

Selling mere 1500 vehicles is not what Skoda might have dreamt off, few years before. But we all are witnessing the downfall of the company and we all know the reasons as well. There is nothing much to talk about unless new Octavia lands on our shores, as next gen Fabia is out of equation as of now. Company has reached the 3rd place from bottom.
It's the entry level car which decides the fortune of any company in India. The above statement is once again proved by sales figure of Nissan. Nissan not only gave a promising facelift to Micra but also offered a low cost variant at a very lucrative price point. With Micra twins, now the company can do much better than what it was doing in past.
Renault has registered fall in sales after a long time. Can this be an indication of what is set to happen in near future? We all know that most potent competitor of Duster has arrived in market, that is Ford EcoSport, with all the weapons and armor loaded. As Duster is the only model which is performing outstandingly for the company, downfall of it can damage the company to a larger context. That is why the company might have started promoting their other cars too. You might have seen adverts of Renault Fluence and Scala starring Anil Kapoor, recently.
Sales figures of Hindustan Motors and Fiat are as follows.

Category wise Break-Up –
Gainers Vs Losers –
Podium Finishers –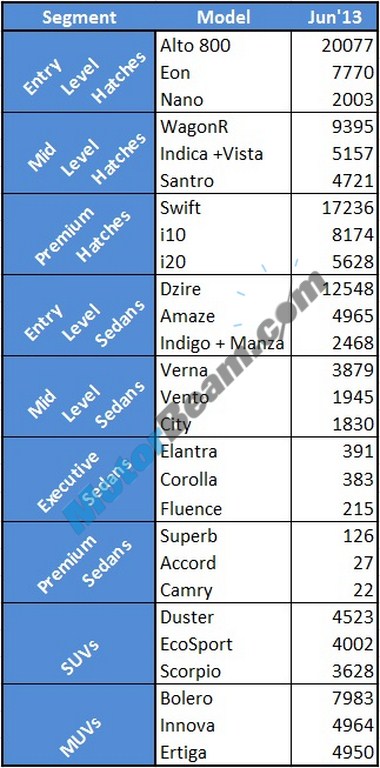 Watch list –
Things to Look Out For –
–          How well the Ford EcoSport can do and how does it affects the sales of other cars?
–          Can Chevrolet Sail twins come out of the negative publicity caused by technical glitch?
–          Can Micra twins write a success story for Nissan?
–          How Renault will defend their territory ruled by Duster? Or will they be washed out completely?
–          Sales figures of Maruti Suzuki for July will be clearly stating the impact of competition on the company.