Karthik Shares His Saddle Sore Experience On RD350 & Duke 390
Last Year REAL STEEL & This Year LIGHT MACHINE
INTRODUCTION
Rider –
Name: Karthik Manivannan Naidu
Date of Birth: 26/09/1986
Birth Place: K C General Hospital, Bangalore
Bikes –
Name: Yamaha RD350 (THE BEAST)
Model: 1986
Date of Birth (Registered): 23/08/1984
Birth Place: Yamaha Factory, Faridabad
Name: KTM Duke 390 (Light Machine)
Model: 2013
Date of Birth (Registered): 05/10/2013
Birth Place: KTM Factory, Chakan
Hi this is Karthik Manivannan Naidu, I live in Yelakanka, Bangalore. Professionally in the travel industry but a passionate bike rider. A Boy who grew up dreaming about the Yamaha RD350. At the age of nineteen, in the year 2005, I finally managed to chase my dream and became the proud owner of my Beast. It was a moment of pride when I first looked at it and could not resist showing off my shiny bike all over my town. Perhaps I was introducing my new companion to the beautiful garden city Bangalore, my hometown. Years passed and I was never satisfied with just touring to my neighbouring cities. My thirst for the ride grew stronger and stronger and it was then the "Saddle Sore" concept hit my mind. The idea was struck hard on my mind that I grew so restless trying to work it out. I gathered all information and realised that there was no official record of anyone successfully completing a Saddle Sore ride for 1000 miles in 24 hours on RD350. There has to be first for anything in life and I loved to be that first. Yes, I wanted to create a new milestone.
I was anxious to tell about the ride to my dad and finally discussed the idea with him. However, I was highly disappointed to find that my dad denied my request with no further discussions. Then I turned to my other motivator, my younger brother Badri Naidu. It was his enthusiasm and support that brought a smile to my face. I cannot forget the moment when I disclosed about our dad's denial to him. He just turned to me and said with a firm voice, "Brother, just chill. You are not about to run away from home to get married to a girl, in order to worry so much. All you are doing is following your passion, if not now when would you do it? There should never come a moment in your life when you look back with regrets." Those great words from my little brother shook me up from any doubts hiding in my spines.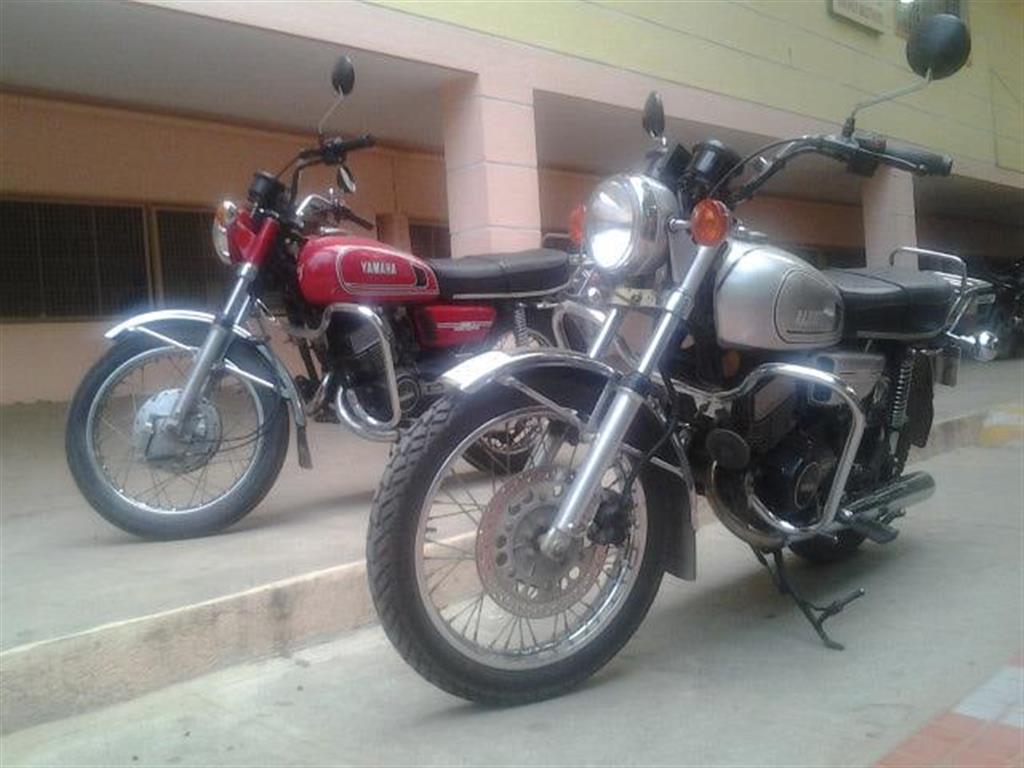 It was then my friend Vikram, who also owns a Yamaha RD350 came into picture. He and I discussed about the Saddle Sore ride for 1000 miles in 24 hours concept and he was also equally thrilled like me. What better than a friend's company on a long ride. Yeah that did make my face bloom with joy. Decisions having made, it was time for preparing ourselves for the challenge. January 26th 2013, The Indian Republic day, it was also time for us to celebrate our freedom of following our dreams. We decided to have a trial ride to Davengere which is about 250 kms from Bangalore. It was time to test the depth of still water, time to test our calibre. So the journey began with Vikram on his RD350, another friend Anil on his Gladiator and me with my Beast. It was an easy and comfortable trip that made us more confident of our abilities. There were no more setbacks to our plan now.
We set the date for the big ride as 20th February 13, a Wednesday having in mind that a weekday would be a day with lesser traffic on roads compared to a weekend. It was a countdown of my days until the big day however each passing day had me worrying with fear that my parents would learn about my great plan. That was a bigger challenge than the ride itself for me. I was sure by then that I would not be able to convince my parents about the ride, however, was determined to hide it from them. Just once I wanted to follow my dreams without restrictions and later worry about reciprocations. Every night I use to sit next to my Beast (RD350) talk to it and motivating it and that used to motivate me as well. When almost every rider discouraged me that Saddle Sore on RD350 is not possible as it's close to 3 decades old and a 2 stroke bike, those discouraging words triggered me even more to prove the world that RD350 is never less than any other modern bike.
I had my riding gear shifted to Vikram's place a week in advance to eliminate any doubts that might spring up in my parents' minds. Now having dealt with my parents, it was also time to think about our finance. My friend and I approached few sponsors but were not lucky enough. It was then with the help of my friends and colleagues that I managed to collect some money to fund my part of fuel expenses. Fuels don't come easily, do they? I would hold my sincere gratitude to those wonderful people forever. With deepest regret I had to lie to my mom that I would be doing overtime at work and therefore have to stay back. She believed me completely and what more could I ask for expect for a good night's sleep. Well as usual sleep was far away from me due the extreme excitement on my mind. It was my life's biggest day the following morning. The wondrous day began with me having my lunch packed by my wonderful mother. Having the food packed into my backpack, I left home with a big heart to Vikram's place. From there together Vikram, Anil and I left to a Ragavendra temple in our locality to offer our gratitude to lord and also receive his blessings to face the challenge. And outside stood my Beast all set for the big ride. I could almost feel my bike winking at me signaling me, "Lets go!"
Then we left for Torque Motors (Atta Garage), took a can of Motul 800 off-road 2T oil 100% Fully synthetic. On the way to our start point, we had a nervous meal of chappatis prepared by Vikram's wife and lots of water to keep us hydrated. Also, I filled my saddle bags with 5-litres of fuel and 3-litres 2T oil on each side of the saddle bag along with a pack of toast, toffees and adequate amount of water for the journey. We reached the start point to be welcomed by my dear friends and our senior most RD350 rider Mr. Chakravarthi, an 82 year old tough rider and Mr. Dinesh Sharma, a 60 year old rider who had won the overall 7th position on the Raid de Himalaya Rally 2012.
Then the ride began –
We were flagged off from the Shell petrol pump near Iskon Temple, however was officially flagged off from Shell petrol pump near Peenya Industrial Area, outskirts of Bangalore city in order to get rid of the maddening traffic in the city. The hard ride on the highway began with me cruising at a speed of 120 km/hr on an average with full throttle of 140 km/hr. I kept riding with only a pit stop at Davengere for refueling and was back on the highway close to Hubli in no time. By that time it was twilight and my helmet visor was completely covered with smashed insects.
The visibility was turning poor as the night proceeded. Hunting for the next fuel station, we ended up at Ranibennur. There we got a little breather and was also assisted by our back up team, headed by Mr. Althaf Khan, Mr. Suhail and Mr. Syed who provided first-aid. Mr. Suhail helped me clean my visors while I was fueling my bike. We got back on the highway maintaining a speed of 100-120 km/hr, reached an HP Petrol Pump between Darward and Belgaum around 21:15 and refueled the bikes and I had a pair of toast. It was after few hours when we reached Kolhapur that sleep started creeping into me, turning my eyes soar. No sooner than that, my ears started humming along with the harsh winds which had me screaming loud in head.
The real challenge began then, me having to fight off my sleep and ride further and further. My beast became my only companion. I recall even having a conversation with my bike. It felt like ages by the time I reached Satara when I stopped momentarily for refuelling and headed back non-stop till we reached the entrance to the Pune tunnel. Vikram too joined me there at the same time. Excitement ran through us as we raced through the tunnel in full throttle till the exit. At the end of the tunnel was laid a sharp right turn which freaked the life out of me. It was totally unexpected and to control the bike at that speed was an ultimate lifetime experience. Then Vikram and I managed to ride together and then reached Tathawade, Pune where I stopped for refueling at Sai Expressway Service. By then Vikram left further down the highway to take a U-turn to get back home (Bangalore). I was happy I got the credit card receipt to show my turn around point to IBA (Iron Butt Association). Finally I was on the highway to get back home.
Now having half the hurdle faced it was time for the return ride to Bangalore. We had our refreshments refilled and got back on the road without further delay. Dawn was yet hours away, and I had no complaints as I was admiring the cool night, the dark blue sky filled with bright shining stars as I was riding uphill heading towards the tunnel. It was a moment of beauty, something not experienced on a normal day. I was back to the same tunnel which had welcomed us earlier and was speeding back when I suddenly noticed a crashed Volvo. Luckily I avoided crashing my bike there and thanking God for the escape, started speeding at 90- 110 km/hr back to the expressway reaching Satara. There was a moment after crossing Satara I refueled my bike again as I was taking exit, I drowsed and went off the road. The sudden shake/jerk when I went off-road woke me up. The fear of that realization kept me awake rest of the journey.
I soon reached Kolhapur, had a short break and headed to Belgaum. Unfortunately my bike's chain sprocket had worn off and was completely loose. I could feel the pistons pounding and had to get my bike tuned up, till then had to maintain a speed of 80 km/hr. I had to call Althaf, fondly called as Atta, from our back up car which had the necessary equipment. After getting my chain sprocket tuned, there was no slagging; my beast was re-energized and got my spirits high. Next few kilometres with full throttle managed a speed of 120-140+ km/hr. The next stop was made at Haveri and Nelahalu village it was non-stop to the end point, i.e. Shell petrol pump, Peenya Industrial area. I was back to where we started but not the same way we left. I had gained lifetime experiences, unforgettable memories and held a much stronger mind. And above all, I stood there with pride and tears of happiness in my eyes, being crowned as the first person to complete Saddle sore with my Beast (Yamaha RD350).
Alas what a ride it was!!!!
Karthik Manivannan Naidu: Start: 20/02/2013 15:26HRS – Finish 21/02/2013 15:06HRS
Vikram Simha : Start: 20/02/2013 15:25HRS – Finish 21/02/2013 15:13HRS
Anil B Prasad : Start: 20/02/2013 15:27HRs – Finish 21/02/2013 15:22HRS
Finished Timing
Karthik Manivannan Naidu: 23Hours 40Minutes
Vikram Simha : 23Hours 48Minutes
Anil B Prasad : 23Hours 55Minutes
I would love to thank Renu Kumar and Dempsy for sharing their experiences on Saddle Sore with me and also Ajay shared his Saddle Sore experience with Vikram. These great riders' experiences came with very valuable riding tips for us to ride safe.
I would love to thank: my friends and colleagues for sponsoring me in doing Saddle Sore.
Then we approached Orion Motors who sponsored 2- litres of 2T oil and engine oil nothing more (for both riders). I found nothing working out as per our plan with regards to sponsors. Then my friends and colleagues sponsored 60% of my fuel expenses. None other than my friends Mohana Ramaswamy, Ramesh, Vijay, Deepak, Syed, Lohith and my colleagues from 247-inc Nanda Gopal (HOP), Vinay, Prathi, Bhanu, Manohar, Jerine and Ashwini Kotni. Last but not the least my friend / best guide and Godfather in my life Dinesh Sharma (59 years old) overall 7th position Raid de Himalaya 2012.
I thank Attaullah Baig, Suhail and Syed from Torque Motor for joining us all through the event as first aid crew and also Vinit from Motor Cycle Components offering us at net price (no gain/no loss) Motul 800 2T off-road.
I would like to thank Ajay Kumar, Renu Kumar, Manjunath Acharya and Dempsy for sharing their Saddle Sore experiences which helped us to know the dos and don'ts.
Last but not the least I would love to thank my buddies Attaullah Baig, Suhail, Syed, Nithyanand, Harish, Barath Venkatesh, Sreedhar Kacchu, Shubham Singhal, Sandya & her buddies. Also, our honourable Mr. Chakravathy Sir and Mr. Dinesh Sharma for flagging us off.
On the way back it was a surprising welcome for us by Nityananda and Hareesh Copparam Paranandhaman sscorting us from Tumkur Road Kamat. Finally we were welcomed back by our honourable Chakravarty at the finish point.
My hearty thanks to Yamaha Japan for introducing Yamaha RD350 in India.
*** Saddle Sore ride is a life time experience for me***
*** The day 21-02-2013, 15:06 hrs is a glorious day of my life *** Finally, I would like to conclude with my request to God:
No matter how many bikes I would own in the future but I should be able to ride the amazing beast (Yamaha RD350) till my last breath.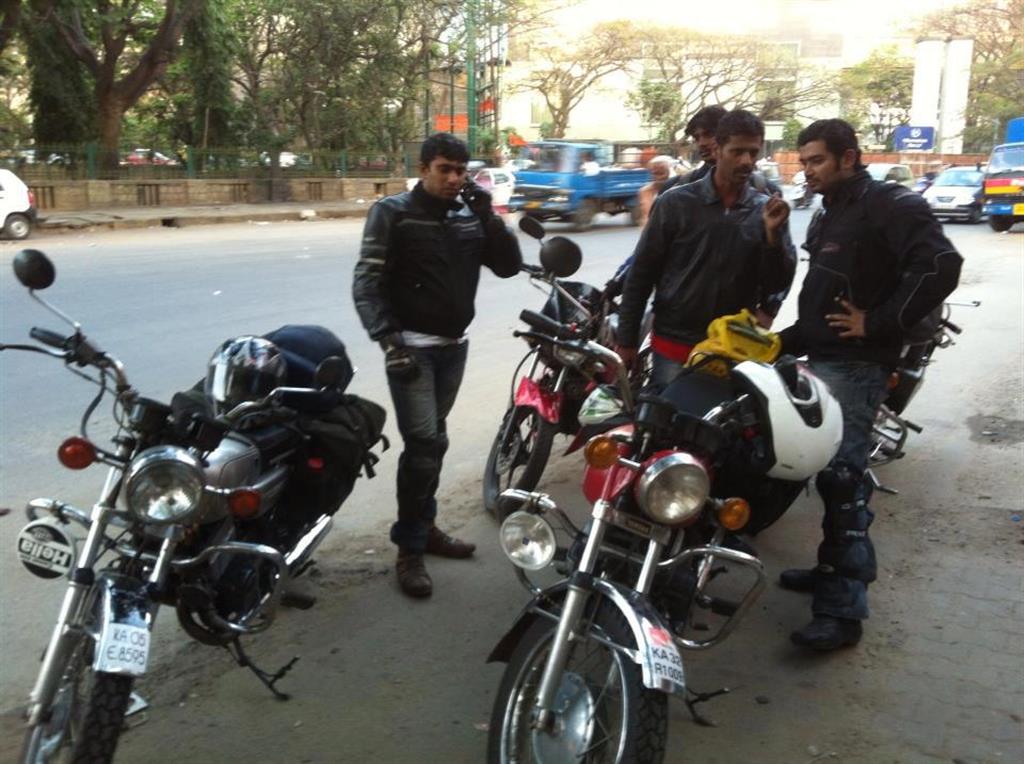 Guys do you think this is end of it? NO!
Journey Continues –
This year 2014, I planned to complete Saddle Sore on the KTM Duke 390, India's most advanced machine in the current market.
After a year of the Saddle Sore on the RD350, I always wanted to try it on the Duke 390 ever since I bought it and hence decided to do it as I felt it would be a piece of cake on the Duke 390. As expected, the Duke performed really well all the way from Bangalore-Pune-Bangalore. The bike was just amazing apart from the front suspension during uneven roads on the highway. I was dual-minded to take up the challenge again which took me approximately two weeks to gear up. Also tangled with multiple thoughts since my parents were against such events, since it is a life risking task, but I never gave up my passion towards biking even after three high speed crashes. I get some kind of peace in my mind, body and soul whenever I ride my bike.
Finally I decided this is it, I'm going to do Saddle Sore again no matter what may come. Date: 22nd March 2014 anytime after 15:00 hours and return back home within next 24 hours. I shared about the ride with all my good friends, but most of them cautioned me not to do this again as it's not safe doing alone, but still my mind and soul did not give up. Then I approached KTM for sponsorship for the Saddle Sore ride but they denied as it's beyond their policy but Ms. Jaya and Mr. Prakar were really kind to offer me free service and shared contact details of KTM in Belguam, Kolhapur and Pune if in case of any help when I am on my way towards the cities mentioned above.
As I believe in God and am a little spiritual, I offered Pooja to my Duke390 the day before Saddle Sore.
I was just waiting for sunrise and all excited for the ride. Trust me because of the excitement I couldn't sleep all night.
Now it was time for action – 22nd March 2014 at 14:30 hours, all my friends and the most inspiring person of all upcoming riders, Mr. Dinesh Sharma (I always considered him as my Godfather) Raid de Himalaya overall 7th position at 60 years age, also came for the flagoff. All my friends wished me a safe journey and return.
Now the real action began. I fueled my bike and left Shell petrol pump, 8th mile, Peenya, Bangalore. I started at 15:44 hours cruising at 130-140 km/hr and I couldn't believe myself as I was eating miles like a piece of a yummy pastry. Soon by 17:19 hours I reached Chitra-Durga for first fuel stop. There I gained complete confidence that I will be able to accomplish effortlessly. Once I crossed Ranebennur, I got a company with a Volkswagen Polo, with the young driver in the car provoking me for a race. I didn't consider it as I had a better motto to ride safe and accomplish my mission. Soon after that, I reached Hubli further covering Dharwad, Belgaum. I stopped for fueling in Kolhapur and then a BMW car also came in for fueling. People in the car had a chat with me and they also said that in one occasion I overtook them and within no time I had vanished. They were not comfortable cruising over 100 km/hr after dark as mentioned by the driver. Then I explained about Saddle Sore. They took a picture of me and my bike, left from there and then I had two bars of Snickers.
Then started back on highway heading towards Pune, soon after passing Satara, the roads were not even and had couple of diversions and hence I had to ride slow for a few kilometres, as I was getting close to the first tunnel road, it was getting better, but I was not excited looking at the tunnel due to my last experience as I lost control. Once I exited the tunnel there was an immediate turn towards the left. As I was over speeding with full throttle the last time on the RD350 and had panic attack, this time I was more cautious and enjoyed the ride as well. Soon after reaching the turn around point, I took rest for about 15 minutes and left for home with whole lot of confidence.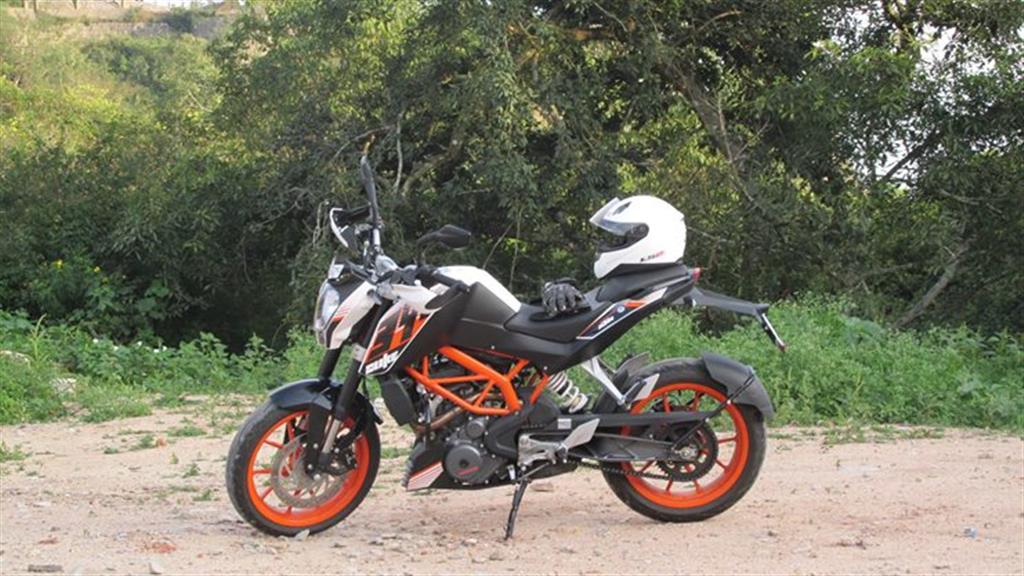 I know everyone might think didn't I feel sleepy? Yes I did, I always kept myself hydrated with lots of water and chocolates. Soon after reaching Satara I started feeling sleepy and then I had a Red Bull which was really refreshing. From there started riding, reached Kolhapur and fueled my bike. Then hit straight to Hubli where I found a petrol pump which had no fuel and then finally I ended up using my emergency fuel which I carried from there. Little further I found a petrol pump and I refueled the complete tank. Once after reaching Devangere my fuel gauge started showing low and I got worried where I would end up with emptying the fuel and no one to help either. I started praying very hard that fuel should not get drained out completely. Finally I was lucky to reach back to the same fuel station in Chitradurga and the person who fuelled my bike last evening was really excited to see me back safe and wished me and spoke about my achievement to other people in the fuel station and all of them were shocked to hear that I rode the bike from Bangalore-Pune-Bangalore within 24 hours. Then I was really happy and proud that I almost achieved it. Then I called up my friend Vikram and informed him that I will be arriving in 2 hours to the finish point and informed Suvarna News channel as well. I reached Bangalore and felt it was a rebirth after riding for 21 hours and 30 minutes.
Later, my friends Vikram, Sharath and Anil arrived at the finish point and they were all excited and happy to see me back. I was on top of the world. I know it's nothing when we compare this to the Golden Quadrilateral Ride or a World Tour on a bike. But Saddle Sore is a stepping stone for all endurance biking. Soon, Suvarna News Channel crew arrived and did a small interview on the same day at 22:30 hours and the same was relayed. Thanks to Suvarna News and its crew members.
*** The day 21-02-2013, 13:14 hours was a glorious day of my life ***
Cities Covered : Odometer: Time
Bangalore : 7622kms: 15:44hrs (Flag off, 22Mar2014)
Chitradurga : 7817kms: 17:16hrs
Ranebennur : 7921kms: 18:21hrs
Dharwad : 8055kms: 20:21hrs
Kolhapur : 8242kms: 22:44hrs
Sarola, Pune : 8414kms: 01:16hrs (23rd March 2014)
Tathawade, Pune : 8476kms: 02:35hrs (Turn Around point)
Satara, Pune : 8531kms: 03:52hrs
Perle : 8633kms: 05:40hrs
Kolhapur : 8730kms: 07:05hrs
Hubli : 8921kms: 09:24hrs
Chitradurga : 9136kms: 11:16hrs
Bangalore : 9332kms: 13:14hrs (Finish, 23Mar2014)
Total distance covered 1710 kms in 21 hours and 30 minutes
How can I forget to review the KTM Duke 390?
KTM Duke 390 is a super performance machine at an affordable price in the current market. Even while cruising at 130-140 km/hr I felt no vibrations and braking is simply the best. At a couple of occasions I ended up braking hard but never felt I did a hard braking maneuver thanks to the ABS system. Rear suspension is super smooth but the front is quite hard on uneven roads.
Last but not the least as I always tell my friends, colleagues and relatives "KTM Duke
390" is the safest bike in country.
My hearty thanks to KTM Austria and Bajaj for introducing the Duke 390 in India.
Once again I would like to thank Anil from 6000 miles to Isle of Man TT, Ms. Jaya, KTM Sales Head, Bangalore, Mr. Prakar KTM Sales Head (South India) and also Mr. Petse, Sales Manager, KTM Mekhri.
Important message –
Please wear a full cover helmet and not half. It is not necessary that only a head injury will lead to death. Even a part of face like chin when you hit to ground will send shock waves to the brain and it might lead to brain damage while nose damage will result in severe pain and blood loss. Finally eye brow spots are very delicate and this can also lead to serious injuries, heavy blood loss and if victim survives, scars on the face might remain for rest of the life. Not everyone can afford plastic surgery. So please spread the message to all your loved ones to wear a full cover helmet.