KTM 200 Duke 5200 Kms Ownership Report By Pranab
The KTM Duke is an Indian soul moved by an Austrian beauty.
Hello 'Dukers', other bikers and all my fellow readers. Here's how I would review my love life with the KTM DUKE 200. When I was first asked by MotorBeam to write an ownership review about my bike, I was as much excited as I would have been while riding it because I had just found the right platform to boast about the 'ORANGE DEMON'. Growing up in a family of sports enthusiasts and vehicle lovers, it was by default that I had a part of my brain and a larger part of my heart reserved for biking. I would call myself a chip of the old block as my father who as an avid biker and a national rallyist owned some of the legendary bikes like Yezdi Roadking, RD350 and a Bullet. It was no surprise that this DNA developed in me too and the web of interest spun itself around me in no time.
We are a group of 17 grandkids and me being the 15th one, it was obvious that the 14 siblings above me were influential in me acquiring an undying love towards mean machines (cars and bikes). It was too early for my age when I learnt how to ride a bike or drive a car as we all lived in the same house, and when my elder brothers took the vehicles out, I used to throw a lot of tantrums and wanted to take them out too. At the age of 11, I joined a boarding school and most of my educational life was spent in a hostel atmosphere but the foundation for an undying love towards wheeled beauties was already laid.
I eventually got the KTM DUKE 200 as my first bike at the age of 19 years when I came out of the boarding and started pursuing my course in engineering. I'm also proud to say that I'm the first owner of a KTM DUKE 200 from Karnataka.
Decision Time – Choosing the bike was a tough choice because two other leading brands, Yamaha and Honda had rolled out their flagship bikes, R15 V2.0 and the CBR250R. The R15 was ruled out without a second thought because my brother had owned the previous version of the bike. Moreover the price tag for a 150cc bike was quite too much on the plate, the split pillion seat was scary as women would call it and the extra weight compared to the previous version was something Yamaha should have prevented.
Now, just when I had thought that I was in a dilemma between the CBR and the DUKE, out came the news of Bajaj Auto rolling out the Pulsar 200 NS based on the concept of the Duke. The CBR was already making quiet a noise in the market and the Pulsar 200 NS was coming out only a few months later. The Pulsar was soon removed from my list because it didn't have the looks to grab my attention. Anyways that was a personal opinion. Also the thought that the Pulsar was manufactured on the concept of the Duke was something that made me to look more into the Duke than the NS. For me it was just a failed cloning of the Duke. Again that's an entirely personal and subjective matter.
Now, the bulky CBR! With ABS or without it? Doesn't matter, it was rejected too. Test riding the CBR250R, the first impression that I got was, 'Well, this is a great bike, but does it have enough riding comfort for typical Indian roads?' I doubt! The CBR was sure enough to test my spine strength in a longer run and cornering was really not as sharp as the roads demanded. Coming to the performance, it would be really bad of me to let down any one bike. For their respective segments (150cc, 200cc, 250cc) I think they all had what it required. Now for great performance, comfort, styling and road presence, I had just found my right partner in the form of the KTM Duke 200. A combination of a beauty and the beast! Of course my dad and my brothers had their inputs too and we all seemed to agree on the Duke as the best choice.
My love with the orange demon dates back to February 29th 2012, a leap day and that was the day when the first bike was delivered. I have spent over 5200 kms with this eye catching beauty and I must admit that we both are still as committed to each other as we were in our first kilometre.
The first ride and FAQs – Of course my joy knew no bounds. A new bike in the town and man, doesn't it make heads turn! You get a Valentino Rossi feeling when you ride this and all the pedestrians and everyone on the road stop for a while, forget what they're doing and look at the orange machine go past. Yes! The most inevitable question, the one that all bikers can expect 'Kitna Detiye?' is something that I have been asked a lot often as well. Other questions come at me like 'which company boss?', and then the right next question is 'KTM! Ye kounsa naya company?' and then the questions keep on coming. That is why I sometimes feel that saying Bajaj is a safer option. The most arrogant response that I've given is 'Bhaiya, Dakar rally ke bare me suna hai, jo KTM lagatar 12 saal se jeethi aa rahi hai'. As the owner of a Duke, one more question you can expect a lot often is 'Where's the silencer brother?'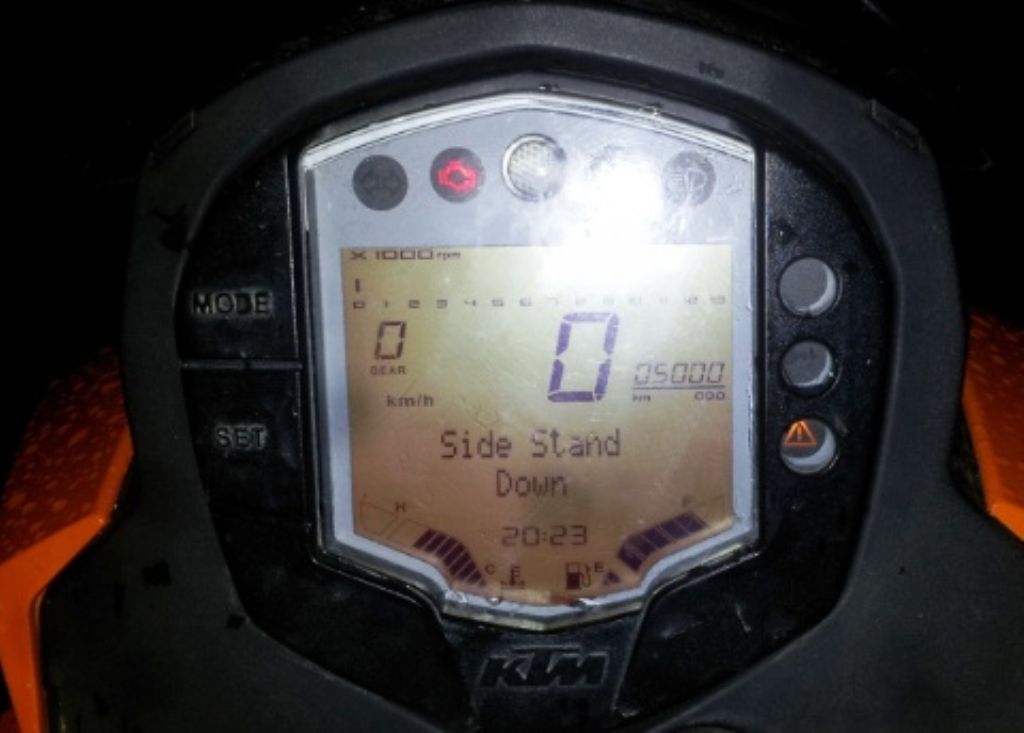 Engine break-in period and my first service – Just like any other vehicle, the KTM owners' manual had put up its own limitations too. Riding the first 1000 kms, you can sense the bike telling you to break the limits set by the manufacturer. I am happy that I didn't allow my temptations to get the better of me because now I can extract whatever the bike has on offer.
It was time for the first service after 1000 kms. They changed the engine oil, cleaned the chain and the whole package like the brake fluids, coolant, etc. were re-checked once. KTM has its own range of 'powerparts' as they call it which can add more glamour to the already glamorous beast. I did help myself by getting the orange rim on the wheels, a tank cap, tank pad and the authentic KTM handle grips. I missed out on the super sound of an Akrapovic exhaust. Thanks to the skilled KTM mechanics, my bike was rejuvenated and as fresh as it was at the start but more demanding than ever. I set the RPM shift indicator to 7000 RPM. Yes, I know it can stretch more but I preferred to maintain it at 7000. Earlier it was at 4000 RPM.
Overall feel and the look – The road presence is at its peak and you can't ask for more. You do feel like the bike is controlling you on its back and asking you to rev it harder. Coming to the riding comfort, if anybody said the President has the best seat in the country then they definitely haven't checked out the one on the orange monster. Jokes apart! No arguing, there isn't any other bike in the country which comes even close to the Duke in seating comfort. Take it out for a long ride and you are sure to feel as comfortable as you are on the couch of your house. Highways or amidst the city traffic, you are bound to enjoy your ride.
The look – The typical KTM front look is something new in this part of the world and I am sure it will attract a lot more fans in the coming years. The instrument cluster is very unique, trendy and displays even the tiniest information. Ducati styled Trellis frame and the rear number plate design grabs your attention too. The tank of course is angled perfectly for the knees to fit in. The manufacturer has designed the whole body in such a way that it was aimed at strength and stability and they have got the results. The overall design is obviously above par but the bottom line is that it all depends on each one's perspective.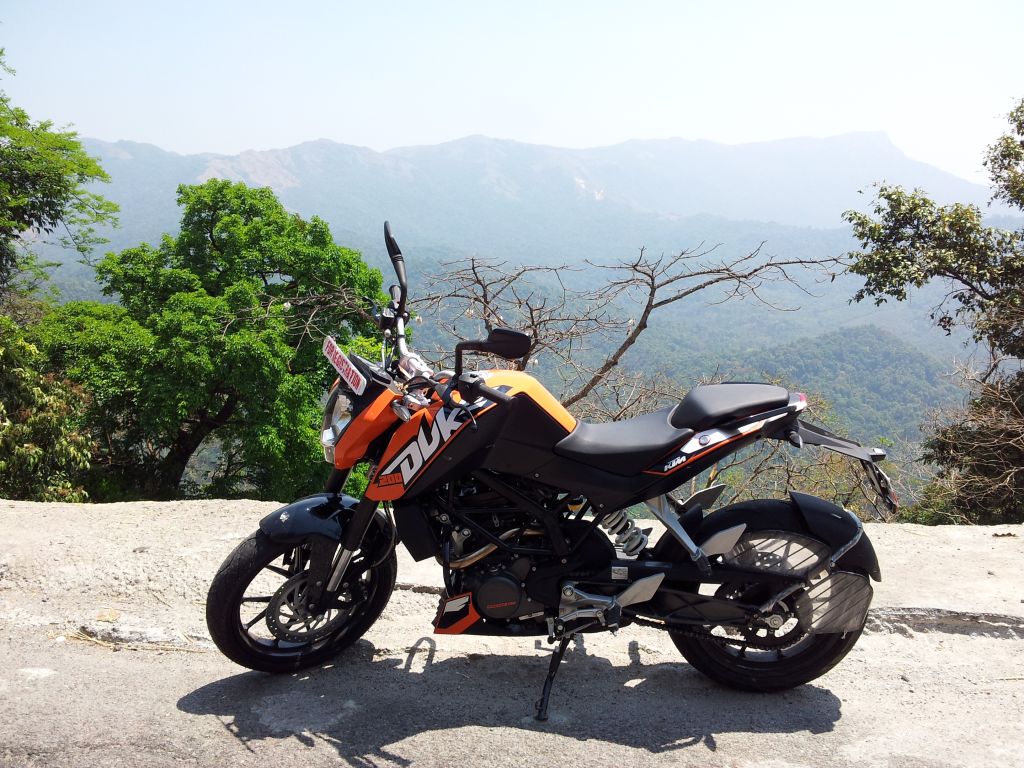 Technical aspect – 200cc, 25 BHP of power and it can cause thunderstorms at 10,500 RPM. With a total kerb weight of just 136 kgs, it has an unbelievable 185 PS/ton of power to weight ratio. Wait! 185? How many bucks more do you have to spend to find it in a car? The speedometer runs from 0 to 100 km/hr in 9.5 seconds and you will realise that 'the racing KTM' badge on the engine is not a joke. Having ridden other bikes too, I think this motorcycle has the least speedometer error, if not close to accurate. 6-speed transmission and pulling from lower speeds at a higher gear is something this KTM does brilliantly. The underbelly exhaust aimed at mass centralisation helps in much easier cornering. This is all accompanied by a cooling unit to dissipate heat. After all, it's very much a necessity. Quick deceleration and the powerful brakes stop the vehicle in double quick time.
The Duke 200 is one thirsty monster with highly varying thirst level. If you are having a simple day, you can feed it a litre and run for 38-42 kilometres but if you are in the mood to have some fun with the engine then maybe you can run for about 30-35 kms. If there is one bike which is eager to challenge the weather (rains, storms) then it's got to be the Duke.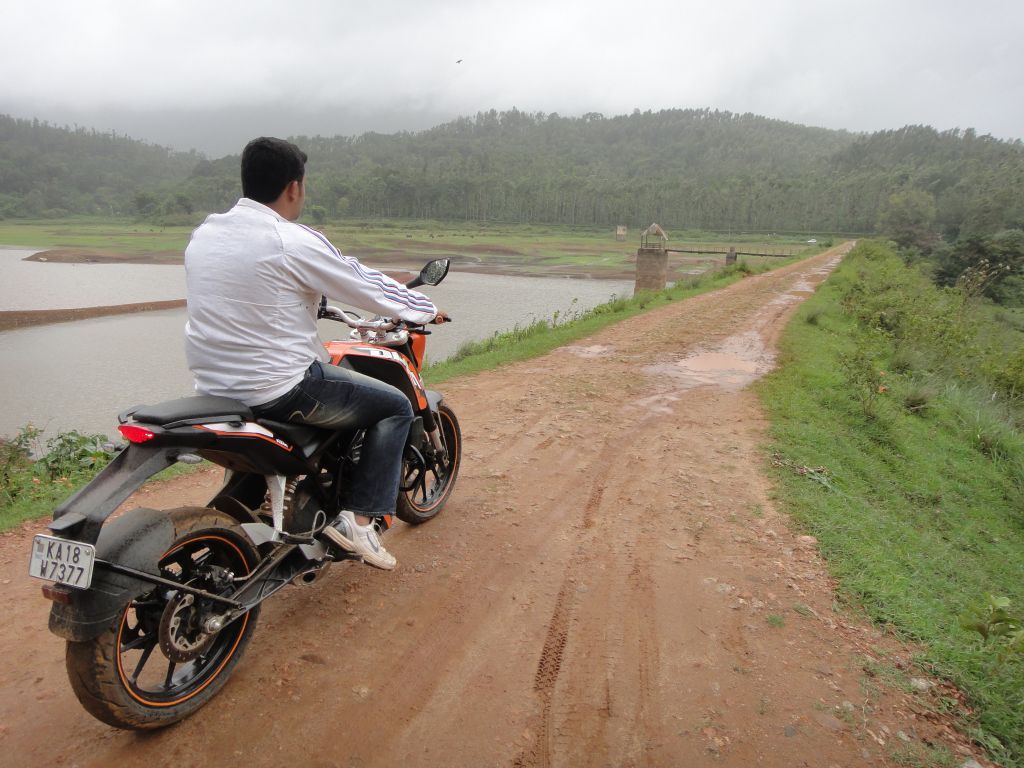 Issues I have faced (If there is good, then there has to be bad. After completing 5000 kms, few complaints I can nitpick are)-
1) Coolant level – It was never filled up to the mark in the showroom and it dries up quickly.
2) Loosened chain – No excuse! The chains get dirty very quickly and they are bound to get loose.
3) False neutrals or gear levers stuck between two gears – May be this is because of the soft footed shift or a lazy rider. Anyways no harm in checking the linkage of the gear shift.
4) The sound – People start complaining about the sound, if they insist for a more thunderous sound then you should take the rev limiter across 8000 RPM and let them hear the roar of an approaching Duke 200.
5) Over-heated engine – Again no excuse, the engine does heat up quite drastically but for the power you extract, you should be ready to compromise on this. Come on, you can't have it all!
Sales and service – KTM is serious about their plans in India and they have highly talented and skilled mechanics working on your bikes. The KTM customer meet called the 'Orange Day' is held often in cities across India and it educates riders about safe and hard riding. It is also a great platform to make new 'Duker Friends'. The free workshop organised at the showrooms are also very useful and they definitely go by the policy that "Customers Come First".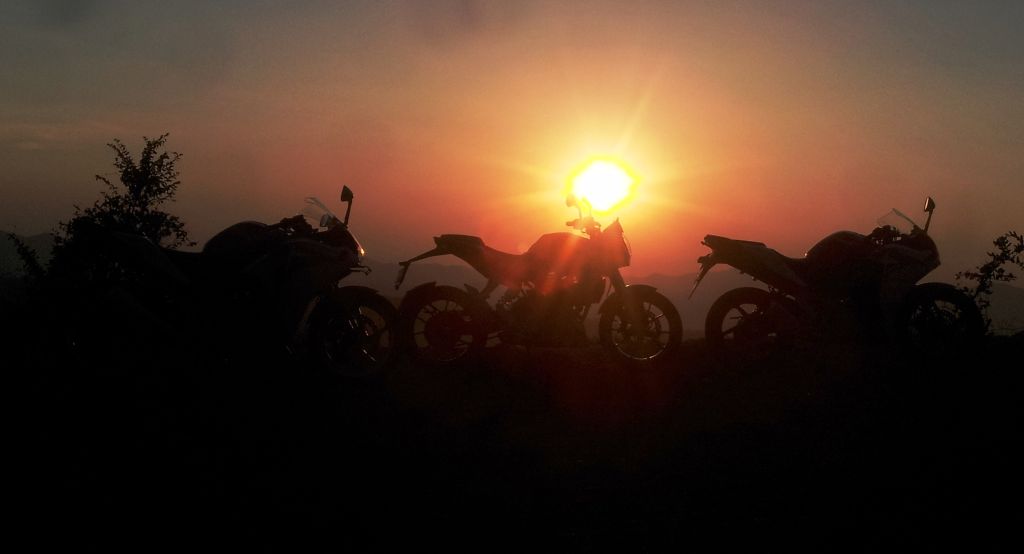 Pros –
– Great comfort
– Great control
– Great power
– Great breaks
– Great acceleration
– Great deceleration and the list of greatness goes on and on
Cons –
– Less authorised service centres
– They have a wide variety of accessories and power parts. Sad, most of them are still not available in India
– Coolant cap is not safe as anybody can open it.
– Mud flap at the rear doesn't really protect the rider from getting mud on his back in monsoons.
The bottom line is that the biking world in India is now reaching greater heights thanks to the entry of KTM and Ducati. If you are planning to buy a bike and still confused, go and test ride the "KTM DUKE 200" but don't take the slogan 'Ready to race' seriously because you'll be tempted to and yeah! only a Duker knows why a dog puts its head out of a car window. Mine has been a story about an Indian soul moved by an Austrian beauty. How about yours? Ride hard. Ride safe. Chao!
– Pranab J. Pai