KTM Duke 390 Engine Cover Cracks On The Move
A KTM Duke 390 owner from Delhi has reported that engine cover on his bike cracked while riding at a speed of 30 km/hr.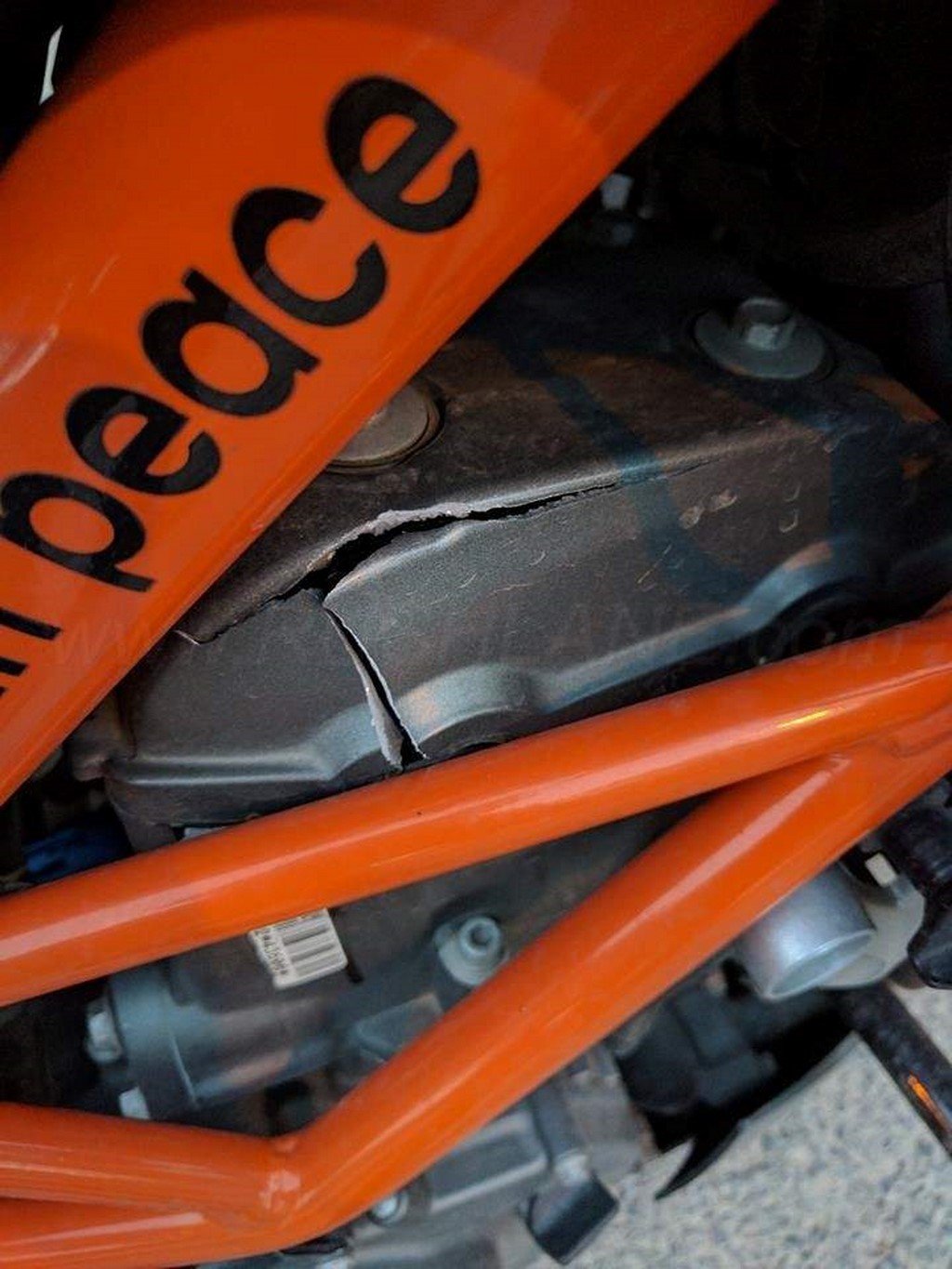 KTM, under its partnership with Bajaj Auto, sells the Duke and RC series in India. The Duke 390 is a premium performance motorcycle which is available at a price of Rs. 2.26 Lakhs (ex-showroom, Delhi). Powered by a single cylinder 373.2cc engine, the Duke 390 has a power rating of 44 BHP. Due to their powerful engines and attractive sticker price, KTM bikes are very popular among performance junkies. KTM updates its line-up regularly and has launched the 2017 Duke recently.
KTM bikes have been in the market for a long time now. Now, Kuber Bhatia, a Duke 390 owner from New Delhi, shared a shocking news on his Facebook page. Here is what he had to say – "I bought KTM Duke 390 in August 2016 and since I have bought this bike it was giving me perpetual problem. There were vibrations, engine oil problems and the list goes on. But today I had a close escape. While coming back from office my bike started giving a very unusual, loud noise and suddenly I heard a blast. When I checked, the bike's engine (which is made up of high-end aluminium, as they claim) had a HUGE CRACK. The bike could have caught fire or the oil could have spilled over me."
For a well-maintained and timely serviced motorcycle, there is no reason for the engine cover to crack under normal riding circumstances without any external impact. The images shared by Kuber confirm the same and the cause seems to be a manufacturing defect which could adversely affect a certain batch of motorcycles. This could have been a nasty incident if he had been doing higher speeds. According to Kuber, the bike has not been involved in any accident till now. However, KTM is silent on this issue. A detailed diagnosis and analysis of the exact cause of this issue is awaited.
Duke 390 Engine Cover
– Kuber Bhatia, from New Delhi, reported the issue on his Facebook page
– Engine cover on his Duke 390 cracked while riding at a speed of 30 km/hr
– The 11 month old bike has covered 6000 kms only