KTM RC 125, RC 200, RC 390 Officially Unveiled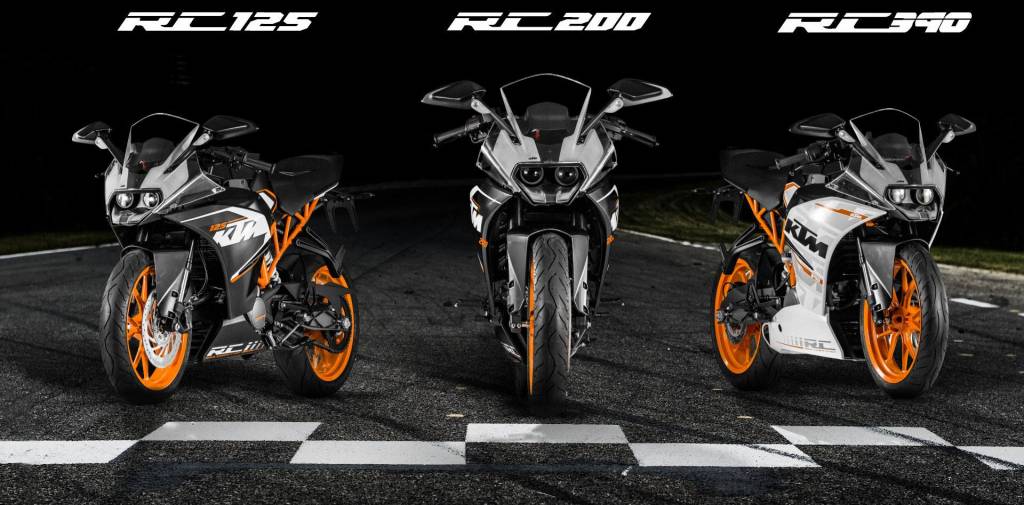 Nothing really new as everything was out much before but this time around KTM has officially unveiled the RC 125, RC 200 and RC 390 at the ongoing EICMA Motorcycle Show in Milan, Italy. The RC series of bikes are nothing but the Duke series underneath, using the same engines, frame, tyres, brakes, etc. Earlier studio shots were out and now KTM has released action shots of these full faired machines. KTM says these three bikes benefit from the company's track racing experience. Europe's popular motorcycle maker says the RC bikes seem to have escaped straight from the MotoGP pit lane and these machines are taking GP fascination to the streets.
The KTM RC 125, RC 200 and RC 390 share parts just like the Duke 125, Duke 200 and Duke 390 do. Thus all bikes look the same and the RC 125 and RC 200 look identical with black paint finishing while the RC 390 gets while colour. The front gets twin round headlights which are quite similar to what the upcoming Pulsar 375 will sport. While the rear gets an RC8 inspired tail, one might find the tail light to appear similar to the Pulsar's which is just pure coincidence. The side gets the well designed fairing which gives these motorcycles the big bike look!
Other changes to the RC series of bikes include a smaller fuel tank (reduced by 1-litre), front windshield, new seats, clip-on handle bars, reduced front suspension travel by 25 mm, different geometry of the trellis frame, shorter wheelbase, steeper steering head, less trail and higher top speed (by around 10 km/hr). The RC 125 produces 15 HP of power from its 125cc engine, the RC 200 produces 26 HP of power from its 200cc engine while the RC 390 produces 44 PS of power from its 373cc engine. In our latest poll, people preferred the RC over the Duke and thus KTM can expect heavy demand for their full faired offerings when they are launched in our country next year. The RC version will be priced at a premium of Rs. 40,000/- over the regular Duke model. Neither the Duke 125, nor the RC 125 will be offered in India although all the six bikes are produced locally.
KTM RC 125
[flickr size="center" float="medium"]http://www.flickr.com/photos/motorbeam/10693382234/[/flickr]
[flickr size="center" float="medium"]http://www.flickr.com/photos/motorbeam/10693340195/[/flickr]
[flickr size="center" float="medium"]http://www.flickr.com/photos/motorbeam/10693342675/[/flickr]
[flickr size="center" float="medium"]http://www.flickr.com/photos/motorbeam/10693392296/[/flickr]
[flickr size="center" float="medium"]http://www.flickr.com/photos/motorbeam/10693392606/[/flickr]
KTM RC 200
[flickr size="center" float="medium"]http://www.flickr.com/photos/motorbeam/10693365445/[/flickr]
[flickr size="center" float="medium"]http://www.flickr.com/photos/motorbeam/10693597673/[/flickr]
[flickr size="center" float="medium"]http://www.flickr.com/photos/motorbeam/10693402404/[/flickr]
[flickr size="center" float="medium"]http://www.flickr.com/photos/motorbeam/10693405044/[/flickr]
[flickr size="center" float="medium"]http://www.flickr.com/photos/motorbeam/10693413396/[/flickr]
[flickr size="center" float="medium"]http://www.flickr.com/photos/motorbeam/10693402174/[/flickr]
[flickr size="center" float="medium"]http://www.flickr.com/photos/motorbeam/10693415286/[/flickr]
KTM RC 390
[flickr size="center" float="medium"]http://www.flickr.com/photos/motorbeam/10693430954/[/flickr]
[flickr size="center" float="medium"]http://www.flickr.com/photos/motorbeam/10693628983/[/flickr]
[flickr size="center" float="medium"]http://www.flickr.com/photos/motorbeam/10693441996/[/flickr]
[flickr size="center" float="medium"]http://www.flickr.com/photos/motorbeam/10693390905/[/flickr]
[flickr size="center" float="medium"]http://www.flickr.com/photos/motorbeam/10693433224/[/flickr]
[flickr size="center" float="medium"]http://www.flickr.com/photos/motorbeam/10693431214/[/flickr]
[flickr size="center" float="medium"]http://www.flickr.com/photos/motorbeam/10693396065/[/flickr]
[flickr size="center" float="medium"]http://www.flickr.com/photos/motorbeam/10693435054/[/flickr]
[flickr size="center" float="medium"]http://www.flickr.com/photos/motorbeam/10693447856/[/flickr]
[flickr size="center" float="medium"]http://www.flickr.com/photos/motorbeam/10693632563/[/flickr]