March 2013 Sales Figures & Analysis
Month of March is the last month of the Indian financial year, as we all know. Thus, usually this month witnesses the highest activity compared to the rest of the year. Buyers seek to complete their buying activity before price increase comes in and manufacturers want to show some healthy financial records on the paper. But in totality, even though the month of March came up with good sales record, overall, this year has not been a 'Good Year' for the Indian automobile industry.
The Big Picture –

Month of March recorded highest MoM rise in sales of 13.79% during this financial year. But at the same time, it recorded a fall in sales of 13.5%, YoY basis.
But sales figure in this highest selling month of March is way below than that of many other months from previous financial year (FY 2011-2012).
Every company, except Hindustan Motors and Hyundai, showed commendable rise in monthly sales.
Maruti Suzuki tops the chart followed by Hyundai at the second place and Mahindra & Mahindra at the number three.
Toyota extended the lead this month and secured 4th position with a good margin over Tata Motors at number 5.
Honda is now inching in close to 5th place and might take over that place when Amaze is launched.
Renault's sales numbers have grown astonishingly 7.2 times over the past one year.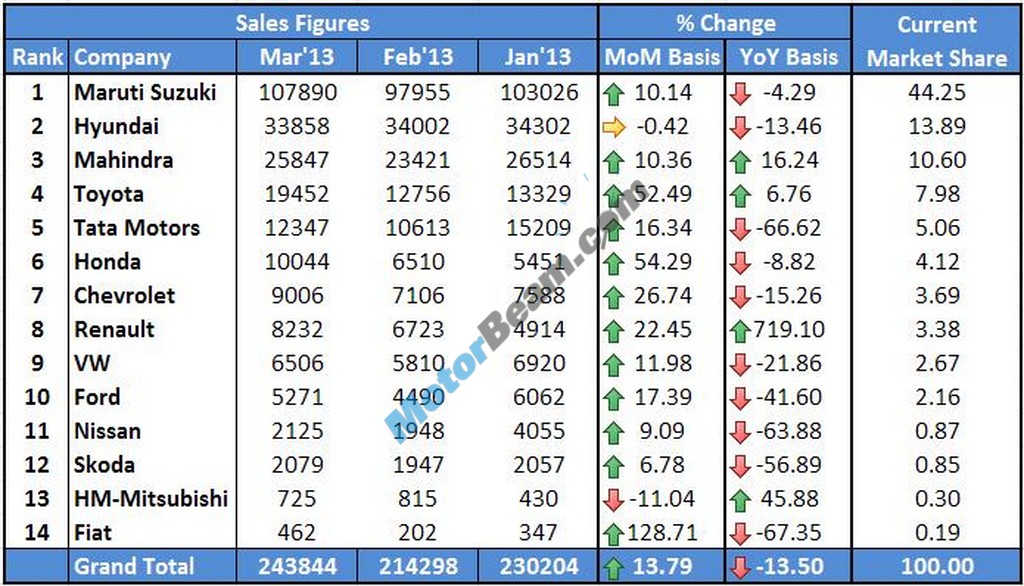 Top 20 –
Maruti Suzuki Dzire grabs the second place, ahead of its hatchback version Swift.
Mahindra Bolero's sales numbers remained just short of 12,000 mark.
Renault Duster continued its comeback in the table and has reached 10th place this time.
Surprisingly, Etios sedan has climbed up 9 places and is now enjoying the 15th place.
Mahindra's flagship model, XUV500, got thrown out of the table.
Company wise Break-up –
It looks like Maruti Suzuki is pushing hard and getting prepared for the impending launch of the Honda Amaze and hence have dispatched record number of 20,078 Dzires in March. Rest, Maruti Suzuki showed a strong performance and recorded a 10.14% rise in sales compared to the last month but lost the sales volume by 4.29% YoY basis.
Hyundai performed moderately this time, if we consider the overall rise in the market. It looks like that it failed to lure the customers this time. Overall, Hyundai recorded no change in sales over the last month but recorded a drop in sales of 13.46% YoY.
Mahindra Bolero as always is selling like a hot cake. This time, its sales figures reached very close to the 12,000 mark. But, XUV 500 and Quanto faced a drop in sales even in this healthy situation.
Actually XUV 500's sales should have gone up in March anticipating future hike in price of all SUVs, thanks to the union budget. Overall, Mahindra and Mahindra recorded a rise in sales of 10.36% in MoM basis and that of 16.24% on YoY comparison.
After a long time, Tata Motors' sales figures have seen considerable rise, but still it is far away from what it was in the past. Tata Motors lost its fourth position to Toyota last month and now they are facing the heat from Honda for the 5th place. Really a terrible situation for an established automobile manufacturer like Tata Motors. Overall, Tata Motors showed a rise in sales of 16.34% on MoM basis and a massive drop of 66.62% on YoY basis.
Toyota secured and strengthened its fourth position by a good margin this time. Increase in dispatches of Innova and Etios twins helped company to record a growth in sales of 52.49% on MoM basis and 6.76% on YoY basis.
Talk of the town now a days, The Honda Amaze, has now started reaching dealers and that too in good numbers which can be seen below. Also, Honda did well with the Brio hatchback and the City in March.
But we notice that the Jazz and the Civic have reached dead end and no more dispatches have been recorded from the plant in March. The situation is set to grow very well for Honda as it is reported that thousands of soon to be launched Amaze have been booked in advance. Overall, 54.29% rise in sales have been registered by Honda in March on MoM basis but a drop of 8.82% on YoY basis. Honda's sales figures are expected to grow further and might cross the Tata Motors' sales in April.
It looks like the practicality aspect of Chevrolet Sail sedan has started appealing to more and more people and hence sales figure are rising day by day. Although Sail U-VA's sales increased this month, but it may not see the same fortune as its sedan version, as the competition is little tough in its segment, at present. Rest, the performance of Chevrolet is in line with the market and hence the company registered a growth of 27.78% on MoM basis but a drop of 15.26% on YoY basis.
Thanks to March's shopping rush Ford registered growth in sales of 17.39% MoM basis but they failed to carry the momentum of the last year as its sales figures have fallen by 41.60%.
Volkswagen has also shown a rise sales of 11.98% MoM but they lost sales volume by 21.86% compared to the last year.
Skoda recorded rise in sales of 6.78% MoM basis but a drop in sales figures of massive 56.89% YoY basis.
Nissan recorded a rise in sales of 9.09% MoM basis but a drop of 63.88% YoY basis.
Renault gave a strong push to Duster this time as 6313 units of it got sold. Duster has a lion's share in rise in sales of 36.81% MoM basis and whopping rise of 719.1% YoY basis for the company.
Sales figures of Hindustan Motors- Mitsubishi decreased by 11.04% MoM but increased by 45.88% YoY basis.
Fiat recorded strong rise in sales of 41.79% MoM basis but sadly a drop in sales of 67.35% YoY basis.

Category wise Break-Up –

Gainers Vs Losers –

Podium Finishers –

Watch list –

Things to Look Out For –
Performance of the most hyped Honda Amaze, which is going to be launched on 11th of this month.
Performance of Maruti Suzuki SX4 facelift, which is launched recently.
Will Tata Motors be able to hold its number 5 position?
Effect of hike in excise duty on SUVs.
How people respond to Volkswagen Polo 1.2 TSi.
Effect of  Honda Amaze launch on Maruti Suzuki Dzire, Chevrolet Sail and others.