Maruti Celerio Long Term Review – Second Report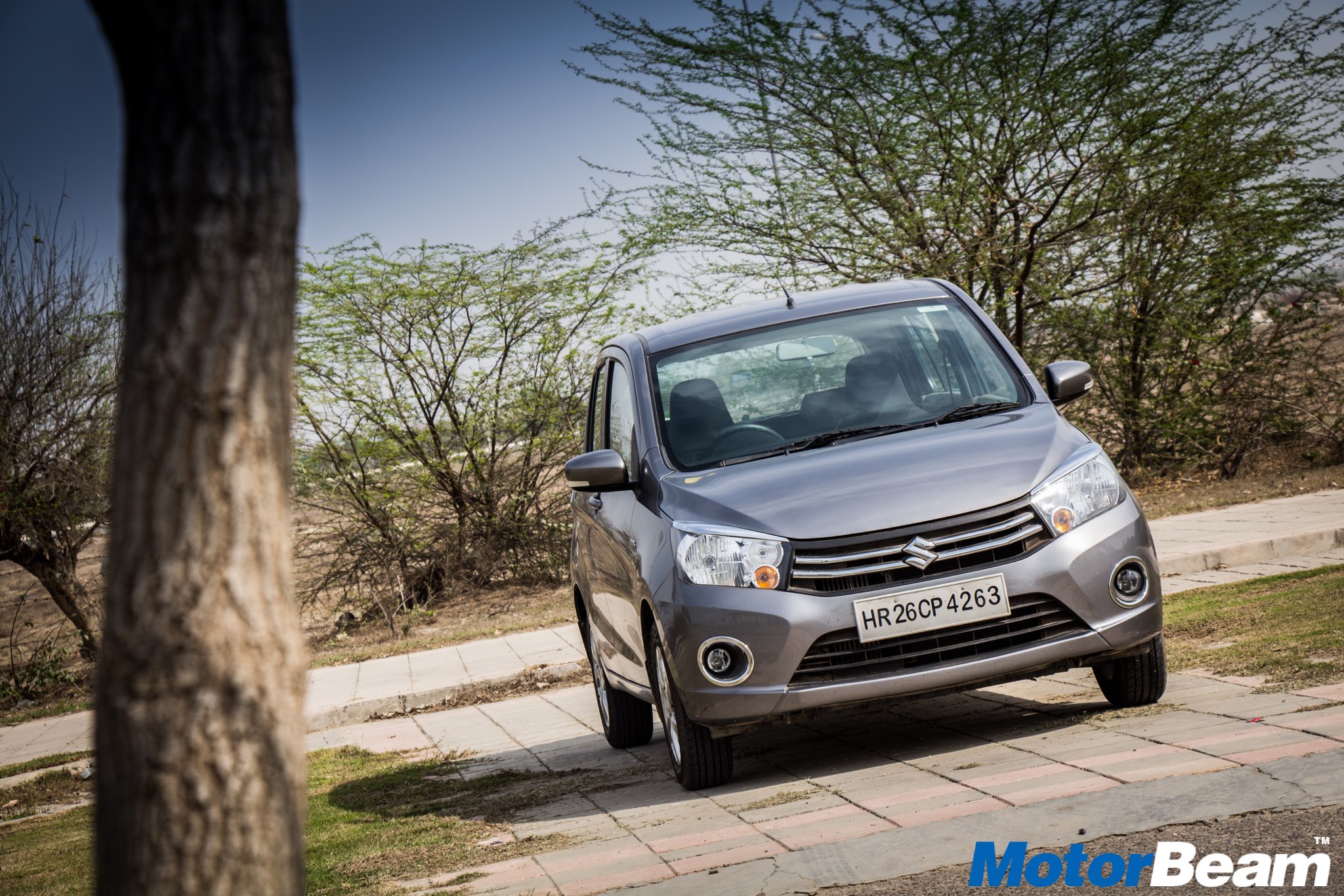 Maruti Celerio Long Term Review
Long Term Test No. 92
Car Tested: Maruti Celerio DDiS
Kms Done: 2745 kms
Test Started at: 7978 kms
Test Concluded at: 10,723 kms
Mileage: 19 km/l, 21 km/l (best), 18 km/l (worst)
Fuel Consumed: 131 litres
Fuel Cost: Rs. 6177/-
Rs. per km: Rs. 2.25/-
The Maruti Celerio is a pocket friendly hatchback that is super practical as well
The Maruti Celerio is a big example of how well the country's largest automaker understands the Indian buyers' requirements from a hatchback. I realised this after spending a good while with the Celerio diesel that proved to be a great workhorse in the MotorBeam garage. Honestly, I was not so excited when the Celerio came to our office for a long term stint. However, after living with the car for a while I discovered many practical yet surprising traits of the Celerio that spoilt me to a big extent.
Maruti Suzuki never goes off-beat in terms of styling in order to cater to a wide audience. Hence, the Celerio looks straight and simple having a tall stance that aids in better practicality on the inside. The doors open wide, ingress/egress is super comfortable and the seat positioning is very confident inspiring as well. If you are getting late for office, the Celerio is very convenient for your panic mode. While you're running towards the car, unlock the door with keyless entry, jump inside the cabin without saving your head, buckle up with one hand, fire up the engine and off you go.
There is an interesting safety feature in the Celerio; when you press the unlock button once, only the driver's side door unlocks, press it twice and all the doors unlock. The Bluetooth system connects very quickly once you enter the cabin with your phone's Bluetooth switched on. It offers seamless streaming of music and calls but what's annoying is the fact that the display doesn't show contact name when someone calls, you have to pull out your phone from the pocket to see. Also, there's no display of the sound track you are playing via Bluetooth so you need to wait for a while to recognise the song.
Being a small capacity diesel engine, I wasn't expecting effective air conditioning and some power dip when the AC is turned on. Surprisingly it works very well and gets the cabin temperature down very quickly but yes, you can feel the difference in acceleration when the AC is turned on. The seats have adequate cushioning but the back rest is thin and doesn't offer good support for long journeys to make you feel snug. The space it offers is quite practical for five adults and thanks to the large windows and ample headroom, the Celerio feels airy inside.
The Maruti Celerio scores high in terms of practicality and cabin space
One big drawback of the Maruti Celerio diesel is the way it sounds. The 2-cylinder 800cc oil burner makes a funny sound when it's idling at cold temperatures. It's not even the diesel gargle that you hear from regular engines but a 2-cylinder rumble of a small engine. Sometimes when your friends or family come out to see you off, this funny noise is a bit of an embarrassment. However, it settles down as the engine gets warm and it's not too noisy. The vibrations inside the cabin also smoothen up to a great extent.
Keeping the NVH of a 2-cylinder motor under control is a big task, more so when it's a diesel engine. However, Maruti Suzuki has done a good job in insulating the cabin to a great extent. Still, if the audio system is off, the engine is quite audible inside the cabin. The newly developed engine from Maruti was a big surprise to me. I initially thought that it's strictly meant for city usage and can't keep up the pace out on the highway. I was wrong, in fact this 800cc diesel engine felt quite capable on the highway making me feel confident doing triple digit speeds. Of course, half of the credit goes to the chassis and the suspension setup as well.
To quickly gain speed in the Maruti Celerio diesel, you need to master the gearshifts between 2000-3000 RPM as the torque band is quite short. If you hold a gear longer than 3500 RPM, it'll lose momentum as there is no progress at the higher end of the rev range. Keep shifting near the mid-range and 100 km/hr comes up easily. The progress till 120 km/hr is strong and surprising for a 800cc engine. In-gear acceleration in the city is impressive too, since the low-end is strong and turbo lag is well controlled. We easily got 20 km/l of mileage in the city with air conditioning and heavy traffic. This figure can go further up if you drive sedately at lower RPMs. On the flip side, the fuel efficiency goes slightly down on the highways.
Usually bigger diesel engines are settled around 2000-2200 RPM out on the highway while cruising at around 100 km/hr and hence they give better mileage than in the city. However, the case is opposite when it comes to the Celerio diesel. Because of a smaller capacity engine, the motor spins around 3000 RPM in top gear at 100 km/hr and constantly doing triple digit speeds results in a tad lower mileage. We got 19 km/l on a 400 kms long highway drive in the Celerio, which is not bad at all.
Maruti Celerio Cost Of Service
* Engine Oil Per Service – Rs. 1449/-
* Oil Filter – Rs. 320/-
* Air Filter – Rs. 510/-
* Fuel Filter – Rs. 1300/-
* Brake Fluid – Rs. 300/-
* Transmission Fluid – Rs. 300/-
* Engine Coolant – Rs. 470/-
* Front Bumper – Rs. 1299/-
* Rear Bumper – Rs. 2500/-
* Headlamp Assembly (each) – Rs. 2250/-
* Tail Lamp Assembly (each) – Rs. 1171/-
* Front Windshield Glass – Rs. 3150/-
* Rear Windshield Glass – Rs. 2588/-
Maruti has fully developed the 800cc diesel engine on their own and it has not been introduced in any other car yet apart from the Celerio. The two pot engine at its initial stage is very impressive and we believe it'll get more polished and improved when they plan to use it with more cars. The Celerio's potent chassis along with the diesel engine comes across as a well balanced package. High speed stability is excellent for a car in this category. So much so, that you can constantly cruise at its top speed of around 145 km/hr.
The front-end is stiffened up compared to its petrol counterpart and that's why the handling is precise and direct. The steering is not as communicative as the Swift but weighs up enough for high speeds and is light for low speed manoeuvrability. Switching lanes in traffic and filing the gaps is quite easy. The ride is on the stiffer side on harsh bumps but undulations are taken comfortably and high speed ride quality is flat. ABS is available in the Celerio across all the variants as an option and braking performance is quite strong.
Maruti Suzuki is best known for its after sales service which is improving further. The carmaker recently introduced 'Maruti Care' app that lets you do a ton of things related to your car. You can book service appointment, calculate service costs, locate dealer, save documents, etc. The Celerio diesel's spare parts and service costs are quite affordable, making it a low maintenance hatchback. The resale of Maruti cars is quite strong as well which makes the Celerio an attractive package in its segment.
Until recently the Maruti Celerio was the most affordable and sensible diesel hatchback amongst its rivals but Tata Motors has launched the Tiago with a more aggressive price packaging. The new hatch from Tata won't be able to steal the crown from the Celerio and the buyers' trust on the Maruti badge but it has definitely put a slight dent on its sales. The Tiago with its fresh design and feature rich cabin comes across as an attractive car but still the reliability and resale of Tata cars is uncertain at this stage.
What's Cool
* The cabin is practical, spacious and scores high on ergonomics
* Tractable 800cc diesel engine performs well on both highway and city
* Excellent fuel efficiency without putting much effort in saving fuel
* Confidence inspiring high speed stability and flat ride quality
* Responsive handling and city maneuverability
* Maruti's after sales service and strong reliability
What's Not So Cool
* Noisy 2-cylinder engine and vibrations on idle
* Slightly less features compared to rivals
Testers' Note:
"I did not have much expectations from the Maruti Celerio diesel, at least not on the highway but it's pleasantly surprising as to how good a car it is even on open roads with the twin-pot oil burner still having decent enough grunt to stay ahead of traffic. This is of course a city car and it excels there. What really shines on the diesel powered Celerio is the low running costs, lag-free performance in town and Maruti's service reach." – Faisal Khan, Editor, MotorBeam.
"The Celerio diesel is a very underrated car in my opinion. You really have to drive it before judging it. The diesel motor, although audible, delivers decent performance in both city and highway conditions. It specifically surprised me with its high speed stability on the open road. Frankly, this car is for those who want to munch more miles without it being heavy on the pocket and this is where is truly shines. And they say, you can't really go wrong with a Maruti. I feel this car truly deserves to sell in much larger volumes than it is currently. Surely ticks all the boxes for Parth, who is a big sucker for low maintenance and high fuel efficiency." – Dr. Javeid Khan, Deputy Editor, MotorBeam.
"The low running cost of the Maruti Celerio made me save a lot of money. Trips to the fuel stations were rare as it had a great range of 700 kms in one full tank. Taking the Celerio for a long trip was scary at first but the hatch surprised me with its spectacular stability. The diesel engine sounds quite annoying and there are some vibrations filtering inside the cabin but the drivability is excellent in both highway and city usage." – Aariz Rizvi, Assistant Editor, MotorBeam.
"I am a sucker for compact and fuel efficient cars considering the state of roads and traffic in our country. The Celerio has a very small footprint and the light clutch makes it extremely easy to drive around. The engine has decent grunt for normal driving and the car feels out of power only when you're giving it the beans at speeds above the ton. Fuel efficiency is just splendid and I was surprised at the low running costs!" – Parth Gohil, Senior Road Tester, MotorBeam.
"Maruti has aimed the Celerio for someone who wants a hassle-free car with low maintenance and something that can do a daily ride to and from office without making him or her sweat about the fuel cost. Well that's exactly what the Celerio is all about. It's a simple car which has got a few ups and downs here and there such as startup noise, high vibrations, etc. but at the end of the day you just love the car for how manoeuvrable and easy to drive it is." – Pratik Tyagi, Correspondent, MotorBeam.
Further Reading –
2014 Maruti Suzuki Celerio Review
2015 Maruti Celerio Diesel Review
Maruti Celerio vs Hyundai Grand i10 vs Chevrolet Beat
Maruti Celerio Long Term Review – Initial Report