Maruti Sales 2019 – Petrol vs Diesel Comparison
Majority of the cars sold by Maruti Suzuki in 2019 were petrol.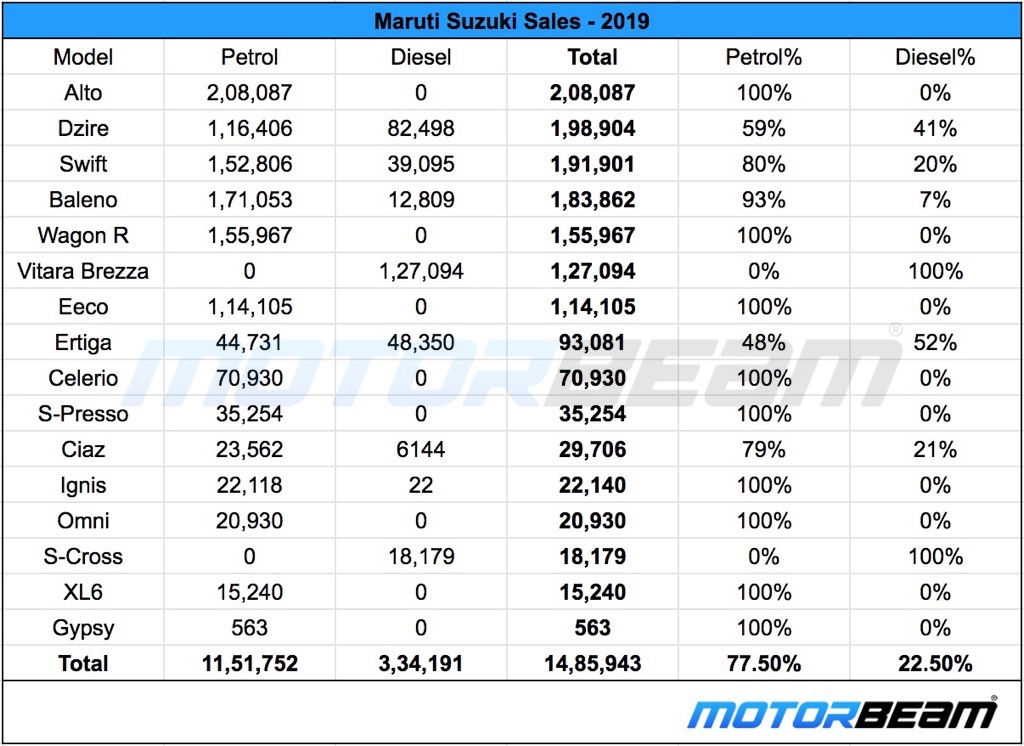 Maruti Suzuki started phasing out its 1.3-litre and 1.5-litre diesel engines in 2019 as the carmaker had no plans to introduce BS6 diesel engines. As a result, 77.50 percent of cars sold by Maruti in 2019 were petrol.
The carmaker sold a total of 14,85,943 units in 2019 out of which 11,51,752 units were petrol and 3,34,191 units were diesel cars.
The Alto was the top seller with 2,08,087 units. Coming close at the second spot was the Maruti Dzire with a total of 1,98,904 units, 59 percent of them were petrol variants.
The third spot is taken by the Swift hatchback with 1,91,901 units sold and out of that, 80 percent were petrol models.
Surprisingly the Maruti Baleno with 1,83,862 units saw only 7 percent diesel sales. It's only the Ertiga that saw majority (52 percent) of sales from diesel variants.
It's only the Maruti Vitara Brezza and S-Cross that saw 100 percent diesel sales as they were not offered with petrol engine options.
Going forward, we expect single digit percentage of diesel car sales from Maruti Suzuki in 2020. The carmaker plans to sell only petrol cars with CNG options. However, we might see the company re-introduce 1.5-litre diesel with BS6 compliance at a later stage for bigger cars.
Maruti Sales 2019
– 77.50 percent of Maruti cars sold in 2019 were petrol
– Low diesel sales as company started phasing out diesel in 2019
– Maruti Suzuki sold a total of 14,85,943 units in 2019